Many have found something in the aftermath and decided to rebuild the trust after infidelity.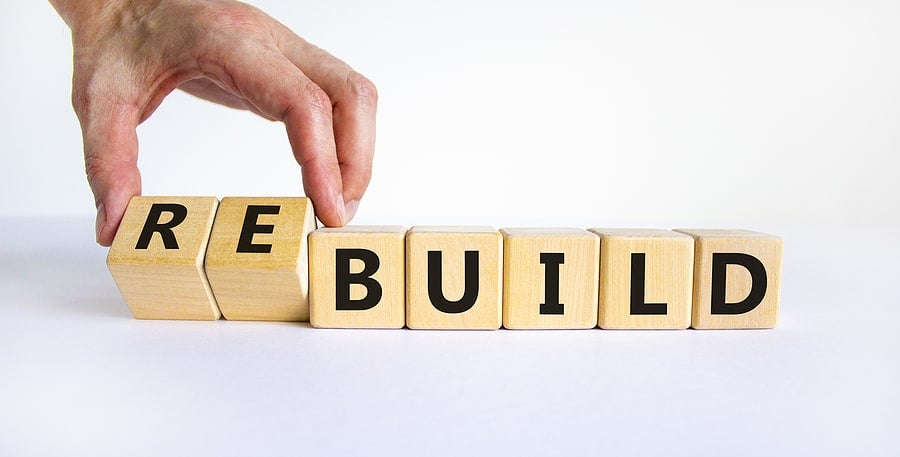 By Linda
For the last few days I've been reading a book that was recommended to me called "Let it Go" by T.D. Jakes. The book is primarily about forgiveness, though in one chapter he addresses an issue that always seems to be a struggle for our readers – rebuilding trust after infidelity.
One of the points that the author brings up is that after you've identified the offense (infidelity) and have accepted the apology of the offender, we often find ourselves in the unique position of having to rebuild something that crumbled before our very eyes.  Trust.
He adds:
"Understand that trust is a valuable commodity that cannot be purchased with credit. In its purest form it cannot be based on the benefit of the doubt. Trust is far more expensive and far more exotic than what can be attained through happenstance. Trust is based on probable behavior. Trust means being able to predict what other people do and what situations will occur."
As we've stated a few times in other posts on this blog, the duty for restoring trust after infidelity lays with the cheater.  There's good reason why the betrayed cannot bear the brunt of responsibility to trust again, and that's because they were already willing to trust in the first place and got burned for it.
Trust can only be formed from the basis of experiences that we've had in the past and in order to rebuild the trust, the one who destroyed the relationship's structure must now create an atmosphere in which what they say and what they do align.  Otherwise the entire foundation of the relationship may be destroyed if the cheater once again betrays us in any way.
The bad news is that trust does take a while to rebuild. However, the good news is that with adequate investment and a willingness to endure a lot of inspection and transparency while rebuilding,  Jakes maintains trust can and will be restored as long as there is sufficient time to reestablish itself.
Unfortunately, a lot of cheaters have a tendency to minimize how long it takes to rebuild it. They're very anxious to rebuild quickly and become inpatient if the other party takes longer than they think they should. The cheater does not realize that it's easier to climb back in the saddle than it is to regain the confidence of the woman who broke her hip from the last time she rode the horse.
Though without doubt it is the burden of the cheater to put the work in to rebuild the trust, it's also the responsibility for the betrayed spouse to demonstrate that they are willing to rebuild the trust. Both parties must commit to the rebuilding process before trust can fully be restored and the relationship gets back on sound foundation.
However, the author is careful to note that you must understand that yes the person who lost trust has to work to be opened to trusting again, but they must come to such a willingness by their own decision. They can't repair the loss of trust by coercion or guilt placed on them to hurry to heal. Therefore, the person who has violated the trust must be prepared to put in a lot of time and effort towards that healing.
Another quote by the author that I like:
"Real love has nothing to do with trust.  Neither does forgiveness. It is highly possible to love someone you do not trust. It is also highly feasible to forgive someone and still not trust them. We are never commanded in Scripture to trust someone. I'm convinced the reason God doesn't command us to trust others is because trust is not something we can establish on our own. Trust cannot be restored by only one person in the relationship. So it would be unfair to command us to do something that has so much to do with someone else's behavior!"
Rebuilding Trust After Infidelity Takes a Long Time
As I stated in our book "Journey to Trust," I've been asked many times about how long it takes to rebuild the trust.  That's a tough question because it's different in every situation and there is absolutely no simple answer. I guess it leads to other questions as well.  How deep was the wound? How fast does the victim take to heal? How patient is the cheater in allowing the betrayed to vent, to cry, to complain, go through mood swings and everything else that they go through in order to regain their trust? It's so true that a tragic betrayal such as infidelity can take years and years to restore all the trust that was lost.
In the book, Jakes compares the rebuilding of trust to that of a construction project. And if you think of any construction project, there are numerous workers that come together in a joint effort to build the house, bridge or skyscraper. The author offers the following "workers" to help rebuild trust after an affair:
Honesty lays a new foundation. You can't rebuild trust if you can't admit that trust has been violated.
Understanding why the cheater betrayed you is often a necessary part of rebuilding trust. What was the cheater's motive or gain for the affair? If you can't discuss why it happened, trust will remain uncomfortable.
Consistency provides the structure for renovating trust.  There needs to be a continual practice of conduct to keep moving forward. It's difficult to expect a scab to form and the skin to heal fully over a wound that you keep re-injuring. No, the wound must have constant care and ongoing protection if the body is to heal completely. A constant, steady diet of care helps trust to heal more rapidly.
Communication, open and ongoing, allows trust to bloom again in depleted soil. Trust needs to talk. If trust can't discuss, it can't rebuild. Some of the hardest things to heal are the things we hide and the secrets we keep. They are hard to heal because trust needs to clear the air. You can't push the mute button and expect trust to incubate in the silence of suppressed expression.
The 8 Pillars of Trust  – Ways the Unfaithful Spouse Can Help Rebuild Trust
Sometimes You Lose Trust in Yourself
It's also important to remember that the restoration of trust doesn't always respond the same way with everybody and at the same pace. Some people have a higher capacity to shrug off pain than others.  And for many others, the particular incident that caused them to lose trust is not the only experience with such pain.
So when a person is looking at the re-injury of a past wound, often the process takes longer as the person senses a pattern in their own life that makes them question their own judgment.  They have not only lost trust in the cheater, but in themselves as well. More times than not, the betrayed has lost confidence in their own ability to discern what is true. This is often the most difficult aspect of the process.
I talked in "Journey to Trust" about how I lost trust and confidence in myself as a result of Doug's emotional affair.  I doubted my own judgments.  I doubted my own abilities.  I didn't trust my gut. I had to learn how to trust myself again.  It's very difficult to do this after infidelity because you accuse and indict yourself for being a fool simply because you didn't see it coming or you ignored what you felt in your gut.
What really sucks is that when you lose faith in your own ability to discern and choose for yourself, then you basically stop living your life to the fullest. You conclude that other people cannot be trusted and apparently nor can you trust your judgment of them.
Sometimes All That is Left is Love
One more quote from the author that I really liked:
"No one rebuilds on what they lost. Rebuilding begins when you appreciate what you have left."
Many times when a marriage suffers infidelity all that is left is love. Sure, the foundation may be cracked by distrust, but the core that matters yet remains. Sometimes you don't know what matters until you've lost all else. Many couples, finally free of secrets and forced by the fallout to be totally honest with each other, discover that rebuilding, though tedious and stressful, is still very possible.
They discovered that what really matters most to them is still intact. Ironically enough, it took the destruction of the affair to remove the other layers and reveal what truly exists beneath it all. Some of them are back to being honest with each other in a way they have not been for years. Though they have lost a lot, they have found something in the aftermath and they decide to rebuild the trust after infidelity!