We've used the word victim a lot on this site; typically with respect to the person who has been betrayed by their partner's infidelity.  You must stop being the victim!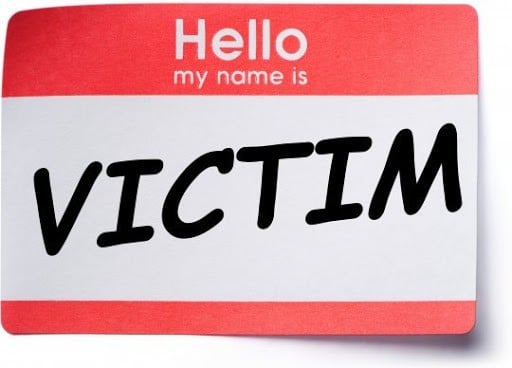 We use the term because the betrayed is indeed a victim. If you question that for any reason, then here is the official dictionary definition of victim:
a person who suffers from a destructive or injurious action or agency.
a person who is deceived or cheated, as by his or her own emotions or ignorance, by the dishonesty of others, or by some impersonal agency
So now that I've got that out of the way and we can clearly agree that the betrayed spouse is a victim, I want to tell you that if you are the victim, at some point you must stop being the victim.
If you don't, it will surely cause a short circuit in the healing and recovery process.
The victim phase was rough for me…
I got to a point where I was so angry and frustrated that I had to do any work at all because of something someone else had done to me. I know many of you feel the same way. It feels so unfair. It's like being hit by a Mack truck.
Shortly after we were married Doug was in a very bad accident. He was struck by a semi-truck (not sure if it was a Mack truck or not), went through the windshield and was injured quite badly. He was bedridden for a while and was unable to do much on his own. He was a victim. It was unfair. Though the accident wasn't his fault, he eventually had to do the physical therapy – the hard work – to get better and make a full recovery. You have to try and wrap your head around the fact that the concept of releasing yourself from being a victim is similar to this.
So, what I'm saying is that it's absolutely OK to be a victim and feel the pain and the truth of being a victim for a while. But if at some point you want to heal and make a full recovery you have to accept reality, get to work and stop being the victim.
So what does this mean? What does continuing to be a victim look like? How do I stop being a victim?
Being a victim means that you continue to allow the betrayer to run roughshod over you by putting up with…
Not ending the affair
Continued lying
Your spouse telling you to 'just get over it'
The gaslighting, stonewalling and blame shifting
Not talking about the affair
Being disrespected
Emotional or physical abuse
Any other behavior that you don't want to put up with any longer
When you continue to be a victim…
You are angry
You are resentful
You have a "woe is me" attitude
You feel disempowered
You feel like a doormat
You are confused and uncertain
You feel broken or damaged
You feel helpless and hopeless
You have lost your sense of self
You complain and blame
You can justify almost anything
You don't face your pain and your fears
You stop being a victim by…
Taking 100% responsibility for your life
Accepting that you can only control yourself
Accepting that which you cannot change
Establishing boundaries
Enforcing consequences
Holding other people accountable for their decisions
Becoming a stronger person
Standing up for yourself
Treating yourself better
Expecting more from others and from yourself
Taking action and avoiding threats
Demanding respect
This is going to be difficult for many of you to do. I understand that. It was hard for me to do as well. But at some point you just have to put your foot down and make a conscious decision to NOT get kicked around anymore.
Thoughts from Survivors
I wanted to include a couple of comments from affair survivors, as I think they are very powerful and sum up quite nicely what it means to not be a victim:
I tried everything, every logical or illogical approach. Everything from rational, calm, loving statements supported by research and quotes to total emotional breakdowns where I'm not sure he could even understand a word I said but my pain was clearly streaming down my face. After exhausting all possible options to have him "get it", finally I accepted defeat, realized that whether he gets it or not isn't going to come by me, that absolutely NOTHING I say or do will change his thinking or choices, and all it ever did was give him ammunition…a look inside my thinking to have an easier way to twist reality and blameshift.

The game stopped when I quit playing. I just let him think whatever he wanted of me, stopped correcting him, stopped reasoning, and in that process stopped absorbing his fucked up responses to me. Taking back control of my reactions is what helped me crawl out of victim mode. I'm not a victim today. I'm a survivor.
---
You stop being a victim when you accept that nothing you could have done would have changed his choice to cheat. When I accepted this I felt empowered. Yes I was a victim. Yes life was very unfair. I had to make a conscious choice that it was on him.

I was no longer going to be a victim. I was not going to tolerated being lied to, disrespected or hurt again. I drew my demands for reconciliation, and made clear the consequences for those actions. I did not allow my heart to be open to him until I was convinced he got it.

This gave me strength and allowed me to start to take care of me.
---
Additional Resources
If you haven't read The Awakening by Virginia Marie Swift, I highly recommend that you do so. In fact, you may want to bookmark it or print it out so that you can read it when you are feeling uninspired.
Here's the link to that post:  https://www.emotionalaffair.org/the-awakening/
Here is a good video that Doug found called, How To Stop Being A Victim – The #1 Reason You Are Stuck In Life. It's by Leo Gura, the founder of Actualized.org, and though it is not specific to victims of infidelity, it has some solid advice on how to stop being a victim in all aspects of life.
In closing, remember that you will carry what happened to you forever. I'm quite certain that this whole experience has changed you as it has me. While it becomes part of who you are in certain ways, it certainly does not define who you are – at least it shouldn't.
Going forward you have a choice. You can choose to let being victimized consume you in a negative way or you can choose to let being victimized consume you in a positive way. It's up to you to decide to take your life back and stop allowing anything or anyone to control it. There is power in NOT being a victim.