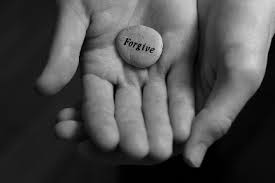 Some of the best information that exists on this site comes from the readers through the comments that they make.  I was doing some research yesterday for my book I want to write, and re-read a series of comments related to forgiving infidelity.  I thought what this one reader said was wonderful, and thought it was something more people needed to see.  I hope you don't mind Jenn!
What follows is a combination of three different comments Jenn made on the subject of forgiving after infidelity, as forgiveness was her resolution for 2011.
Here it is:
I LOVE this quote from 'The Awakening' article you have attached to this post:  "You stop judging and pointing fingers and you begin to accept people as they are and to overlook their shortcomings and human frailties and in the process, a sense of peace & contentment is born of forgiveness."
Forgiveness is the key. I am not perfect, my husband is not perfect, and while I do not show my imperfection by having an affair, I have personality quirks that cause imperfections of my own. I may judge others, I may raise an eyebrow (in my mind) when someone says something I disagree with, I may tell a white lie on occasion (YES, I do LOVE your pig riding a dinosaur sculpture, daughter), and I may hurt beyond belief when I think about what my husband did.
But I know he is human, and he is trying to move past this horrible mistake. I have to be able to recognize that I am also a fallible human with the same predisposition to be wrong, imperfect, and just plain bad at times–no different than my husband.
I can't expect him to hold all the keys to my happiness, and I can't expect him to repay this debt that has an unattainable fee attached to it. There is NO way he can do enough, say enough, or act perfectly enough to repay me for the pain and crap he brought into my life.
That's why forgiveness releases me of this heavy burden of disbelief, humiliation, and betrayal. It doesn't release the fact that he ruined a part of my life, but there is still so much yet to be lived, and I refuse to allow 10 months of junk to ruin my future.
He has turned, apologized many times, and is making efforts. Only time will heal the trust issues I have, but I am determined to have a happy life, hopefully with the same man I married 12.5 years ago, and have 2 beautiful children with.
He made a horrendous mistake, but we don't have to sit in the gray clouds of his affair. I truly believe it is no longer an issue, but it will take a long time to heal. Forgiveness is the key, though. Release yourself through forgiving the one who betrayed you (he/she can never repay the debt anyway!), and healing can begin……..
It (forgiveness) is NOT easy. It took a LOT of self-examination on my part. I am a Christian, and that helped tremendously. A book I read, "When Forgiveness Doesn't Make Sense" by Robert Jeffress changed my viewpoint. 
I realized that my husband was not perfect, and tried to understand what led to his affair. It was all him. In a 3 year time span, his beloved stepfather died, he was in a horrific car wreck where he could have been killed, he was diagnosed with thyroid cancer when I was 6 months pregnant, we had the 2nd child which causes additional stress in the marriage, and he did not handle these stressful events in a mature manner. He looked elsewhere for fun and lightness to escape the weight of his reality.
It had nothing to do with me. Although the betrayer will lead you to believe these things to justify the horrible treatment of you, it's not you. Once I came to terms with the fact that he is human and is not my "golden husband," I had compassion for him and what he did. He hurt me more than anyone has ever hurt me in my life, and I grew up in an abusive home. I NEVER thought he would do anything like this, but he did.
I prayed to God for my husband to come back to me, and it's getting there. We are not where I want us to be, but we are getting there. And the forgiveness process is a process, but I had to see enough from my husband to know he was no longer involved with the OW. And I had to let go a little – I had to let go of some of the pain, and it's like holding onto a rope that someone is pulling. The harder I held on, the more hurt I would experience–after loosening my grip, my hurt lessened somewhat. Forgiveness does NOT mean releasing your husband of what he did, but it allows YOU the chance to get rid of some of the feelings that you hold onto as a result of his actions.
A few more things–I did NOT settle for halfway. I made it very clear what I would accept and what I would not. The OW would NOT be a part of our life in any way, shape, or form, and I told my husband I expected certain things from him also.
I KNEW he could be better than he was, so I tried to encourage that in him. I don't want you to think I was a wallflower, "just wait and hope" sort of wife when it came to this. I told him he would either come back as my husband and everything that entailed (devotion to me and our family, making me a priority, etc….), or it would not work.
We also sat down together, and wrote a list of what we would commit to for each other. We read it regularly to keep the focus. Another thing we do together is a nightly devotional. It gets us together daily to focus on each other and what is important.
This can ONLY work if your husband is committed to the marriage, completely. I had to "fight" to get him back, but our family and history was worth it. I'll go ahead and post it here, in case someone can be helped by it:
COMMITMENT:
1. We are married.
2. We will talk with, not at, each other in a way that glorifies the Lord and invites productive dialogue.
3. We will share without the judgment of others.
4. We will not fight without praying either at the beginning or the end.
5. We will pray together, period.
6. We will counter negatives with something positive. (If we can't come up with something positive then we have major problems.)
7. We will celebrate what works.
8. We will forgive the past (not forget, forgive) and focus on what lies ahead.
9. We will be sensitive to THE OTHER PERSON'S NEEDS AND FEELINGS when we talk. We are not two islands, we are one body.
10. We will provide (our children) with a sense of security and peace in their lives despite whatever may be happening in ours at the moment.
11. We will honor each other in actions, thoughts, and speech.
12. We will commit to reading relationship books on a regular basis and discuss so we can learn and grow.
13. We will learn each other's love language and commit to giving each other what they need and not what we think they need because we don't always know.
14. We will not allow pride to blind us of our faults in a situation. Apologize first.
15. We will tell each other we love each other each day.
16. We will appreciate each other verbally and physically.
17. We will not take issues inside our marriage outside of our marriage.
18. We will forgive me when I (my husband) don't always get this right.
19. We will not leave unless physical harm is threatened.
20. We will strive to recognize a need and not view it in a negative light.
21. We will strive to BE married, not just talk about being married. (This means actions, not simply intentions.)
22. We will realize what matters/is important to the other person, and be sensitive to that, making efforts to participate.
23. We will realize that our marriage is the most important relationship we have, and take efforts to protect it from harm.
24. We will not associate with people who are not true friends of our marriage outside of a civil relationship.
I just think this is great stuff, and I appreciate Jenn for making these comments.  In fact, we appreciate all of the comments everyone else makes, and the constructive support that each of you give towards others who are in pain.  It's unfortunate that any of us have to consider forgiving infidelity, but it's good to know that we can get some support from each other!