It has come time that we must leave you.  Just for a week or so that is.  Our daughters have a national dance competition down in Orlando, so we're going to head down there for a few days then on to parts further south for some serious beach time.
While we are gone, we're going to post some of our older posts that we feel are good, but seem to have become buried since they are more than a year old.  It's interesting to look back at these older posts to see how things have changed over time compared to the present.
We're taking our laptop with us so we will still be monitoring and replying to comments, etc., but we're taking a bit of a break from writing new stuff until we get back.
Everyone please take care!
Don't Be A Doormat When Trying To Save Your Marriage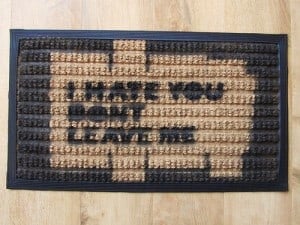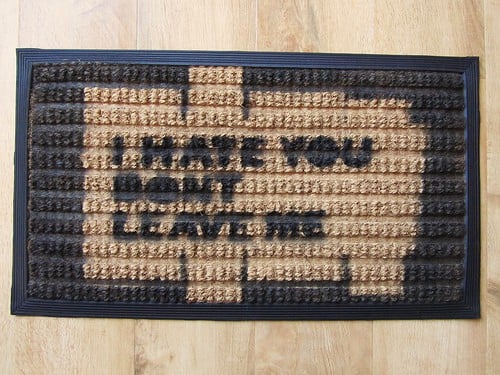 We received an email the other day that we wanted to share it with you along with a response from Linda.  Hopefully, you can get some value from it.  I know that we both did.  After we read this email from "Maria" it really struck a chord with us, and it had Linda visibly upset for a better part of the morning.
I tend to hide my emotions more but it struck a nerve with me as well. Maria's obvious resentment of men and our "fragile" egos aside, she has some valid points. 
I did have it easy since I had the benefit of two women satisfying most of my emotional needs.   As a result, I got lazy and selfish. I also think a part of me felt that in some crazy way I deserved for Linda to "make up" for the time that she wasn't responsive to my needs.  I know, not a good way to think is it? 
Linda and I had a long discussion regarding the various points that Maria brought up, and once again we talked about my emotional affair and I answered many questions that Linda still had. The great thing that resulted from all of this was that even though this email was not real pleasant, it caused both of us to look inward and then openly discuss our feelings in a calm manner with each other.  Even better, after we were through talking we both felt a little bit closer to each other, more in tune with each other's needs and more aware of each other's point of view.
Here's the email…
"Why did you have to do all the work? He was the cheater and benefited by your efforts as if he were some prize and you were a doormat. Old Doug has it made in the shade; he has the diversion of an emotional affair and his wife changes herself to suit his male perspective of a satisfying relationship. No wonder you are having problems reconnecting.  He's giving nothing so it's no big deal to him. What were his mistakes in the relationship? You made it too easy for him; therefore, he is likely to do the same thing again if you pull away. It will not take long for your resentment to build.
Linda, this arrangement will work for a while but not for long. You are taking all the responsibility for tending to the relationship. You are bound to become resentful in time. He cheats and you get to work even harder. It's better to make him work to please you in the way you need now. Don't be fearful that he will leave if you insist and he can't meet your needs then he is not interested in a relationship with you just all the benefits of a wife. Is he reading books how relationships work for women? Does he acknowledge that he is as much at fault for the problems as you are? Is he working to satisfy you emotionally the way that you as a woman need. Is he helping you around the house willingly without resentment and forgetfulness? Is he reading books and working to satisfy you sexually? If he is still doing the things that made the marriage difficult for you before the affair then your marriage is essentially over.

Men benefit more than women in modern marriages. Women are expressing more dissatisfaction in marital relationships than ever before. These are the stats – the rate of cheating among married women is rapidly reaching the same level as men. Moreover, 70% of divorces are initiated by women. The studies showing these trends are not widely reported. Why? The fragile male ego. However, you can easily read the papers in reputable peer review journals. So you are not alone in your dissatisfaction and the solution may be to leave him to make the same mistake in his next relationship."
Linda's response…
In your email you made very valid points.  The comments that you made were thoughts that I have been struggling with for quite a while.  I believe that is the main reason why I am having such a difficult time completely letting go of the resentment and moving on from his emotional affair.
In many ways I feel that I did take full responsibility initially for trying to save our marriage, and that for many months Doug didn't make much of an effort to meet my needs and was just along for the ride. I questioned if he really did care for me then why did he continue to allow me to suffer so much? Why did it take so long for him to get feelings back for me when I was doing everything I could to meet his needs?  Why was he still here?
I believe anyone who has experienced an affair always has those questions in the back of their mind.  However if a person believes in marriage, has a history and a family with this person they should somewhat dismiss those questions and give the spouse a second chance to make things right.  I couldn't walk away from my marriage without knowing that I didn't do everything that I could to save it.
I regret some of the decisions and actions I made initially when trying to save my marriage.  I regret being a "doormat" as you said.  I regret not making Doug accountable for his actions and taking steps to make our marriage better. I regret not having the confidence to tell him that if you want our marriage to work then we will come up with a plan together.  If not, then don't let the door hit you on the way out!
I have said in many posts that when first faced with the effects of an affair, you are acting out of fear and raw emotion. You are alone and there is no blueprint to follow.  That is why I did so much reading and research on the subject.  I did what I thought was right at the time and have learned a lot about myself through this process.
I have learned to have the confidence to stand up for myself and what I believe, and to be completely honest with Doug about how I am feeling.  In return, he has learned to be receptive and supportive of my thoughts, feelings and needs.  We both are working to build trust and trusting that when we communicate our feelings to each other we do not become defensive and are receptive to each other.
Not too long ago, I stepped back and allowed Doug to take the lead.  Throughout our marriage I have always been the fixer and doer.  That is just who I am.  But I believe that Doug needed to take some responsibility. He really needed to learn what I need and follow through on it. As a result, Doug has really stepped up.
I believe that it took him a long time to see everything clearly, but he has realized what he has done in the past and how it contributed to the deterioration of our marriage. He has genuinely apologized and is truly remorseful.  We communicate effectively daily on our needs and how our relationship is going.  I truly believe we are heading in the right direction.
This blog has been an effective tool as well, as we talk about it daily and our feelings about the various posts, comments and emails that we receive from all of our readers.  Our feelings and our marriage is constantly in the forefront of our daily lives. And for what it's worth, we're "reconnecting" just fine.
In conclusion, your thoughts are valid.  I believe anyone who is the victim of an emotional affair should ask themselves the questions you addressed in your email.  I don't encourage anyone to be a "doormat". However, so many marriage books, therapists etc. believe that it only takes the effort of one spouse to turn a marriage around and that one person can make small changes that would encourage the other to reciprocate. In our situation this turned out to be a successful strategy.
But through my own experience, I also learned that I should have communicated what I expected from Doug much sooner in the process, and if he was not able to do those things I should have backed off and began planning my life without him.