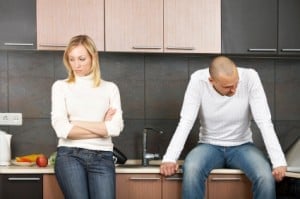 When you first learn that your partner has been unfaithful and you are coping with infidelity, the sense of betrayal can be unbearable to say the least.  In one single moment in time you feel as though your heart has been ripped out of your chest. 
The thoughts and emotions that circulate through your very soul can cause you physical and mental anguish for some time.
Regardless, you wonder about the reasons that it occurred and you look inward for answers as well as you demand explanations for what has happened.
Dr. Frank Gunzburg, in his three decades of marriage counseling has come up with some common questions that you may struggle with when you first find out about the affair:
9 Tough Questions You May Face When Coping with Infidelity
#1: "How could this happen?" On the one hand, the question reveals a kind of disbelief on the part of the injured. Never in their wildest dreams would they have believed something like this could happen to them. Most people can't.  There may be reasons the affair occurred. But right now your job is to focus on you. Let that question rest for the time being, and come back to it soon.
#2: "How long has this been going on without my knowing it?" People often ask this question because they feel foolish and blind for missing the fact that their partners were having affairs. Not only do people feel deceived, they often feel betrayed or played like "suckers."  You are being too hard on yourself if you are criticizing yourself as a dope for being deceived. The fact that you trusted your partner and didn't "see it coming" isn't a detriment to your character. Nor should it be a judgment about your intelligence.
It is likely that what lead to the affair was building for a very long time.  Chances are that as you look back with the knowledge you have now, you can figure out some incidents that were related to the affair. You might be able to see a chain of events that lead up to the actual infidelity. That you didn't see it before isn't foolish; it's human.
#3: "How many people know about it?" You may find yourself wanting to know if other people in your circle of friends and family know about the affair. You may even feel betrayed if you find out they did know about the affair and didn't tell you about it. These feelings are all very normal.
Some  have asked their partner this question, gotten the answer, and found out that they felt exactly the same amount of pain and betrayal that they did before they got the answer. Others, though, feel that it significantly complicates their healing.
If you do find out that other people in your social circle knew about the affair and didn't tell you, it is natural to feel betrayed by them as well. Try to keep in mind that what is going on isn't between you and them. It's between you and your partner, and at this point you probably don't have enough information to properly evaluate the reasons they didn't tell you about the affair. You should probably  give them the benefit of the doubt until you hear your friends out.
#4: "How could my partner do this to me?" This is the ultimate question about betrayal. And it isn't an easy nut to crack.  For now, we encourage you to leave questions of this nature out of your exploration about the affair and how it has impacted your life as best you can. Turn the energy spent on this kind of questioning inward, and start looking for ways you can heal from the terrible damage done to you by the affair. Focusing inward rather than outward will be much more rewarding.
#5: "How can I ever trust my partner again?" This is a very reasonable question. When you count on one person to provide a safe  environment for you to love them and that person betrays your trust, it might seem you will never be able to trust them again.
The truth is that you can learn to trust again, if your partner can learn to be totally trustworthy and demonstrate their willingness by being transparent to you and showing you in other ways that they deserve your trust.
#6: "Have there been other affairs or is this it?" This is one of those questions for which you might never get a satisfactory answer. The sad truth is that when a cheater cheats once, they are more likely to do so again. This is particularly true if they had a "good" experience with the first infidelity. If that was the case, it can easily establish a strong reinforcer for doing it again.  This is not said to make you feel hopeless, only to make you aware of the reality.
#7: "Am I overreacting?" The short answer to this question is "No, you aren't." If you are having powerful negative feelings about the fact that your partner cheated on you, this is perfectly normal.
When we get involved in an intimate relationship with another person, we rely on them to provide a safe and stable environment in which we can give and receive love. Part of this sense of safety and stability is built on fidelity.
Fidelity is an implicit agreement in any committed relationship. When fidelity is violated, it might feel as though the fidelity itself was solely responsible for the safety and stability you felt in your relationship. If this trust is broken, it can feel as if the whole world suddenly became an unsafe place. In some ways, it has. Your world is less safe than you once knew.  For this reason, major negative reactions are not "overreacting." They are perfectly natural.
#8: "Am I being a doormat?" Ask yourself, "How would you be a doormat?" Often, the person asking this question still loves their partner enough to want to work out the relationship, almost no matter how tough the going gets. A related question heard often is "Am I being a fool for still wanting to be with them and work this out?"
You have to know that this is your life. No one else is going to live the consequences of your decisions and actions. The love you feel is special and perhaps too rare in this world. If you want to make your relationship work, you can – but not by yourself – it definitely takes both of you working to improve your relationship to make it successful. And it doesn't necessarily mean you are a doormat; you might just be the bigger person.
#9: "Does this mean the relationship is over?" No and no. Not if you don't want it to be. If you are invested in this relationship and want to make it work, you can. Coping with infidelity is not only a possibility, but you can make your marriage even better than you ever dreamed possible.
For more information about Dr. Gunzburg and his other courses, please visit his site.