Sometimes 'tough love' is the better option when dealing with an unfaithful spouse.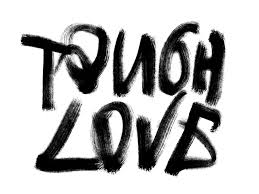 By Linda
I've been reading the book "Love Must be Tough" by James C. Dobson primarily because I've been noticing many comments where our readers are frustrated by the actions of their cheating spouse. 
Not just with their actions of having an emotional affair or physical affair itself, but with their actions after the affair.  The denials, the lying, the not giving up the other person, etc.
I happen to agree with Dobson and his idea of "tough love" and wish I would have used it with Doug from the onset.
One of the themes I hear regularly is the victim becomes clingy and tries to do everything in their power to make their cheating spouse stay, or give up their affair, but to no avail.  According to Dobson, the opposite response towards the cheater tends to be the most effective.
Dobson says that interesting changes begin to occur in the relationship if the victimized spouse convinces the partner that his freedom is secure. Obviously, every situation is unique, but there are typical and common reactions.
Tough Love and the "Clingy Spouse"
According to Dobson, three distinct consequences can be anticipated when a previously "clingy" spouse begins to let go of the cheating spouse:
1.  The cheating partner no longer feels it necessary to fight off the clingy spouse, and their relationship improves. It is not that the love affair is rekindled, necessarily, but the strain between the two partners is often eased.
2.  As the cheating spouse begins to feel free again, the question he has been asking himself changes. After wondering for weeks or months, "How can I get out of this marriage?" he now asks, "Do I really want to go?" Just knowing that he can have his way often makes him less anxious to achieve it. Sometimes it turns him around 180 degrees and brings him back home!
3.  The third change occurs not in the mind of the cheating spouse but in the mind of the vulnerable one. Incredibly, he or she feels better — somehow more in control of the situation. There is no greater agony than journeying through a vale of tears, waiting in vain for the spouse to come back, the affair to end or for a miracle to occur. Instead, the person has begun to respect himself or herself and to receive small evidences of respect in return.
Even though it is difficult to let go once and for all after the affair, there are ample rewards for doing so.
One of those advantages involves the feeling that he or she has a plan — a program — a definite course of action to follow. That is infinitely more comfortable than experiencing the utter despair of powerlessness that the victim felt before. And little by little, the healing process begins.
Looking back, I can see how I actually did offer Doug tough love, but took way too long to do so.  Once I told Doug that he was free to go, I noticed that his apparent desire to be in his emotional affair with Tanya started to reverse.
Click the following link to get more information about "Love Must be Tough" or to purchase it from Amazon.