More mistakes made after infidelity that caused some bumps in the road to affair recovery.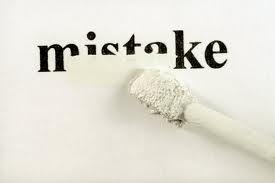 By Linda
Just about a year ago I wrote a post entitled "Dealing With Infidelity:  My Top 9 Mistakes." Much has happened in the almost year that I wrote that, and I wanted to revisit this post to update it and add to my list.
As you well know, nothing prepares us in advance as to what to do after you discover infidelity, how to react to it, or how to best recover from it.  Sure, there are tons of books on the subject, but did we really ever expect infidelity to enter our lives in the first place?  As a result, we tend to make a bunch of mistakes, and only in hindsight do we realize what those mistakes are.
With that being said…Here are more mistakes that I made that I hope you can learn from when dealing with infidelity:
Mistakes Made After Infidelity
Mistake 10: Believing that when the affair is over that everything will be OK again.  Recovery is a long process and the pain associated with the affair will stay with you for a very long time.
Mistake 11: Only focusing on what I did wrong in the marriage and only discussing what Doug's needs were.  Focusing on how he was unhappy.  What was wrong with me, my issues, my problems and insecurities?  I was afraid to appear too demanding. I rarely discussed what I needed in our marriage, what Doug could have done differently and how I felt about our marriage.
Mistake 12: Not completely being honest about my feelings concerning the betrayal, loss of trust and the hurt.  Not letting him know that his behavior was unacceptable and that I had a choice whether I wanted to continue in our marriage when trust was broken.
I remained paralyzed in a place where I worked so hard to save our marriage.  I should have spent some of that time on myself – getting myself in a place where I felt comfortable in making a choice of whether to stay in the marriage or move on.
Mistake 13: Not getting angry.  I basically ignored that Doug had been a cheater, a liar and he betrayed our marriage vows.  If I would have focused on that I wouldn't have been able to be the perfect woman, because I would then have to be angry.  Instead, I should have gotten really pissed off.  I should have let it out and released those emotions instead of carrying the blame for his emotional affair.
Mistake 14: Not allowing him to experience what he would be missing or lose if he lost me.  I was always there, available.  Just so you know, I don't really think that separating is a good idea if you are trying to save your marriage.  But part of me thinks that it would have been a good thing if I would have kicked him for a while after I found out about his emotional affair.  Then he too would have experienced pain, uncertainty, and a sense of loss.
Mistake 15: Not taking time to really think everything through and to gather my thoughts and feelings.  I reacted initially strictly on emotion and instincts.  I was in panic mode.  I should have waited for the initial tidal wave of emotions to pass so that I could think and act a bit more logically.  I know, easier said than done.
Mistake 16: Not talking to a professional, therapist, counselor or mentor early on after the affair.  Though I eventually did have a few sessions with a therapist, it was too long after the initial discovery of Doug's emotional affair.  As a result, I believe this caused my recovery to take much longer.  By the time I did talk to a therapist, I knew as much about affairs and the recovery process as he did!
I'm positive that I'm omitting other mistakes, so when I think of them I'll add them to this post, or start another one.  In the meantime, please comment with any mistakes  made after infidelity that may have caused a bump in the road in your affair recovery journey.