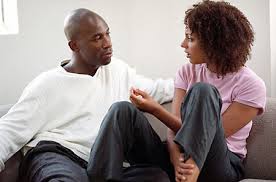 Despite the devastation that a marital affair causes, our experience from writing this blog tells us that most betrayed spouses have the desire to save their marriage–and for that matter, so do the cheating spouses.  The affair however, becomes a very large painful bump in the road.
Many have said that they continue to love their cheating spouse, and that due to the many years together and the many shared experiences, they want nothing more than for things to "go back to the way they used to be."
However, we're here to tell you that going back to the relationship you once had is probably not where you want to be.  After all, by going back, you are headed right back to where your marital problems started in the first place.
That past relationship is now forever gone. Even though it may be tempting to look at all the happier times of those past years, many married couples  actually carry their past pain right up into the present.
This is one reason that looking to the past and working to get back there can cause you to bring past negativity into your attempts to save and rebuild your marriage, and possibly destroy your chances of building a better relationship with your spouse.
Naturally, after the affair it can be difficult to move into the future if you're not sure about the foundation of your marriage. But we can attest to the fact that if you are willing to put forth the effort to rebuild your marriage and strengthen your foundation, you can experience a much stronger relationship than you have ever had.
After the affair, it might seem impossible to imagine that this is possible, and it won't happen overnight because saving your marriage is a process that takes time.
There is some groundwork that must be accomplished first in order to survive an affair and build a stronger marriage. Basically, you need to resolve old issues first.
Here are some initial steps you can take to help accomplish that:
1)  Determine your marital trouble spots.
You need to define the recurring issues that arise from unmet needs, such as:
Fulfilling one another's need in how to express affection
Lack of effective communication
The need to spend effective and adequate time together
Satisfactorily dividing up various tasks
Agreeing on the amount of effort to expend to save your marriage
The trouble spots you are defining are those problems that you constantly argue about and where the needs go unmet.
2)  Agree on the specifics
Once you have defined the trouble spots which lead to arguments and unhappiness in your marriage, you need to specifically state exactly those needs that are important to you to come into agreement on. Write them down so that there are no misunderstandings.
3)  Develop your solutions
Now that you have decided what your needs are and have come to an agreement that these are the items you need to put your effort into, you must now develop solutions together to reach your goals.
For example, if Linda feels that an important need for her is to feel that she is appreciated more, then she might suggest ways for me to be able to do so more effectively.  Perhaps I need to tell her I appreciate her verbally, as well as show it in some other way too.
Now this is a very simplistic example, but often the solution can be as simple as developing a new habit, which might take practice.
Surviving an affair and saving your marriage requires a broad range of effort from both of you, as troublesome issues that took years to develop won't just go away on their own. To save your marriage and make your relationship all that you want it to be takes commitment from both of you to set aside your old habits, fears and bias and move yourself into potentially uncharted waters.