Some tips for expressing your feelings in a more meaningful way so you can begin to let them go and work to survive infidelity.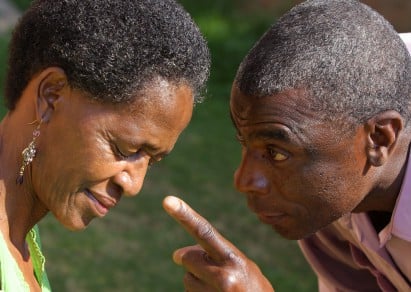 By Linda
In our first article of this two-part series, we discussed the 3 reasons you may be holding on to your anger.  Today we are going to offer some tips for expressing your feelings in a more meaningful way so you can begin to let them go and work more towards surviving infidelity.
Once again, we will be referring to the work of Dr. Frank Gunzburg, author of "How to Survive an Affair."  His course is certainly one of the most comprehensive resources we've found on surviving infidelity.  
Dr. Gunzburg offers 3 tips to better express your feelings with your spouse:
Tip #1: Control the Inner Cave Man
Before you even begin talking to or listening to your spouse you need to control your inner "caveman."  That is, the beast inside of you.
Dr. Gunzburg reminds us that the cheating spouse whom you are talking to is not your enemy. You want this person to be your best friend.  This may be hard to keep in mind when you are trying to discuss feelings of anger and betrayal, but it is critical that you do so.
If you think of your spouse as the enemy, you will let out your inner caveman. Doing this will start the cycle of anger all over again and you will feel the desperate need to win and conquer rather than heal and repair.
You can control this beast inside you and choose to act differently.  The control is in your thinking and in your attitude. The thinking and attitude occur before you have the resultant feelings.
You contain yourself for a reason: It's the best way to move forward with your marriage. You choose to change your attitude to one of friendship and accept your feelings and not act out in rage so you can save your marriage.
Gunzburg says, "If you won't do this, if you make excuses about it being too hard, you are essentially giving in to your inner caveman and creating justifications for further unproductive (and perhaps even destructive) arguments with your spouse."
This isn't an easy step by any means, but it's the first step in getting past your anger and surviving infidelity.
The Big Five: Gottman's Communication Techniques to Talk about Infidelity
Tip #2; Use "I" Statements
In order to communicate your feelings to your spouse effectively, you have to talk in a manner so your spouse can hear what you are saying.  When it comes to communicating anger and resentment, the most important thing to remember is to use "I" statements.
Instead of saying "you did this" and "you did that," Gunzburg recommends you focus on your personal experience and your feelings.
For instance, you might say: "I feel crushed, I feel sad, I feel disappointed, or I feel resentful." You can then tell your spouse why you feel these things. But the point is to focus on your experience. Tell your spouse how you feel, not about what "he or she did."
Tip #3: Manage Your Feelings So You Can Truly Listen
This one is more for the cheating spouse, but does apply to the injured person as well, and it is one of the most important pieces of the whole communication process.
You need to learn to manage your feelings so you can listen to your spouse.
That means identifying him or her as a friend instead of an enemy as mentioned above. It also means no defending, no editorializing and no argumentation.  It means accepting what your spouse is saying as his or her experience, even if you don't agree with or like what is being said. It means assuming your spouse is a rational person with good reasons for thinking or feeling the way he or she does. And it means you make an attempt to understand your spouse's perspective even if it doesn't match your own.
Forget about the idea of someone being "right." Instead focus on the experience your spouse is describing.  Allow your spouse to develop his or her thoughts and feelings in real time. Ask questions. Be attentive. And don't hold your spouse to previous statements made in the conversation.
This was hard for me…
I struggled with this aspect at first, to be honest with you.  When Doug and I would discuss his emotional affair, I tended to let my emotions get in the way and consequently, I heard what he was saying but I wasn't really listening.  It didn't sink in.  I'd always end up asking the same questions over and over.  Eventually, using this technique, I was able to put aside my emotions and have deep, meaningful, calm discussions with Doug so that I could truly understand where he was coming from.
It also helped me to move past having to know all the details of the affair and instead allowed us to discover the underlying reasons that existed within our marriage that caused it to happen in the first place.
The bottom line is to really listen to your spouse. Understand his or her perspective. Don't stay buried in your own perceptions.
These tips are only a small part of a larger step-by-step program for managing angry feelings, discussing them, and improving your communication skills overall.  But if you incorporate these tips, by themselves they can make a dramatic difference in your marriage and in your chances of surviving infidelity. These are ways you can move beyond your anger and continue down the path toward acceptance.
Holding onto anger and pain damages you more than anyone else. Make a commitment to yourself to get rid of it. Please go to: www.surviveanaffair.com and get started receiving Dr. Gunzburg's information.