Dr. Bob Huizenga on the shame and embarrassment after infidelity.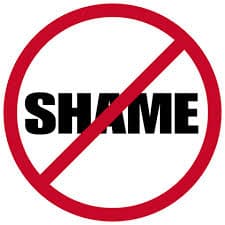 By Doug
We wanted to share with you an article that Dr. Bob Huizenga, author of "Break Free From the Affair" wrote in his most recent newsletter that deals with the shame and embarrassment that we feel after infidelity.  Please read on.
Don't Shame on You – Thoughts on Shame and Embarrassment after Infidelity
by Dr. Bob Huizenga
Shame seems to be a big component of infidelity – both for those who cheat and for the wounded spouse.
I was thinking about this as I contemplate asking some of you to do a video or audio testimonial on how you have healed and moved through infidelity with greater power and influence. You are reluctant for others to know of the infidelity in your marriage.
When infidelity is discovered in a marriage, and brought out in the open by the couple, usually (I would say 95% of the time) there is an overt or covert agreement not to tell or hide the fact from others, except perhaps for a close friend or family member. And, they are told not to tell.
It's as if infidelity is a black mark. It is embarrassing. One would think this is true for the cheating spouse, which it is, most of the time. (I would say 80% of cheaters feel the shame whereas the other 20 % have rationalized the infidelity or are of the "I Don't Want to Say No" variety and little social consciousness.)
But even in more situations it's the wounded spouse who feels the embarrassment and shame. The wounded spouse wants to shrink, wants to hide and indeed feels as if s/he is tainted. The persistent thought, "There must be something wrong with me. Something was wrong with the marriage. I failed" will not let go. Life becomes constricted.
Or, the wounded spouse holds tightly to the infidelity secret for fear that others knowing would enrage his/her cheating spouse or somehow be the final dagger in the marriage.
Openness is guarded against. Trust becomes more and more difficult to attain. One forever is "held back" and seemingly cheated out of a richer life.
Here are some thoughts that might help with this issue of shame and embarrassment.
1. You are NOT alone. Infidelity is common. (I was going to say "normal" but I knew that might incite the wrath of some.)
Let's face it folks. Infidelity is rampant. It always has been. It always will be.
Where ever there are people with hormones, needs for attention, needs for belonging and don't know how to get those needs met appropriately, who either lack skills or have a fear of legitimate intimacy, you will have people wandering, thinking the grass is greener, when actually the greener pasture is a war zone filled with land mines.
My guess, from 30 years of clinical experience as a Marriage and Family Therapist: 80% of all couples will at one time have one partner either dabbling in or fully engaged in infidelity.
You see, marriage is far from perfect. One study indicated only 1 out of 10 would consider their marriage "good."
As well, marriage is given to us to develop, to mature, to evolve over the course of our years here on this planet. Marriage is not an end…whereby we achieve happiness. Marriage presents its developmental challenges, from the first child, to the first teenager, to the last child leaving home, to retirement, to preparing for death. And, in those processes we may experience further challenges of the death of someone close, bankruptcy, vocational failure, health problems and yes…. infidelity!
Marriage is a process, a growing process, filled with trials, temptations, anger, passion, boredom…you name it. We in the marriage continue to "use" the imperfections of our partner to move us forward in terms of our standards, values, beliefs, and well-being.
The cheater fails to grasp this, fails to fully embrace his/her foibles or just plain turns scared and runs. Infidelity is a chosen solution for one's inner pain and "lostness."
And the wounded spouse often fails to grasp this and become embroiled in his/her responsibility for another's action (believing s/he has THAT much power over another) or becomes immobilized with shame and/or guilt and fear.
Infidelity happens! Yes it does – to a majority of our population. You are NOT special.
2. There is more to us than our sexual identity.
OK, in our culture, if you buy into television, movies, tabloids, newspapers, Hollywood, The Bachelorette, advertising of all forms, romance novels, beauty pageants to name a few, it is obvious that we are hung up on how attractive, desirable, beautiful, sexually appealing and wanted we are by the opposite gender, or maybe the same gender, if gay.
We are obsessed with our sexuality.
And, infidelity gets mixed in here to a large degree. The OP must be hugely more appealing, right?
To be a little frank here, please know that some of the most beautiful and externally most desirable people you meet may be lousy sexual partners – with limited capacities to enjoy and/or give.
Please know that this obsession is a part, a small part of our personhoods. Let's move beyond staring incessantly and blindly into the headlight of sexuality – at least portrayed "out there."
What is it about you that makes you you? What do you value? Hold dear? What standards attract you? With what purpose do you enter each day? Do you have the capacity to laugh at life, at yourself? Do you enter into relationships with curiosity? Do you embrace the world without fear? Do you trust your inner most inklings and intuitions and use those as a basis for entering the world around you?
3. Life is a solitary journey that holds the capacity to enter into tremendously intimate relationships.
Here I'm helping you move beyond the thought that you are responsible for his/her actions, that what you did "made" him/her do something.
Infidelity is a soap opera. It is an entanglement of two lost souls. And, if the wounded spouse allows him/herself, s/he too becomes part of the soap opera drama and three wandering souls now involved.
Relationships are fine, but they are overrated! (That might stir some thinking!)
Energy is consumed trying to get something from the other, either actively, but most often, passively. Even meeting the other's needs, being nice, and avoiding conflict lead to emotional entanglement and juice but devoid of intimacy.
My journey is to discover myself. And THEN I have something to offer, something to give. Before that, I'm a noisy gong or a clanging symbol.
4. The Truth shall set you free.
Infidelity survives and thrives on secrets. Secrets kill. Secrets demand energy and collusions that fly in the face of health and well being. Secrets prolong the soap opera and drama.
In my training as a Marriage and Family Therapist, I came across the concept that secrets will move from one generation to the next. In reality, the sins of the father and mother can be carried to the children.
Secrets cover life with a cold wet blanket. You feel it's heaviness and darkness. You confront it, which is a challenge, since the unspoken rule is not to speak about the unspoken. Or you live life as best you as you can; duller, partially paralyzed and see the tension oozing out in other forms of disorders (acting out children, physical illness, mental illness, failures, accidents, weight gain, weight loss, etc.)
Secrets suck life.
Here are concrete things you can do to move beyond this… the shame and guilt.
1. Walk through a mall or crowded place and observe the people. Remind yourself that EACH of them in some way is carrying some burden, feels at some level their personal pain or emptiness and in reality is no different than you.
2. When at a party or gathering of family and or friends see them also as no different – harboring some challenge, some struggle, some pain, some confusion. Believe that they too desire deeper richer relationships and are on the same journey as you. Attempt to engage a few of them about that journey. (Do it in a way that fits you.)
3. Begin to tell your story of infidelity to trusted others. Begin slowly. Test the waters first before divulging a great idea. Yes, some might judge. Don't waste time there. Move on to someone else.
But a high percentage will understand, because they too have been there, done that or at least have thought about it. I often encounter those who upon opening to another were pleasantly surprised by their receptivity. In reality, the other person began sharing his/her own story, with a sense of relief.
I realize how difficult it is to move out of the shame and embarrassment after infidelity. It is a major shift. It takes time. But, once this is achieved a new world opens ripe with new possibilities.
Certainly, there are parts of this article that ring true for Linda and I.  After all, we write this blog anonymously so as to not let the cat out of the bag to friends and family – mainly out of shame and embarrassment.  Only a few of Linda's trusted friends know anything about our experience.
If you have struggled with shame and embarrassment after infidelity, I think Bob gives us some food for thought in this article, but I also would like to hear in the comment section how (and if) you have dealt with it in your own situation.
Click the link for more information on Bob's groundbreaking book, "Break Free From the Affair."  You can also visit his site by clicking here.