by Sara K.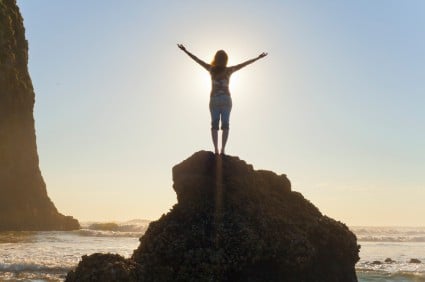 One of the biggest hurdles to overcome after an affair or infidelity is regaining the trust in your spouse and in the future of the relationship. But, often an overlooked component is regaining the much-needed trust in You.
Before my husband's infidelity I had a safety net of faith in myself built up inside. I made decisions very quickly and always believed in following my gut. My friends and family came to me with queries all of the time, because they knew I always made great last-minute decisions.
Once the infidelity came to light, I found that suddenly I was second and third-guessing my instincts. No longer could I do any simple task without huge doubt.
Just picking out fruit at the grocery store was a chore. "Yes, this looks like a ripe melon. But, what if I go home and cut it open and it's not good inside?" I would stand in my produce department having an inner turmoil for way too many minutes. People were starting to stare at my indecision.
I remember my friend Melissa calling me one evening asking me to pick the book for our book club. I spent over three hours reading reviews on Amazon trying to imagine if Betsy would find my selection interesting or if Michelle would roll her eyes at my choice, again. I was suddenly tremendously self-conscious so I started to do a different kind of search – an internal one.
When someone breaks your trust, your heart and your confidence in one fail swoop it is obvious why you would lose faith in his ability to treat you right. However, it can also feel like someone else failed you too – your own self. I felt that my instincts should have pointed me in the direction of what was happening right in my own home.
I had so much over-confidence in my husband that I never imagined he could possibly hurt me like he did. I never examined whether or not our marriage was in a good place (which is wasn't) or why. I took for granted that my gut said 'carry on' and never stopped for a moment to say – 'Hey, Sara, maybe something's not right here'. I was angry, but not so much at my husband, but at myself for letting me down!
Trusting Yourself – Rebuilding Your Confidence With a New Habit
Learning to stand on your own two feet and trust your gut again can be a lengthy process. But, understand that with patience and trial and error you will get there. In my period of learning to regain trust I came up with an acronym that really helped me focus not only on learning to be confident trusting my husband but also with learning to accept and trust myself again:
H.A.B.I.T
Honesty – Being completely honest with the fact that I was angry at myself allowed me to examine and learn that there were issues within my marriage that were there long before the infidelity. Happily married men don't cheat. We had both been responsible for ignoring our issues and pretending that everything was fine. I had to also be honest with the fact that although I was responsible for contributing to the issues within our relationship, I was not responsible for his infidelity. That was not a choice I made. That was a choice that he made.
Acceptance – Once I was honest with myself, I was able to accept that New Normal can be better than our old relationship. Talking through our biggest issues, having a chance to examine where we went wrong allowed us to begin to accept that we could have something much better, much stronger and much more honest than we had before. Trusting myself was already returning slightly at this point.
Bond – Aside from re-bonding with my husband, it was imperative that I re-bond with myself. Spending much needed Me Time, doing things I enjoy, writing, reading, walking, getting my nails done, lunch with an old friend. Bonding with myself allowed me clarity to love myself again and let go of the doubts.
Intimacy – Part of learning to trust your spouse and trusting yourself again comes from sharing intimate thoughts. Deep emotional connections, making and expressing love with open honest communication all bring in intimacy and ignite the trust within. Learning to trust and listening to my body carefully allowed me to tell my husband what I needed both in and out of our bedroom.
Trustworthy – Every time I make a decision and follow through on listening to my gut, I feel like it's a little stronger. Being trustworthy means you can count on yourself to be there, to listen to your own instincts and think things through. You don't need confirmation from others that you're doing okay- you just need confidence in your own healing abilities.
With this new H.A.B.I.T in mind, give yourself a well-deserved pat on the back for putting faith back where it belongs – in you.  As trust grows, so does your clarity and love. This can permeate into your relationships, your marriage and your ability to function, to grow and ultimately, thrive.