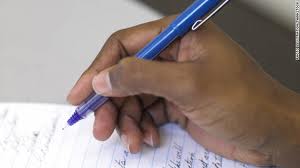 I brought up a few conversations with Doug last week about details of his emotional affair with Tanya that really did not make him very happy.  I understand why, (my poor timing for one thing) but I also know that these conversations are an important aspect of my understanding and healing from his affair.
I knew that the last thing he would want to do is have another discussion about this today (Sunday), so I thought I would write him a letter expressing my thoughts.  I also thought it might be beneficial for many of you as well.
---
Dear Doug,
I know that I have been bringing up the emotional affair for the last two years and feel that I have exhausted every question, every reason. I know that you feel that there is nothing else to say that hasn't been said before.  I want to tell you that isn't true.  Two years ago when we began this journey your answers to my questions were completely different, and as the months and years passed your answers kept changing to the point that I believed you were discussing a totally different woman and relationship than you had two years ago.  So you can see my determination to finally arrive at the truth about your affair.
I know that you believe that I don't need to know all the facts, which in some ways is true, but knowing the dynamics of your relationship and what you received from her would greatly help me with my healing.  I want to feel secure knowing that I am doing everything I can to make you happy.  I know you say that I am perfect and am doing everything right, but I need to experience that security myself, and feel in control.  Understanding your affair is the only way I am going to arrive at that place.
I finally feel you have come to a place that you understand the reality of your relationship with Tanya, and for the most part you have put the illusions away. I can deal with the reality of the situation – the fantasy was too unattainable and too out of reach.  The things that you tell me now help me understand why your relationship was so addicting and so difficult to give up.  It also helped me understand what you were missing and how she filled the void.
I also have learned that I don't want to do the things that Tanya did.  Those behaviors demonstrate a person that has a confused idea of what real love truly is.  I understand why her jealousy and possessiveness was not a major problem for you because it was flattering.  You felt needed and loved.  I can't act that way towards you because to me jealously represents an insecure way to gain control.
I know that there are many other ways to show you that you are a loved and needed, and I hope that I am displaying them to you in my way and that they are meaningful because they don't include games, juvenile displays and being someone I am not.  I hope that I show you I love you every day by my commitment to our relationship, always having your best interest at heart and being supportive in everything you do.
I have resigned to the fact that I will never be a bubbling, flirtatious, jealous and controlling woman.  Deep down I know that is something you never really wanted anyways.  Fortunately, I have realized what you really need and that is to be appreciated, respected and loved and I am confident that I know how to do that.  I am warning you though, that it will not always be magical, addicting, and exciting, but with me you will always feel secure, it will always be real and it will last the rest of your life.   With me there are no games.  What you see is what you get.  I wear my heart on my sleeve but I am intensely loyal to the people I love.
So I hope you understand that if our real conversations about your emotional affair can produce this kind of insight, that it is a positive thing for the both of us. I know it is painful talking about something that produces so much anxiety and guilt. I really understand because I feel the same way when we talk about my mistakes of the past, but it makes those mistakes real, and helps us learn from them and  therefore we are able to make things better.
That is all I really want for us, to move on and have a wonderful marriage, but we need to really talk about things first.  I hope you understand that until you let that illusion go we really weren't talking, you were just trying to pull me into your fantasy.  I want everything about our lives to be real, and I want the reality to be wonderful.
Love always,
Linda
[wlsp_signup]
LINESPACE