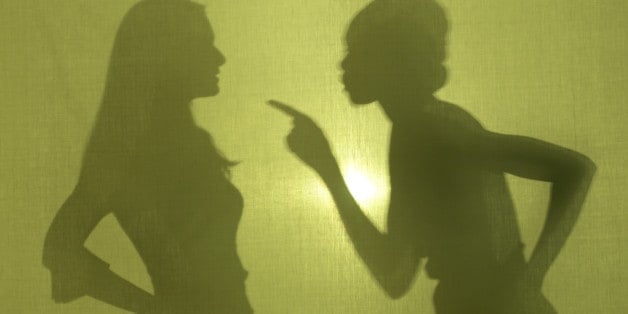 By "TryingToGetOver"
One of the most frustrating parts of recovery is having about a million things you want to say to the person who stole your spouse's attention. None of those things are nice. None of them would help the situation. But boy, would you like to get them off your chest!
I'm one year past the day I realized that my husband and his AP had taken their relationship underground. It's triggering, as all anniversaries are. My husband knows how I feel, so there is little left to say to him that isn't just me repeating myself. But to her? I'd like to tell her to her face that, since she is a woman who set out to hurt another woman, I consider her the lowest of the low. That since she is a mother who tried to destroy another family, she will disgust me forever. I want to tell her that she is the first and only enemy I have ever had. I want to shame and embarrass her the way she humiliated me and brought me low.
And I find myself playing fantasies in my head about other things I would like to say to her face. The rants in my mind are ugly and non-printable. Sometimes, I can very viscerally imagine how satisfying it would be to slam her head into a brick wall. I've imagined coming across her car and putting a baseball bat through the window. I've probably imagined kicking her in the teeth at least as many times as my husband imagined kissing her.
I'm not an aggressive or violent person, and I'm sure I'd lecture my children that they should not hit back unless absolutely necessary for self-defense. But there is something about the betrayal of the affair that really sends my anger to another level. I am afraid, if I do come across her, that I will actually punch her—that I'd have an out-of-body experience and throw her to the ground. I pray, then, that we never meet again and that my fears won't be tested.
I admit I have great fun reading the revenge fantasies people post on this site, even if we all agree that revenge would solve nothing. Obviously, most of our revenge fantasies would only make things much worse. Revenge would make us look bad, if not land us in jail!
Besides, time generally takes care of revenge for us. People who do ugly deeds have them come back to haunt them. Those of us who rise above that fray lead happier lives, which is the best revenge of all.
In the meantime, the appropriate person to keep talking to is our spouse. If he or she has broken all contact with the AP, that means we won't be having contact with that person either. All the insults we'd like to hurl have to go unsaid, and all the revenge actions we'd like to take have to remain fantasies.
What we can do is rebuild our marriages. But if anyone wants to post a wacky revenge fantasy for me to giggle over, feel free! I love that we have this safe space to at least vent to each other.
(Thanks so much to "TryingToGetOver" for sharing her experiences with us – again.  We love to share articles from our readers.  So if you'd  like to submit an article for us to possibly post on the blog, feel free to contact us about your ideas.)