If you are unhappy in your marriage (and in life), it's up to you to do something about it. Only you can make you happy!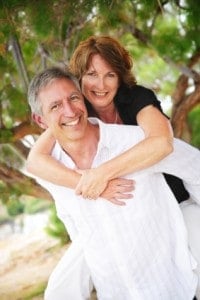 By Linda
A fatal flaw, both in marriages and in life in general, is that many people have this illusion that another person can supply them with happiness.  In fact, the troubles in your marriage may or may not be due to dissatisfaction in your life.
However, if you feel that there is the slightest possibility that there is something that you can do to better your situation and the overall quality of your life, then by all means you should do it.  If you are unhappy in your marriage (and in life), it's up to you to do something about it. Only you can make you happy!
Unless you know how to make yourself happy, you are destined to go through life very disappointed. Certainly marriage is not an exact science, nor is it like some magical fairytale, but you will not find it fulfilling if you are not satisfied with other areas of your life.
Psychiatrist David Viscott says: "The way to live with another person is to start with the right person.  But you can't start with the right person until you know exactly who you are."  He goes on to say that you "become dependent on the relationship to make you feel good – and less dependent upon it once you find yourself."
One of my favorite authors, Michelle Weiner-Davis, in her book "Divorce Busting," writes this passage that I think sums things up very well:
"Although loving someone can be one of life's most gratifying experiences, it must be the icing on the cake.  In the same way that eyeglasses sharpen images as opposed to giving vision to the blind, you must be whole in order to feel whole with your mate.  Sometimes couples in love appear to be like one.  Their individualities seem to mesh frictionlessly.  However, sound marriages are in reality more like three.  There's you, me and us – three separate identities.  Unless your life has definition and meaning without your mate, your relationship is doomed from the start."
You need to keep in mind that no one person can satisfy all of the emotional needs of another – even in the best of marriages.  No matter how much you love your spouse, you will have needs that are not being met.  The key then is to find other ways to get these needs met. You have to make yourself happy.
Many realize that they are unhappy and have important needs that are not being met in their relationship, but instead of trying to change the situation, they do nothing, say nothing, and end up drowning in silent misery and resentment.  They feel that their spouse is the sole road block to happiness, and fail to recognize the role that they played in creating their own unhappiness. Often it results in them having an affair.
When thinking about our own situation prior to Doug's emotional affair, it was obvious that we both were defined by our marriage.  We both did what we had to do with respect to work, chores, family activities, etc. but failed to work on our own happiness.  I placed the entire responsibility for my happiness and well-being in Doug's hands, and he did the same with me.  When things started to be less pleasant in our marriage, I felt Doug was responsible for my unhappiness, and he thought the same of me.  Neither of us stood our ground and took the initiative for making our lives more fulfilling.
So here we are more than two years later, and it seems as though we have stepped back in time to a point in our relationship when we were just starting to get to know each other and fell in love with each other.  It's a shame that it took an emotional affair to get us to this point, but it feels good to be back to this place nevertheless.
Just as in all relationships, ours will continue to grow and evolve over time, and we will certainly have our share of disagreements down the road, but if nothing else, we are older and wiser and have learned our lessons and will be able to recognize if our relationship is getting off track. We both know that we each have a profound affect on one another's lives and overall fulfillment and well-being, but ultimately we are each responsible for our own happiness.