Since we're out wandering around the wilderness until later tonight, we thought we would re-post this video from about 2 years ago on affair-proofing your marriage.  We hope you can benefit from it.
Many people believe that a marital affair can occur in part because one or both partner's needs are not being met within a relationship. This week's video is with Dr. Bill & Joyce Harley. Dr. Harley is the author of "His Needs Her Needs-Building an Affair Proof Marriage" and in this video he, his wife and co-hosts discuss the primary needs of men and women and how they can be recognized and utilized to affair proof a marriage.
This video can be helpful for you in both prevention of affairs and repairing your relationship after an affair. There is also a helpful Emotional Needs Questionnaire download that you and your partner can complete so that you can better understand each other's most important needs.
Please click on the picture below to view the video. Have a great weekend!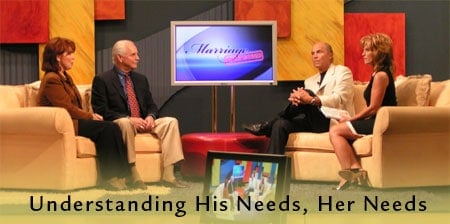 [wlsp_signup]