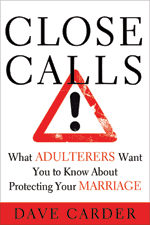 Most of us who are married come to the point in our relationship where the excitement and satisfaction levels drop off considerably from earlier times in our marriage. It could because of the kids, work or some other aspect of everyday life.  It's these low-satisfaction levels that can lead a person to having an affair.
I've been re-reading one of my favorite books, "Close Calls" by David Carder, and one of the suggestions he makes amounts to basically having an affair within your marriage.
During stressful times many married couples forget to take the time to do things alone that they enjoy doing best.  Carder says that when doing the things you like to do best, it produces a high level of mutual satisfaction that includes the precise elements that are found in affairs. Those elements are:
1.  Childhood Magic. This is the freedom from responsibility and schedules that seem to consume our lives.  It allows you to come and go as you please and do the things you want to do—when you want to do them.  Carder describes a situation where we have all seen couples that appear to be in their own little bubble, oblivious to all who are around them.  This feeling of childhood magic needs to be experienced periodically in your marriage.  Carder says, "You had it when you dated.  It will energize you, build great memories for the two of you, and create anticipation for the next time you experience it."
Doug and I are at the point in our lives where our children are older, which allows us to get out and do things more often without having to drag them along.  Obviously, we love our kids and enjoy being with them, but sometimes you just have to get away and make time for yourselves.  Each time we go out we talk about what we can do the next time we go out.  So there is anticipation there for us to do it again.  If we see ourselves slipping into a rut for whatever reason, we always are quick to schedule a night out, some exercise or just to watch a good movie cuddled on the couch. These nights also usually end with some hot passion, which is another added benefit.
2.  Adolescent Sexuality. This is unplanned, spontaneous, lustful, passionate sex.  Hopefully you can remember what that is like!  Carder mentions a survey that indicates that better than 90% of couples involved in marital affairs reported having sex in their cars.  When was the last time you and your spouse did it in your car?  The point is, spice it up in the bedroom.  Better yet, maybe spice it up somewhere other than the bedroom.
Since Doug's emotional affair, we have really increased the passion in our relationship and have spiced up our sex life significantly.  When you do this, it not only becomes more exciting, but you also experience a higher level of intimacy and openness with each other more frequently.
3.  Adult Mobility. Is the component of traveling together, of meeting at a hotel, of going away for a weekend together, or maybe just sneaking home while the kids are in school for some alone time.  I really like this statement that Carder makes in the book:  "If you were having an affair and had an hour and a half for lunch, and it took you a half hour to drive each way to see your partner, you would make the drive just to be with each other for the remaining half hour.  When was the last time you made that kind of effort to see your spouse?"
The point is to do some things that are unexpected and fun with your spouse — just like you would do if you were involved in an affair.  Doug and I try to do these types of things as much as possible.  Again, because of work responsibilities, along with our kids being involved in so many activities which demand our time, it can be difficult to do.  It doesn't have to be much though.  A few hours here and there add up over time and are effective nonetheless.  We have an alone out-of-town weekend trip planned in the near future, and have done day-long canoe trips, a night of camping and a few nights just home alone.
Having an affair within your marriage can help you to achieve a higher level of mutual satisfaction which can be effective in preventing affairs in the first place.  In our situation though, we have done it to help save our marriage after Doug's affair.  The excitement level was missing in our marriage previously and by adding the elements described above, we have been able to turn back the hands of time, so to speak, and have regained some much needed excitement and passion.
I do realize that many of you may not be to the point yet where you feel comfortable using some of these strategies.  For instance, you may have just recently found out about your spouse's affair and are too mad or hurt, or perhaps your spouse isn't at a place yet where she feels comfortable.  If you do get to the point though where you feel that working on saving your marriage is what you want to do, then having an affair within your marriage can work great—and it can be lots of fun!
[wlsp_signup]
LINESPACE