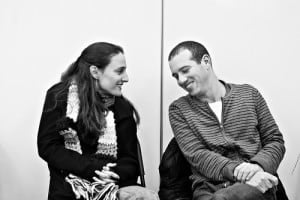 I realized a very important lesson recently and that is because of Doug's emotional affair I am very vulnerable to having one myself. 
For two years I have been fantasizing about what his affair was like, and wanting to have the same feelings that he experienced during his affair.  I didn't realize until now how desperate I was to have those feelings.
This past weekend I called a friend to confirm that she was going to a monthly get together, but her husband answered the phone – which is usually the case.  I've known my friend and her husband since high school, and we have traveled together and spent a considerable amount of time with them and their family.
Whenever I talk to her husband the conversation usually turns toward his wife and our little standing joke that she pretty much rules the roost. 
She had just gone back to work full time and I asked how she was managing, and her husband said she was managing fine because he is still the one cleaning the house and taking care of everything else around the place.
This is usually when our conversation becomes dangerous, as he typically complains and then I proceed to tell him that he shouldn't take that from her.  He usually says how understanding I am, and that I know how to treat a man, etc.  You can only imagine how in our joking way that this conversation could get way out of hand.
In the past I would have thought the conversation as just good-natured joking, but that day I felt differently.  It felt good to have someone acknowledge me.  It was flattering, and it was exciting that someone thought I was better than his wife.
I could have been in the initial stages of an emotional affair! 
I realized that it really wouldn't have taken much effort because he is as vulnerable as I am.  It could begin as an innocent text to remind him to do a chore she had demanded he take care of or an arrangement to spend some time as a couple. 
Any gesture would give him the impression that someone cared about him and was more interested in him than his wife. On the flip side, any opportunity for him to make me feel appreciated and validated would produce those infatuated feelings.
Before Doug's emotional affair, if I felt this way I probably would have just put it to the side, blamed it on our stale marriage and fantasized about what it would be like to be married to him.   Now I feel the need to let the feelings out because of everything I have learned from the affair.
Doug was out running an errand during my phone call and when he pulled in the driveway I met him at the door expressing my guilt and feelings.  I told him I just set the ground work for an emotional affair. I was really upset, but he just looked at me like I had lost my mind (I get that look a lot lately), but little did he know that I was really concerned and understood how he felt  when he was with Tanya.
I know that I made a good decision to tell him, even though I don't think he took my admission seriously.  I also believe that we need to talk about why I had these feelings.  What is missing in our relationship or within me personally that allowed a few complimentary words make me feel lightheaded and confident?
The positive in all of this is that I know this man (my friend's husband) pretty well, and even though he has some traits that I find appealing, I also know enough about him to realize that being in a long term relationship would never be something that I would want or would last.  The traits that I find appealing would also become boring over time and I would eventually find myself needing the fun and thrill that I have with Doug.
This experience has made me realize how easy it is to enter the fantasy world of an emotional affair, and how keeping your feelings secret can produce a lot more illusion about the person than what really exists.  I understand how important it is to communicate these feelings to your spouse – not because you want to make them jealous – but rather to let that fantasy go.
When you keep things inside and secret it is much easier to turn it into something it is not. 
I am sure the Doug took it lightly because he knows that my friend's husband is someone I am not compatible with.  I am also sure if he would have told me about Tanya at the beginning of the emotional affair, I don't deny that I would have been upset, but I believe that putting it out in the open would have eliminated the illusion and helped Doug communicate better about how he was feeling when he was around her and what was missing in our marriage and in his life.
[wlsp_signup]
 LINESPACE