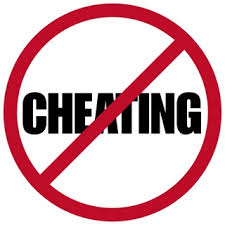 Linda and I had a fun, productive, long weekend together and quite frankly neither one us felt much like putting together a blog post for today. 
I think we were to the point last night that our mind said one thing, but our bodies said quite another.  Frankly, we were both just plain tuckered out to even think about writing anything.
So this morning I popped open one of the books on affairs that we own called "The Truth About Cheating" by M. Gary Neuman.  To be honest, I didn't even realize we owned it, but as I read through it I found quite a bit of interesting and useful information.
For instance, in his research Neuman has determined that the majority of men who have affairs do so because of emotional dissatisfaction in their marriages.  This is quite contrary to a lot of the information that you see on the internet that always seems to state that sex is the underlying reason for why men cheat.
This book actually deals with the subject of why men cheat and how to prevent it, but much of the information I feel can be used in instances where the wife is the cheater as well.
The part of the book I want to share today revolves around an aspect of cheating that probably every betrayed spouse has witnessed, and that is lying.
Neuman thinks that most people miss a very important issue with lying and that is that after an affair, it continues for a bit, and it's during this time that the ability to repair the relationship diminishes.
Basically, what he's saying is that if you want to save your marriage, then stop the lying, come clean and stop putting your spouse through all the confusion and torture of trying to figure out what's going on.
It's the lying that causes the betrayed to feel as though they can never trust their spouse again.  They worry not only about saving the marriage and healing from the affair, but also if they can trust that their spouse won't cheat again and lie about it again.
Neuman sums it up nicely with these words: 
If a husband  hasn't lied to his wife and they're able to work things out, she'll be able to trust that if she ever asks him when she finds him pushing the marital boundaries in any ways, he'll be honest with her.  Believe it or not, that can make all the difference in whether a wife will ever feel good about her marriage again.
He goes on to say however, that there is a 93% chance that a cheater isn't going to tell their spouse, and an 81% chance they won't tell even after being questioned about it. 
Obviously, these statistics reflect just how rare it is for the betrayed spouse to receive a truthful admission of guilt when being cheated on, thus making relationship repair the tremendously difficult task that it is for most who have experienced infidelity.
Neuman states though that it is a bad idea to keep badgering the cheater until he cracks, because the lies will only continue and intensify, which causes you to move further away from being able to save your marriage.
Instead, he advises the betrayed spouse to take action.  Become an amateur detective and check the cell phone bills and emails, review the computer history, ask friends, relatives and co-workers if they've seen or heard anything suspicious.  You may even need to hire a private investigator. 
Basically, do what you think you need to do for your own sake, and that of your marriage.