Does "Austin" act much like a cheater does, or do cheaters act like third graders?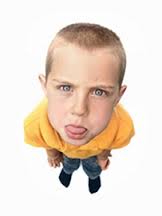 By Linda
Friday was the last day of school for me.  All in all it was a pretty good year.  I had really well behaved, intelligent students who enjoyed learning…For the most part. 
The one sore spot for the whole year was this one boy, "Austin," who quite honestly was probably the worst student I've ever had the misfortune of teaching in my 32-years of experience.
It wasn't that he was unintelligent.  In fact he was almost too smart – and not in a good way. I really did not like this child at all.  I know that is a terrible thing to say, but he was just awful.
What made me dislike "Austin" so much were the things that he did.  I'm going to just give you a quick sample of what was part of his daily behavior pattern and you can guess as to why he rubbed me the wrong way.
Constant lying.  The kid had a hard time ever telling the truth.  It didn't matter what it was; either an assignment he didn't turn in or when answering a question about his poor behavior – he would lie about it at first.  After additional interrogation, he might relent and fess up to the truth – or he might not.
He was a gaslighter.  This boy was not smart enough to intentionally gaslight me, but he sure was good at it.  He would manipulate the facts of a situation in such a fashion that I'd come away thinking I was the crazy one, doubting my abilities to teach or that I'd misinterpret the situation and/or his behavior.  (By the way, during the many parental conferences he caused me to initiate, it was obvious that  his parents were quite good at this as well.)
Denials.  There were too many instances to count where I'd catch him in a lie, catch him stealing, hitting another kid or otherwise doing something that he shouldn't have been, where he would sit there and look me square in the eyes and deny it – even if I saw him myself, or the evidence was sitting on his desk.  He wouldn't even think about it, it came naturally.
Lack of responsibility.  Admittedly, this boy was smart.  He has a lot of potential as long as he uses his God-given talents in a productive manner.  But he frustrated me to death because he would regularly not turn in homework, not take letters home for his parents and not finish the simplest of in-class projects and tests.  He just didn't give a darn.  It was his way or no way and nobody was going to tell him what he could or couldn't do.
A real smarty-pants.  Now, I use the words smarty-pants, whereas Doug might use the phrase a$$hole.  He was a little $#!+.  He was mean.  He picked on the other kids.  He verbally abused other kids – especially those who might have had some sort of learning or physical disability.  He had no friends as a result.  Yet he continued day after day with the same destructive behaviors.
He had narcissistic tendencies.  This boy was as vain a child as I've ever seen at that age.  Every hair was always perfectly in place.  He had to use a bathroom on a different floor because the mirror in the one on our floor was broken and he couldn't comb is hair.  In addition to that, he regularly displayed the following narcissistic characteristics:
Inability to empathize
Expects special treatment
Feeling of entitlement
Inability to admit that he is wrong
Inability to receive criticism
He is passive aggressive.  Keep in mind that he and I mentally and verbally sparred all year long.  On the last day of school, his gifts to me were a $15 gift card to Starbucks (very nice) along with a small tapestry that read:  "I will not yell in class.  I will not throw things.  I will not tease other kids.  I am the Teacher." 
My jaw dropped when I read that.  If that's not passive aggressive, I'm not sure what is.  (Granted, I'm sure that mommy was behind this gift.)   
He could turn his poor behavior on and off as needed.  On the last day of school I asked Doug to come into my class for an ice cream party.  One reason I did so was for him to finally meet "Austin."  Now, keep in mind I probably had an "Austin" story to share with Doug every day of the school year when I got home.  His behavior was constantly bad throughout most of each day.  Now wouldn't you know it, he was a perfect little angel when Doug was in my class.  He would do the same during parental meetings or when another parent or teacher was ever in my room.  So unfortunately, Doug wasn't able to witness what I had to deal with all year long.
I'm sure there is more I could write about "Austin" and I'm sure there are multiple studies buried in many the university library that describe this type of child to a "T", but I think I've provided enough clues.
Can you guess the type of person this boy reminds me of?
Yep, he reminded me of Doug when he was involved in his EA.
I guess one question I still have is…
Does "Austin" act much like a cheater does, or do cheaters act like third graders?  Hmmm…