How is a hike in the forest like our affair recovery journey?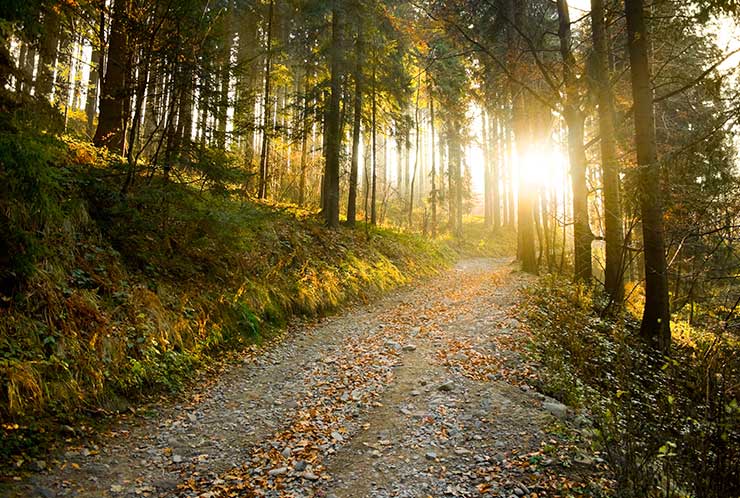 By Linda
Fall is our favorite time of year.  So far, it has been a beautiful one with bright sunny days and temperatures in the 70's.
Last weekend we took advantage of the weather, loaded up our trailer and went camping at a state park that's just about an hour or so from our home.  
We suffered through the typical Friday rush hour traffic and arrived at the campground in the early evening.  Soon we were sitting around the fire sipping our adult beverages trying to figure out what we were going to do the next day.
One of the things we always like to do when we're out in nature is hike.  And this particular park had some decent trails, but most of them were way too short for our liking.  I'm talking about a mile or less in distance.  When we spend the majority of a day hiking, we like to do at least 7 to 10 miles. 
There was one trail that traversed around a lake – a backpacking and bridle trail – which was 31 miles long, so I decided we would do that one.  Not the whole thing of course.  It was settled…We'd wake up in the morning, eat some breakfast (blueberry pancakes) hike 3 – 4 miles, then turn around and hike back.  I had it all planned out.
So the next morning after we ate, we were getting ready to head out on the trail.  However, Doug wasn't feeling it.  He injured his back last year pretty badly and he had a rough night on our less-than-high-quality mattress, and his back was killing him.
I said, "That's OK, we don't have to go, we can just hang around camp today or drive down to the beach instead."
He replied, "No, lets go hiking.  Maybe my back will loosen up after we get going."
So off we went.
Mud, Ruts and Horse Poop
The trail was fairly easy for a short bit, but then we ran into some really nasty muddy stretches where the horses had carved deep ruts in the trail.  It definitely made for some rough going at times.  We also had to dodge several large piles of poop deposited by those same horses.  To be quite honest, the hiking kind of stunk up until then because the trail meandered between two roads and we could see houses and cars zooming by.  It wasn't exactly the pristine forest that we were hoping for. But we kept sloshing forward.
After a while we got to a point where the trail forked.  The map that we had was horrible and didn't show this fork, so we had a hard time knowing where we were at, which way to go, or how far we had already gone.  We weren't lost by any means (since we could always just turnaround), but we just were not sure of where we were at (if that makes any sense).
Then we saw a little tiny sign hidden behind a tree that indicated that we were on the right trail and pointed us in the right direction.   Thankfully, it directed us into a thick shady forest, but at the same time straight towards a horribly steep climb.
I thought outloud, "Gee, I think we've gone about 3 miles or so, do you just want to start heading back?"
Doug replied, "Nah, let's keep going.  My back is feeling better and we haven't gone that far yet (according to his stupid Fitbit) and it's just now starting to get good."
So we kept hiking.
Eventually, the trail led us to the top of a ridge where the sun was shining brightly and I was starting to feel miserable.  I was tired, out of breath, hot and thirsty (for some reason we only brought two bottles of water). I wanted to quit.  But then the trail wound back into the shade and I felt I could go a bit further. 
I'm glad that we did because the trail lowered down into a ravine where there was a beautiful waterfall with some large flat slabs of rock for us to sit upon.  We rested, ate some lunch and let our dog play in the water for a bit.  It was a perfect spot!
After we were done there, we turned around and headed back towards camp the way we came.
And we almost never do this…As we were on the final stretch, we slowed down a bit, held hands and finished the hike together.
10 Elements of a Successful Marriage (How We Survived Two Weeks of Vacation Together)
A Mirror of Our Affair Recovery Journey
Later that evening while sitting around the fire, I mentioned how our hike that day mirrored our affair recovery journey.
At the beginning, it was me who was doing all the work.  I was doing all the reading.  I was scouring the blogs and surfing the Internet for anything that might help.  I was the one who called the counselor.  I was the one looking at myself and my faults.  I was the one making changes. 
When things got hard I had to learn how not to pretend anymore.  I had to own my new reality. I had to learn how to process pain.  I had to keep doing the work.  And there were certainly times when I wanted to quit and stop the "climbing."
Yet Doug was now committed.  He started doing the hard work and didn't want to go back to the way things were and the way he used to be.
Yes, there were times that we each thought there were inequities – where one of us thought we were doing more than the other.  Times where Doug thought he was moving forward while I was feeling sorry for myself or times where I was finding my strength and power and had to prod Doug to pick it up a bit. 
It was several months into our affair recovery journey – probably 2 years or more – before we felt we were moving in stride – together.   I'm grateful that I had the patience to wait for that moment.  And though there were times when we each felt like giving up, I'm also grateful that we never felt like giving up at the same time.
I would encourage you to take your own hike in the woods – hopefully together.  And be patient in those moments when you feel as though one of you is working harder or pulling more weight than the other. And watch for those moments when you're hiking in sync, together.