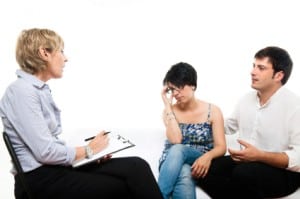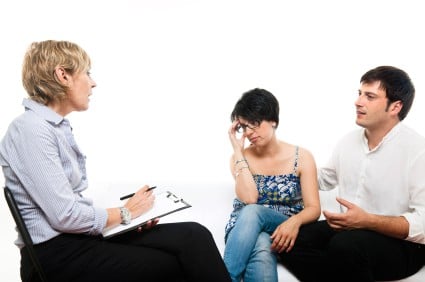 A month or so ago Linda went back to talk to a marriage and family therapist.  It just so happened that it was the same guy we talked to way back when I was still involved with my emotional affair.  Linda wanted to go back on her own this time to talk through some lingering feelings she was having.
The session went well and the therapist thought that the next time Linda came in it would be a good idea to bring me along, to which I certainly agreed.  It turned out that this Monday I awoke to Linda informing me that our appointment was later in the day.
At first I thought that maybe I forgot about the appointment since I'm prone to forgetting things at times, but it turns out Linda was hesitant to tell me about it for fear I would get angry or something.  Since I had agreed to go in the first place, I'm not quite sure why she thought I would get angry, but what the heck, no big deal.  So off to the session we went.
The Trip to the Marriage and Family Therapist
This therapist has his office in the basement of his home, which is in a pretty nice area of older homes.  We parked in his driveway and walked around to the back and entered through a door that leads into a dark and dingy waiting area.  Since the inner door was open to his office, we walked in and had a seat on…a couch.  The smell of cigarette smoke permeated the office which is cluttered with books, folders and scores of his personal paintings and artwork.  I felt like we were being watched or monitored as there was no way for us to notify the therapist of our arrival – yet he walked in a few minutes later.
I remembered this place and I remembered him.  This was where we went for a single session about three years ago while I was in the middle of my emotional affair.  I remembered arguing like heck that we didn't need to go in the first place and that he would just tell us stuff we already knew in the first place.  I was just stonewalling at the time since my affair was still going on.  I wasn't going to take his – or anyone's – advice back then, so why should I bother.
This time around things are totally different.  There is no affair going on.  Our marriage is good.  We are headed in the right direction and I think Linda heals more each day.
The session was good, though much of it was a rehash of what our marriage was like leading up to the affair.  We also talked about what we have been doing to change the destructive patterns that existed back then. 
For most of the 50-minute session, we talked about stuff we already knew about or have worked through on our own.  He also kept calling me "Jack" even after I corrected him, so I was questioning his sanity – or at least his hearing ability.  I was beginning to feel this was a huge waste of time.
I wanted to get the session back on track.  We were visiting this marriage and family therapist to help continue our healing after the affair.  The primary sticking points in that healing are Linda's inability to be completely vulnerable to me and to let me in completely for fear of being hurt again, and her feeling at times that she doesn't deserve to be loved.  So when given a chance to speak, I took the opportunity to redirect the session towards these issues.
Things started to get a little bit more interesting at that point.  The therapist stated when a person feels as Linda does, it typically stems from childhood experiences and the parent/child dynamic.  When told this, Linda's eyes widened.  One thing that she has learned over the last few years is how her mother's manipulative, controlling ways has affected her throughout her life.
Her mother is a dear soul and would do anything for anyone but she feels the need to make sure everyone is happy and tends to try to control things towards that end – whether appropriate or not.  Linda is constantly frustrated by things her mother says and does.  We're both curious as to where the sessions will go with respect to their mother/daughter relationship.
Our session soon wrapped up and all-in-all I thought it went pretty good and we both are looking forward to our next session.  The therapist is a no bullshit kind of guy and tells it like it is, though (like most marriage and family therapists I know) he tends to talk in a psycho-speak language that is sometimes hard to comprehend.
He did finally get my name right and ended things by saying that he wants to see Linda alone in two weeks and the both of us again in a month.  Maybe then we will start to delve into my childhood.  I can't wait!