While is appears that empowering yourself and being betrayed do not go together, on closer examination we find that such a belief is false.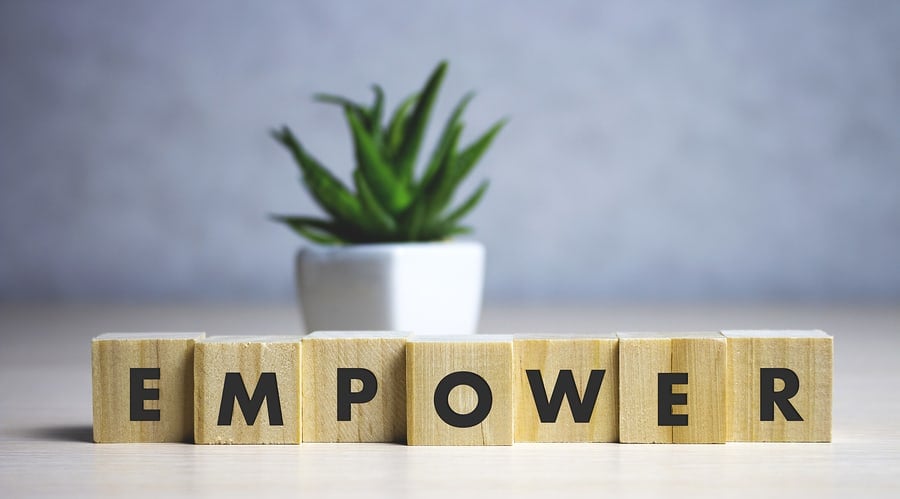 By Sarah P.
The title of this article seems like an oxymoron: after all, how can someone feel empowered when their spouse has betrayed them?
Here is the good news.
Empowerment is both a state of being and a state of action. The good news is, you alone control both your state of being (and the feelings you feel) and you control what you do with your life via actions based on your free will.
You are in control of your ship.
But, there are hurdles as well.
The biggest hurdle to empowerment is the nagging and sometimes relentless feeling that you did something to cause your situation.
Here at EAJ, our mantra is that cheating is a choice. This is not just an opinion, it's a statement based on objective reality. Objective reality shows us that if a person wants something BADLY enough, they will move mountains to get it. They will make decisions and choices that lead to them getting what they want.
Someone does not wake up one day and find themselves in an affair.
Having an affair involves a heck of a lot of free will and many bad decisions and choices. Infidelity is the journey of a thousand steps and at any time a person could get off the road that leads to cheating. If they don't get off the "cheater's road" and if they continue to make one bad choice after another, they will end up in an affair.
This process has to do with a wayward spouse's deficits, denial, lack of judgment, and even plain, old selfishness.  There is no way to cause a person to cheat. A truly unhappy person has many different healthy choices they can make and none of them involve cheating!
Plus, in studies it appears that many wayward spouses are not even unhappy in their marriage. This phenomenon demonstrates that cheating has nothing to do with a betrayed spouse whatsoever. If a person is happy with his or her marriage, never wants a divorce, and still cheats, this has to do 100% with his or her own character flaws.
The sad thing is, betrayed spouses can find themselves mulling over what they did wrong. Betrayed spouses did nothing wrong; it was never about them. Still, betrayed spouses are often left alone to heal their wounds.
Consider this timeless wisdom from the Betrayed Wives Club:
"Betrayal sucks the life right out of you. But I've noticed the difference between betrayed wives that quickly get back on their feet and those that floundered long after their marriage ended and even into new relationships, [it] always comes down to one simple question. And the question is this: What can I do about this?
So often we disempower ourselves. We wonder what we did wrong. Or what's inherently wrong with us. What we could have done differently. What the OW has that we don't. And on and on, until we're a quivering mess that feels scarcely entitled to use up someone else's oxygen.
And then there are the others. Those women who recognize from the get-go that cheating says a whole lot more about the other people involved than the blissfully unaware wife. The women who, though they might have moments of doubt and fear and anxiety, quickly realize that the only way to survive a spouse's affair is to assert their power. How?
By asking that one simple question: What can I do about this?
And let me tell you, if you think there's nothing you can do…you're absolutely wrong. There's always something you can do that honors and empowers you.
Even if you're financially unable to leave. Even if you have a newborn baby attached to your breast and four others underfoot. You can still ask the question. And come up with an answer that gives you your power back.
What can you do about this?
You can leave. Or you can start a savings account to enable you to leave at a point in the future. Or you can go back to school to gain skills to allow you to enter the workforce. Or you can rediscover a hobby that helps you find your center. Or you can start walking to gain [more] health.  You can meet with a lawyer. You can meet with a therapist. You can find a support group. You can start a support group.
What's so empowering is that none of these options rely on your husband or ex-husband to do anything. He can go on being a cheating ass or he can claim the title of Reformed Husband of the Year. Either way, you're going to be okay." (1)
She is right; either way you are going to be okay. But, I fully believe in taking empowering actions that slowly lead to an empowered mindset.
I am a big believer in open communication and I think it is fair to ask your wayward spouse to look at THEIR deficits and how those deficits caused them to make one decision after another.
Don't allow them to defer blame onto outside events like the time in fifth grade they did not win that coveted soccer trophy. Don't let them say, "Sniff, sob! Not winning that trophy when I was 10-years-old set me up for a lifetime of feeling inadequate and now I must forever use hundreds of men/women to fill that void!"
It doesn't matter what happens to us as individuals; we always have the power of choice. YOU have the power of choice.
You have the power to:
Go on a vacation alone to do soul searching
Stop being the household maid and chef, unless you still have children at home. Let the cheater figure out dinner.
Try a hobby or new sets of hobbies you put on the backburner
Buy some new clothes that help you see yourself in a new light and realize that this had nothing to do with you
Make new friends by going to hobby groups
Move out of the bedroom until you feel comfortable being touched again. Do you think moving out will cause a wayward spouse to cheat? No. He or she already cheated and some will do it again EVEN if they have full access to you physically! They like the high
Change your behavior towards your spouse. You really don't owe them anything until they have shown remorse
Take up mindfulness meditation
Do activities, like marathons that make you feel mighty
Realize that just because your spouse cheated does NOT make you undesirable. You are highly desirable and it's not your fault that your wayward spouse is a flawed human being
Be open to vacationing without your spouse and joining a tour group
Call an attorney for a free hour long consultation to know your financial and parenting rights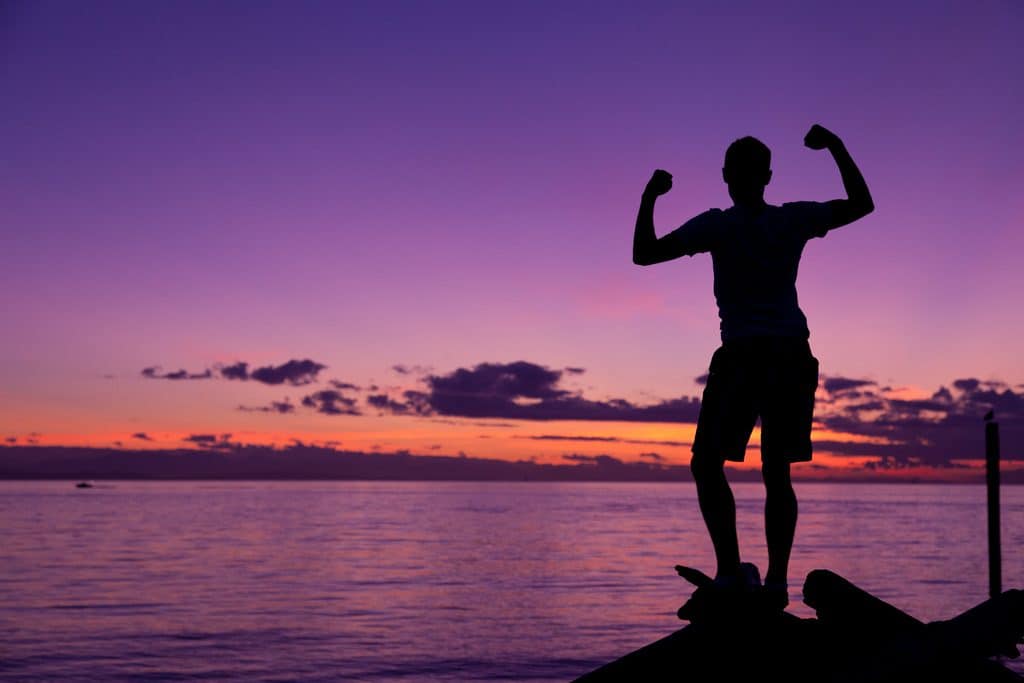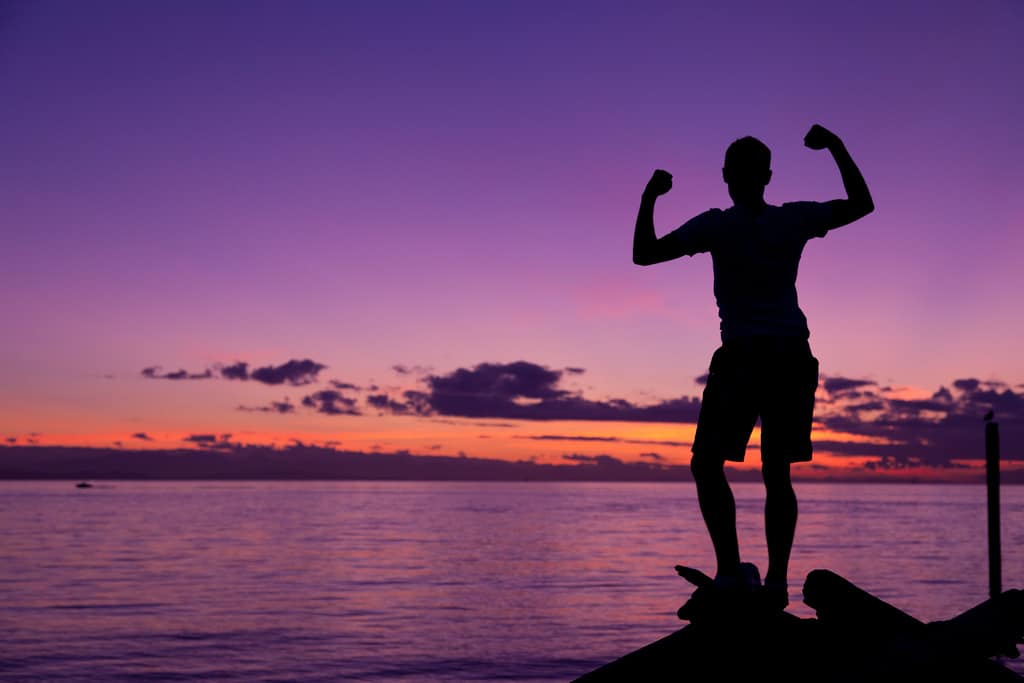 Empowering Yourself Through Perseverance
One of my favorite and most effective tactics is perseverance. The fact that you are up and functioning well-enough to read this post tells me that you have it in you to persevere. Sometimes, all we can do is persevere.
Last year, I created a 30-Day program called Empower ME! We have seen great results with this program for those who have studied each day and done the exercises. The programs contains ways to change/rewire your brain so that you can face the world with genuine self-empowerment.
One of the most powerful things that I learned while writing the program is that all successful people have something in common: perseverance against ALL odds.
The true story of a woman named Jane Whyte comes to mind…
The year was 1884. (Yes, you read that right: the year was 1884). Jane was bundled up and had decided to take her dog on a walk on New Aberdour Beach in Northern Scotland during a storm. Jane was not deterred by Northern Scotland's fierce storms; it takes more than that to stop a Scot!
The winds were howling and Jane noticed a large, steamer ship heading for the rocks, just off shore. She noticed that the storm had broken the ship free from its anchor and that if the steam ship hit the rocks, all the souls on board would be lost.
Though Jane had 8 children waiting at home, she walked into the frigid North Sea until she could catch a rope thrown to her by the ship's crew. She tied the rope to herself and signaled the entire crew to grab the rope and jump into the sea. 
Then she dug her heels into the sand and slowly trudged backwards, digging in her heels more each second, and inching her way to shallow waters and to a place where she could get a foothold.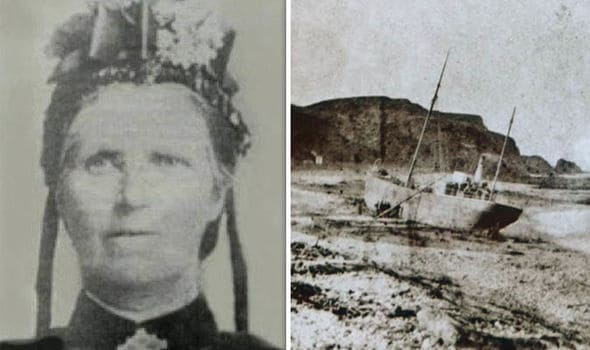 Jane saved EVERY soul on board the steamship that day and hosted them in her home to get warm, dry, and to have a hone-cooked meal.
That day, the ship wrecked on the rocks, was utterly destroyed, and was sold for salvage, but no lives were lost.
Jane was awarded money by the government as well as a medal of honor. She used the money to pay off her small home and to send her children to school, so that they could have better lives.
To me, Jane is the picture of perseverance.
Most people would have walked away because they would have thought there was nothing that could be done. Perseverance does not think that way. Nothing is impossible to the person with a perseverant soul. Make this psychological trait your friend and realize nothing is impossible.
Just realizing that nothing is impossible is an antidote to feeling deflated. You have your free will, you have your choices and can follow your agenda (not someone else's), and you can persevere.
In Summary
While is appears that empowering yourself and being betrayed do not go together, on closer examination we find that such a belief is false.
Someone's selfish choices based on their own free will has nothing to do with your self-worth or value as a human being.
Cheating is a reflection of the deficits of the cheater and not a reflection of you. Cheaters would love to blame shift and make you the issue, IF you let them. But, you don't have to let them. A cheater is an adult and made an informed decision, which was also a destructive decision, and it destroyed the foundation of your marriage.
This says everything about who they are as a person and nothing about who you are. Betrayed spouses have more power than they realize.
If you feel stuck, consider checking out my Empower ME! program, which comes with a money back guarantee – so there's nothing to lose. Click the graphic below for more details.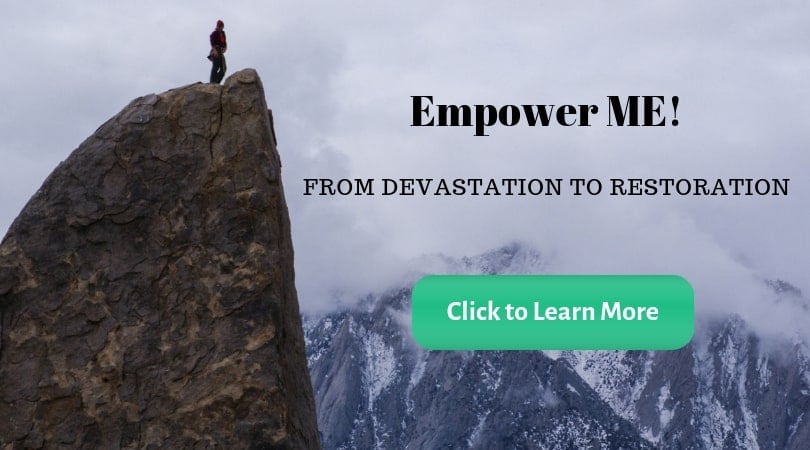 Sources:
http://betrayedwivesclub.blogspot.com/2010/05/re-empower-yourself-with-one-simple.html
Jane Whyte Photo:  https://www.express.co.uk/news/uk/948148/north-sea-iron-steamship-sailors-rescued-heroine-honoured