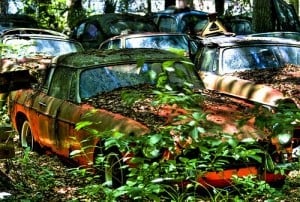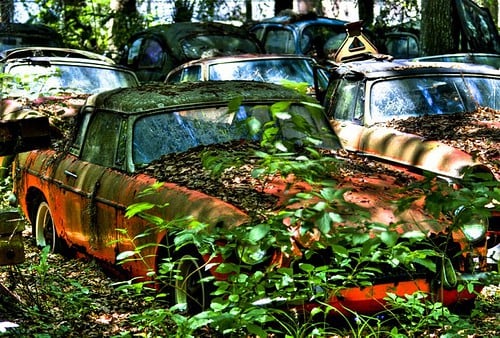 Buying a new car is like a new beginning for us.
Last week while at work I received a call from Doug informing me that he had been involved in somewhat of an accident. As he was turning into our subdivision, the front driver's side wheel came completely off of our vehicle. 
Obviously the car grinded to a complete halt and Doug was stranded about a mile from our house as the tow truck carried "Old Betsy" away.
We've had "Old Betsy" for just shy of 10 years and have accumulated almost 200,000 miles  driving our family, friends, various teammates and outdoor gear all over the country.  It was a great vehicle because it seated 8 comfortably and had plenty of room for all of our stuff – and then some. 
The only drawback was that it averaged just about 15 miles per gallon on the highway so we would spend hundreds of dollars each month on gas.  So, after Doug's incident I proclaimed it was time to put "Old Betsy" in the garage and buy a new, economical car.
We had been contemplating buying a new car for a couple of years but I just wouldn't commit.  As many of you have experienced after infidelity, commitment can be very difficult – even when it pertains to something relatively minor like buying a new car.  I just wasn't ready.  However, after the incident I finally knew it was time.
Doug was ready to initiate the purchase as he had already done the research and was pretty much just waiting for my commitment.  The next day he went out and test drove a car and while at the dealer texted me to schedule a time for me to go and see it. Still on the fence, I put everything in his hands, proclaiming that I trusted him to make the right decision. 
Looking back, I am not sure if that was really the case or that I couldn't put myself out there or that I really just hate buying cars.  Whatever the reason, he took care of everything and the car would be ready the next day.
Doug and I left early on a Saturday morning to pick up the new car (you have to understand we haven't bought a new car in 10  years so this was a very big deal) – and I have to say he did a great job!  I loved the car.  It was perfect. 
He drove the car home while I followed him and all of a sudden I started crying hysterically.  I am not sure if they were tears of joy or tears of sadness or a little bit of both.
As I was following him, I was reminded of the Doug that I knew 30 years ago when we first married.  He had a little Honda hatchback and we took that car on many camping trips.  The new car we chose was also a hatchback so we could fit all of our outdoor gear for our empty nest excursions.  I felt like this new car was the beginning of new adventures for us.
I felt like we had finally made it.  We have climbed the high mountain of raising our children, the trauma of infidelity and various other hardships.  It was now time for us to reap the benefits of our commitment and perseverance.  This new car represented our new life together and all the wonderful times that we have ahead.
I know we have done a great job as parents and we have worked very hard to have a marriage that we can be proud of.  Now it was time for us to celebrate our new lives together and be thankful that we both decided to stay together and work diligently to save our marriage.
As I was riding behind Doug I knew that there was no one else that I wanted to ride off in our little hatchback with.  We have been with each other for 33 years and we truly deserve this time together. 
It really makes me sad to think of all the people who didn't feel that when the dirty diapers and carpooling are over there is a whole new life ahead that entails new adventures with each other, as well as with children and grandchildren.
This summer Doug and I have planned a special trip in our little hatchback.  We are taking a two week vacation and traveling over 4400 miles up to the Badlands, Yellowstone, Grand Teton and Salt Lake City.  We are packing our camping stuff and just playing it all by ear.  Just like two college kids on summer break. Though by the end of our trip we may be at each other's throats!  I'll be sure to let you know how it turns out .  😉
This was just a seemingly small thing that created a feeling of new beginnings.  Can you think of any similar occurrences that have signified new beginnings in your own relationship?