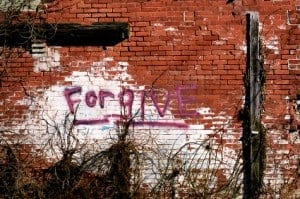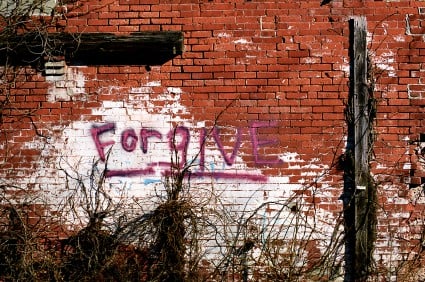 Forgiving infidelity is a topic that comes across our desk quite often. It is a hard thing to do for those of us that have been harmed by an affair. I was listening to an audio recently of an interview with Leslie Karen Sann, who is a counselor, educator and coach about forgiveness, which I thought brought up some interesting points.
First of all, what is forgiveness? Sann defines it as the process that brings us to a place of peace in our hearts and acceptance that the past cannot be changed. That acceptance liberates us to become present in our lives and to be a creative force as we move forward.
By not forgiving we tend to re-wound ourselves because we replay the circumstance in our mind over and over. Essentially, we become a prisoner to our own story telling and are stuck in the past and hurt ourselves as a result. We cannot get back to a place of connection in a relationship if we withhold forgiveness.
Sanns goes on further to describe just what forgiveness is and is not:
What Forgiving Infidelity Is and Is Not
FORGIVENESS IS NOT
Forgiveness is NOT condoning. Forgiveness is not saying what you did was okay.
Forgiveness is NOT forgetting. We do not erase the past. Those experiences have a lot to teach us. What we erase is the negativity, the judgments.
Forgiveness is NOT a spiritual bypass. It is not pretending it's okay when it is not.
Forgiveness is NOT a one time clear-cut decision. It takes time. It cannot be forced.
Forgiveness is NOT associated with any specific behaviors.
Forgiveness does not necessarily mean choosing to including the one who hurt you back into your life. It depends.
FORGIVENESS IS
Forgiveness is letting go of identifying with the past, letting go of being the wounded one, the victim and identifying instead with health, well-being productivity.
Forgiveness puts the past into proper perspective. We learn from the past and we move on. We develop wisdom from making sense of our wounds.
Forgiveness is understanding that nothing we do to punish them, or ourselves, will heal us.
Forgiveness comes from accepting that suffering is part of the human experience and instead of judging it, embracing it for the gift of learning and growth that it brings.
Forgiveness is part of an ongoing healing process. We need to do the healing work so we can genuinely move into forgiveness. It is a process and it takes as long as it takes.
Forgiveness frees us from the illusion that harm was done. Who we really are can never be harmed. When we let go of identifying with our suffering, we allow ourselves the freedom to live in who we really are, our soul, our spirit, the loving.
And finally, forgiveness releases us from our attachment to and eye for an eye mentality and leads us into a greater consciousness, that of Grace.
If you want to learn more about the process of forgiving infidelity, you may want to check out "Relationship Trust Turnaround" by Otto and Susie Collins. The audio discussed above is just one of 12 separate resources that are included with the program. If trust and forgiveness is an issue for you for any reason, this program can benefit you.
To learn more about the Collins' program, go to relationshiptrusttournaround.com
[wlsp_signup]
LINESPACE