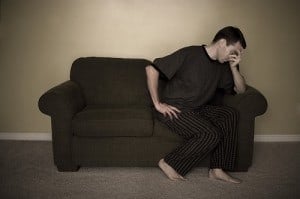 We've mentioned in the past that infidelity can be deadly.  One of Doug's friends recently shared a story with us that unfortunately demonstrated this.
One of Doug's best friends from high school was recently named the head football coach at their alma mater, and to show support, several of his high school buddies decided to go back to their hometown to attend the game.  Doug asked me to go with him so I tagged along.
During the game we mingled about the stands and talked with several of his friends, many of whom he hasn't seen for 10-15 years or more.  I've met several of them before, including one guy, let's call him Dave, who we actually went to college with for a semester or two before he transferred to another school. (I think he flunked out.)
The three of us were talking and catching up on the last several years and Doug asked Dave how his family had been doing.  He mentioned that they were OK for the most part but that his dad wasn't doing too well from a health standpoint and his brother had died several years ago.
Doug questioned him further about his brother's death and he wound up telling us the unbelievable story of how it happened.
It seems that Dave's brother was having an affair with a woman and they were meeting at a hotel in town.  While walking into the hotel, a friend of the woman's husband sees them and calls the husband.  The husband is not close by so he asks the friend to follow them to see what was going on.
The friend sees them go into a room and then starts pounding on the door raising some commotion to the extent that the hotel felt compelled to call the police.  The police show up and sends the friend on his way.
Dave's brother leaves the hotel as well, goes home and shoots himself in the head.  He left a wife and three children. 
Dave said that his brother had never done anything like that before and it was very uncharacteristic of him.  He said his brother didn't realize that couples can get past infidelity and was apparently so ashamed and guilt ridden that he thought the only way out was to take his own life.
To top it off, Dave's brother was supposed to donate a kidney to his father but since his brother killed himself, Dave donated the kidney instead.  So his life was forever changed in more ways than one as a result of infidelity.
I did a quick search in an attempt to find statistics for deaths related to infidelity but struck out, but I'm guessing when you factor in deaths as a result of AIDS/HIV, murder, suicide, etc., I'm thinking the rate could be higher than most of us ever imagined.
It's a terrible subject to talk about but one that we feel should be addressed and raise awareness of.  Most of those people who are unfaithful never consider the consequences of their actions and I'm certain never feel that those actions could potentially be deadly.
I'm not going to pose any specific questions for our discussion regarding this topic.  Perhaps we can just discuss personal experiences, thoughts or opinions on this issue instead.
Please respond to one another in the comment section below.
Thank you!
Linda & Doug