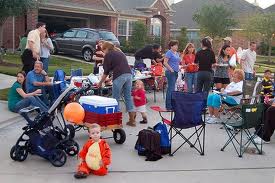 While at a neighborhood party, Linda and I talked with several couples who on the surface seemed to have a good marriage, but we found out that wasn't necessarily the case.
Every Labor Day our neighborhood has a block party in the cul-de-sac.  We roast a 200 pound pig and each family brings a covered dish to share with everyone.  They're usually a pretty good time, though they certainly have mellowed out over the years.
Gone are the days when we would get a keg of beer, hire a band and party until 3 or 4 in the morning.  I don't think anyone can stay up that late anymore and certainly our recuperative abilities aren't what they used to be.
We have lived in our neighborhood for about 22 years, having built our home when our son was just a baby.  The makeup of our street has changed significantly over that time period as many of the original neighbors have moved on. 
The folks that have replaced the original "settlers" tend to generally be about 10-15 years younger than Linda and I.  Many have kids who are school-aged and are involved in extra-curricular activities just as our kids used to be.
These parties are usually pretty interesting too.  When you get a bunch of old married people together, there are always some good stories.  Each couple tends to split up the minute they arrive at the party and then the chirping begins.
Unfortunately, while at the party, Linda and I heard some marital tales that would indicate that there is potential trouble brewing for many of the couples on our block.  Many seem to like to talk and joke about stuff, but don't seem to realize that there are real issues within their marriage that need to be addressed.
Some of what we heard at the party made us want to reach out, grab some throats and shake some sense into these people. But since we're not on the "giving advice" level with most of them (nor was I drunk enough), we just listened or observed and shook our heads instead.  Linda and I sure had lots to talk about the next day though!
If only these people could see what we observed from the outside, they would realize they were heading down a potentially troubling path and make adjustments before they throw their relationships out the window.
Here are a few examples of what we picked up (names have been changed)…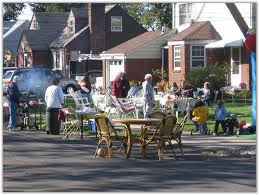 George and Martha are parents to 4 kids all under the age of 14.  George works as an engineer while Martha is a stay-at-home mom and budding local politician.  Both are extremely intelligent and aren't shy about letting you know it. 
Martha lost her high-paying job in the recession and now resents the fact that she has to stay at home all day with the kids.  She hands them off to George the moment he gets home from work.  George feels Martha is a bitchy, lazy nag and doesn't mind working late to avoid her abrasive attitude.  Before he leaves for work each morning he makes breakfast and gets the kids ready for school – while Martha sleeps.  It was very apparent that this is a sore spot with him.
While Linda and I were telling someone how much we enjoyed our trip to Nashville last year, George chimed in that he was out that way on business recently and told Martha that he couldn't make it home.  Instead he decided to hit the Nashville bars by himself.  He had a blast of course, but shhh…don't tell Martha. 
The night before the block party George was at a neighbor's (male) house hanging out with one of our divorced neighbors (female) and her divorced (female) friend, drinking moonshine and hot-tubbing until 2AM.  I doubt that Martha would want to hear about that either!
Donnie and Marie are parents to two twenty-something sons and are newly empty nesters.  Donnie works long and hard and travels 6 days a week for work – or so he says.  Since I work from home (and they live across the street), I've witnessed on several occasions where he stays at home and works all day and then leaves for out of town about 10 minutes before Marie comes home from work.   He will also leave on Sunday to travel just 2 hours for a business appointment that won't occur until late Monday morning.  I wonder if they even enjoy each other's company.
When he is at home on the weekends they rarely do anything together as he typically heads out on his own to ride his bike, hang out at Starbucks or do whatever.  She spends her free time shopping or with her family.  Heck, they go to church each week but they take separate cars, for Pete's sake!
Donnie and Marie feel they have nothing in common any more.  He loves the outdoors but hates sports.  She loves baseball and shopping.  She rags on him non-stop when he is out of town, while he seems oblivious to just about everything.
As I write this, he is in Jackson Hole (without her) on a week-long vacation.  Marie is not happy about this.  A month ago he was in Canada (again without her) on a fishing trip.    When they do take a vacation together, Marie's mother usually comes along.  Ain't that Romantic?
Linda and I have joked over the years that he must have another secret family somewhere else and we often wonder how they are going to survive when they retire and have to actually spend time together.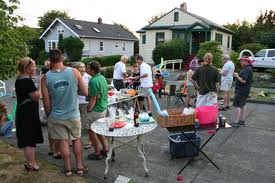 Archie and Edith are also younger parents with 4 kids under the age of 14.  Both work all day and then shuttle kids to and from activities all night.  They have not prepared a home-cooked meal in over two years.  They literally eat out every night.
We rarely see or speak with them as they are only outside long enough to shove their kids in the car.  For some reason, we never see their kids outside playing or riding bikes or anything else.   They told us that they rarely go out together alone nor do they do any other sort of activity together.  Everything they do involves their kids. Everything.
We do know that Edith is a bit of a princess and resents Archie because he is making her work and drive an older car so that they can make ends meet financially.  Perhaps that is the reason she does nothing around the house – inside or out.  This doesn't sit well with Archie because he is a bit of a neat freak and really doesn't have the time, nor the desire to do everything.
Dick and Jane are parents to an 11-year-old son.  Jane is a teacher and first-class helicopter mom who spoils and coddles her son, yet really doesn't want to do anything with him. She would rather go out shopping and bar-hopping with her friends, leaving Dick to shuttle their son around to football practice, school, etc.  – when he remembers, that is. 
They constantly battle over money.  In fact, they have always maintained separate bank accounts and each hides money from the other.  Jane is obsessed with money and resents Dick (who owns a small business) for not making enough of it.  He constantly "owes" her money for bills that he was supposed to pay from his bank account.   Dick is not good with money and has never really been able to keep steady employment.
Jane is always mad at Dick for buying something that she feels is frivolous yet has no problem clothes shopping three to four times a week and eating out almost nightly.
They rarely go out together and other than their honeymoon have never taken a vacation together – ever.
There you have it.  Obviously, we have had our own share of problems and have made enough mistakes in the past that we cannot judge our neighbors.  If I were a betting man though, I'd wager that some, if not all of these couples will have significant marital problems down the road (perhaps they already do) if they don't start changing their ways.  Sure, I could be wrong, but I doubt it.  I really do hope I am wrong, but we've seen enough of this type of thing the last few years to think otherwise.
The one underlying theme that seemed to surface with these couples was RESENTMENT.  Each spouse seemed to resent the other for various reasons.  I suppose that is common enough in marriage that it should be expected to some extent, but these couples seemed to have an over abundance of it.
I hope that they can work through these resentments before they grow and fester into something much worse.
[wlsp_signup]
LINESPACE