"Our relationship feels haunted!"
This is how it is for many couples trying to heal and re-connect after an emotional affair.
One of the biggest challenges is to move forward. You and your partner are both aware of the emotional affair and it can be a tricky balance to not pretend or live in denial, but also to not live in the past.
What happens for many couples is, despite the real improvements and changes, there's a ghost that makes it impossible for them to get close, trust and be intimate with each other again. Maybe this is true in your relationship too.
Every conversation, moment you share and even when you're kissing, hugging and making love, you're not alone. The ghost of the affair lurks and seems ever-present. It's distracting, upsetting and stubbornly refuses to go away.
Here's the surprise and the key to getting past this stuck point: That ghost is actually NOT your partner's emotional affair.
The ghost that's preventing you and your partner from returning to the love, passion and connection you used to share consists of your beliefs.
You believe that…
You'll always have to worry about another affair.
You'll never be able to fully trust your partner again.
You aren't enough to satisfy your partner.
Your relationship will never be the same.
It IS true that your relationship will never be the same, but that doesn't mean that you won't be able to rebuild and reconnect. It all depends on how you handle the ghost which is made up of your persistent thoughts and beliefs.
The ghost wins if you allow your beliefs that convince you your partner will inevitably cheat again and your relationship will never recover to take over. You won't be able to see it when your partner does keep a promise or does offer you a sign, with his or her actions, of trustability. Your relationship will feel forever haunted and the stress, strain and distance will only intensify if you don't challenge those beliefs.
What you need to remember is that this ghost that may seem powerful and overwhelming is something you do have control and power over. When you recognize that the ghost is your beliefs, you can re-focus on assessing and changing them.
Here are 4 ways to get past the ghost so that you and your partner can start trusting and loving each other again…
1. Breathe.  Don't discount your breath as an amazing (and necessary) strategy for dealing with your haunted relationship. Remind yourself to take several slow and deep breaths whenever you feel triggered, worried or anxious. Breathing from your abdomen not only helps lower your heart rate and blood pressure, it calms you down and allows you to view a situation more clearly. It reduces the chance of you overreacting and opens you up to solutions instead.
2. Question your thoughts. Beliefs are merely thoughts you continue to think. One of the best ways to move past your ghost is to not allow inaccurate thoughts to get bigger and grab your attention more than they already do. You can't force yourself to not think a thought, but you CAN question a stressful thought once it comes up. Meet a thought like, "I can never really trust him again" or "She can't help but cheat," with the question "Is that really true?"
3. Be fact-focused.  Answer yourself honestly as you question your thoughts. Sometimes, your answer will be "I don't know" or "Maybe." The point here is to create room for the facts that you have. What does the observable and verifiable evidence you have right now tell you about the thought you were just thinking? What does the whole range of your partner's words, behaviors and the way you two interact with one another look like? How have things changed and how have they not changed? The more you focus on the facts, the easier it is for you to re-direct your attention to what's true now instead of allowing your worries and fears to dominate.
4. Plan for the future you DO want.  As you ease stressful thoughts and focus in on what's really true now, your ghost will disappear. This might not happen immediately and it may reappear from time to time, but if you keep using these strategies, your ghost will not be the problem it once was.
You can begin to envision and plan for the future that you'd like to have with your partner. You can get excited about a return of passion, connection, trust and deep love that may not be the same as it was before, but could be even better.
---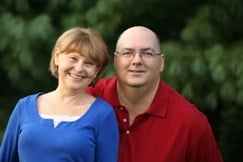 Relationship coaches and authors Susie and Otto Collins have more powerful tips to help you move past the mistrust and hurt and get back to creating the relationship you've always wanted. They're here in the free Rebuild Trust mini-course.