Maybe there are some consequences of an emotional affair that you haven't considered.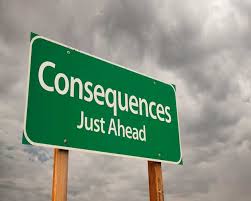 By Doug
Last week Linda wrote a post about the stupid things she did during my emotional affair.  The post brought some great responses from you guys, some of which were even humorous.  In fact, the comments got me thinking that maybe a post about stupid things a cheater does in an affair might be a good idea.
As I thought more though, the fact that someone would have an affair is stupid enough, so maybe I would touch on some things to think about before you enter into an affair instead.  Consequences of an emotional affair that maybe you haven't considered.
Besides the obvious reasons that pertain to things such as breaking your commitment to your partner, shattering your marriage vows, causing immeasurable pain to your partner, living with shame and guilt, divorce, etc., there are also some other less obvious consequences (or at least you may not think about) for not having an emotional (or sexual) affair.
If you're the unfaithful, get it, read it and carefully consider the advice. If you're the betrayed, give it to your unfaithful spouse.
Have you ever seen the movie "Fatal Attraction?" What if your affair partner turned out to be a real nut job, and caused (or threatened to cause) harm – either physically or emotionally – to your spouse and/or children?  Since you may not know the real person you are having an affair with, are you really sure that this is beyond the realm of possibility?
Your affair partner's spouse or significant other may seek revenge. Have you thought about the possibility that an extremely pissed off husband may show up at your door at 3 AM and kick the crap out of you – or even try to kill you?  I'm sure the police respond to 911 calls related to this type of action on a daily basis.  But there's no way that could happen to you, right?
You will lose some friends. After an affair has been discovered, it may become public and any mutual friends that you share will no doubt take sides.  Most of them will not take your side.  You might as well kiss your friendship with them goodbye.
You could lose your job. This could happen not only if you are having an affair with someone you work with, but also if you hold a position that requires high morals and integrity.  President wannabe John Edwards may have a few words of advice on this one.
Financial ruin. I imagine divorce attorneys ain't cheap.  Neither are child support and alimony.  Can you afford to give up at least half of your 401k and other investments?  I imagine trying to sell your home in this crappy real estate market isn't easy either.  I think Tiger Woods' indiscretions cost him about 21 million or so.  Granted, he's got a lot more money left over than probably all of us combined, but I'm sure he wishes he would have used his head first before he literally f#@ked that money away.
You may lose your family. Your kids are not going to take your affair,  nor what you did to their mother/father in the process, lightly.  You may cause irreparable damage to your relationship with them to the point that they may never speak to you again.  But hey, on the bright side, I'm sure your affair partner's kids and family will welcome you with open arms (heavy sarcasm)!
Mental anguish and depression. You're going to feel stressed out to say the least while living your double life and with the pain you have caused your spouse.  Full-fledged depression may set in down the road as well – especially when all of the above issues start happening to you.
I guess the main thought behind this post is that it would serve you well to think of the consequences before you enter into an affair of any type.  I didn't think. Hell, I didn't think of the obvious consequences!  But I was able to come to my senses soon enough before suffering these consequences.
I'm sure I didn't think of all of the potential consequences of an emotional affair (or sexual affair), so if you can think of others, please leave a comment below.
What have been some of the consequences that have occurred as a result of your (or your spouse's) affair?