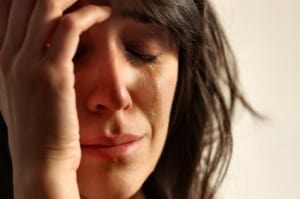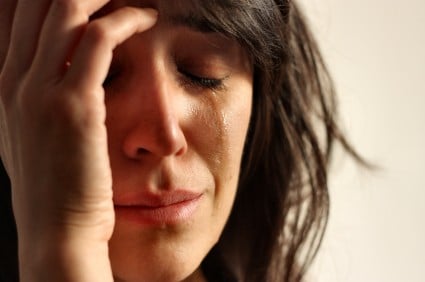 We have another post today from Dr. Bob Huizenga that deals with the healing paths we take in surviving infidelity. 
This is a great article for those of you who have recently discovered your spouse's affair.  It is also good for the cheater to read so that they understand more of what the hurt spouse is going through.
Please share your thoughts and comments in the comment section below.
Surviving Infidelity: The Paths of Healing You Will Take
By Dr. Robert Huizenga
It's D-Day.
Day of discovery.
You thought it would never happen to you. You hoped beyond hope it wouldn't happen to you.
And now, the ugly monster infidelity rears its head and you wonder if and how you will survive the affair that powerfully stands before you.
Surviving infidelity IS possible although on D-Day it may not feel like it.
You will move through this. You will more than survive infidelity. If you face it, name it and begin to see it as an opportunity for radical change, in a positive light, surviving infidelity becomes much easier and very possible.
In reality you may not merely survive infidelity, but one day see it as an impetus for you and perhaps your marriage to thrive.
Surviving and moving through infidelity means you will move through particular stages, steps or paths.
My research, study and experience with those attempting to survive infidelity indicates there are 8 defined paths or steps that one progresses through.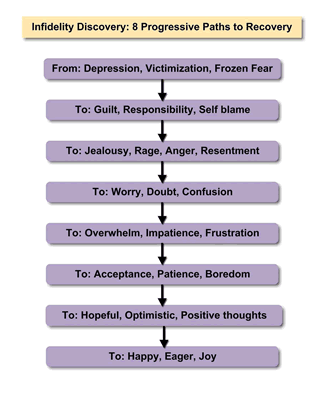 Surviving Infidelity: Key Factors in Your Recovery Path
Awareness of where you are on your journey in surviving infidelity often increases the speed, effectiveness and ease of that journey.
Here are some ways an increased awareness of these paths can help you survive infidelity and move beyond your marital crisis:
1. Awareness of these paths in surviving infidelity will help you realize that you are not alone. Others before you, many others before you, have traversed the same paths. There is a beginning point. There is movement. A good outcome is possible.
The knowledge that others have been in same boat enables you to step back at moments and see the larger picture.
That is good. That is a step toward surviving the affair and profound healing.
2. Pasting these steps on your mirror (or refrigerator, or somewhere where you are reminded) keeps you self oriented.
Self orientation is a major secret to surviving infidelity and also in saving your marriage, if you really want to do that.
A common trap – actually, I'm not sure how anyone can or does avoid this – is to spend your time, energy and effort focusing on your spouse and/or the OP (other person.)
You wonder where s/he is, what s/he is doing, what s/he is thinking and what this or that word or action means. You may spy, or you may ruminate about him and her together.
His/her life dominates your life.
You appear fragile, needy, out of control, flailing around and without direction and hope. You've lost your self, your inner core from which to make decisions and charge neutral (an important skill I teach).
Not very attractive, and as well, often gives him/her a rationalization to continue the affair.
Self orientation – focusing on your path, your journey of healing and surviving – dramatically changes the picture.
You reclaim your personal power. You don't blink. S/he wonders what YOU are thinking.
You've turned the table.
3. Moving through the 8 steps become progressively easier.
Most enter feeling victimized and frozen. Once movement is made through that stage, moving through subsequent stages demands less concerted effort.
Getting over that initial powerful sense of being stuck is a key.
It's as if you need that first boost of confidence, that first boost of awareness to begin the forward movement.
4. Your movement may seem very slow but at a point experience a break through.
You may feel as if you take a step forward one day and the next you feel like you have regressed.
The negative feelings and thoughts may dominate. Nothing else seems able to slip into your thinking or feelings.
And, then, one day, you made it.
I have a tape with Sue who described her 3 week crying jag. Every day, tears. Every day, indescribable pain.
And one day it was gone. Totally gone. Internally she had somehow experience healing, some sort of resolution and she was able to move forward. She was done surviving the infidelity. She now was totally ready to live her life.
5. As you move through the paths or stages you increase your power to strategize and employ new tactics and skills that will work toward resolution of the infidelity crisis and most likely make his/her head turn.
I describe 16 different skills or tactics for the 7 kinds of affairs one can use to stop the affair or at least resolve the crisis.
However, a problem with using skills is you need the internal strength and confidence to use them effectively.
You may experiment with trying on a new skill or strategy but it falls flat on its face when you feel yourself falling apart. It's impossible to sustain your new behavior.
Once you move through the stages you become increasingly more able to do exactly what you must do – use new strategies and tactics – to break free from the affair.
6. There is overlap.
Categories, steps and stages help because they give a framework. They allow you to see the larger picture. That, often in itself, provides hope, courage and the strength to try something different.
However, we are people and we don't always fit neatly into categories.
There is frequently overlap. One moment you may feel frozen, numb and the next you may be spitting nails enraged. The next moment you may see a little light and feel a glimmer of hope.
When looking at the paths, ask yourself, "Where am I most often lately?"
Become familiar with the 8 paths. Keep them in the back of your mind. When surviving infidelity seems most tough, refer to the steps and identify where you are.
When you experience change, identify your previous step and the movement you just made.
Remember, this too shall pass, and you will succeed in surviving infidelity.
To learn more about Dr. Huizenga, his books and his other articles please visit his website.