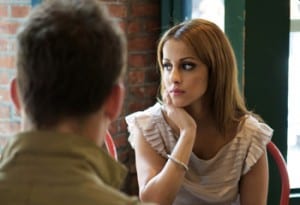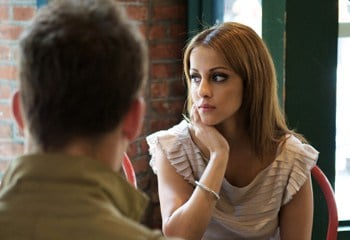 I am finally convinced that there is little that can be done to stop an emotional affair.  This article details how hard it was for Doug to end his affair and how frustrating to me that was.
By Linda
I recently came to this conclusion after a comment that Doug made a couple of weeks ago about what pushed him to think about ending his emotional affair.  He said that my reaction when I reviewed the phone logs was a catalyst for him to end the affair, but that ending the affair was still a process.
I know this is not new information to me but in a very strange way it still hit me very hard.  I suppose that it really does take time to fully recover from an affair, and I at least have to hear things over and over again before they finally start to sink in.
Recently, Doug and I had a discussion about this "process" and I felt more like a person looking at it from the outside – almost like I was in an airplane viewing the timeline from above. It was really a strange and unsettling feeling for me.
When I look at the actual progression of trying to get Doug to end the affair, I realize that nothing that I did made much difference at all.  The emotional affair had such a strong hold on him that traditional thinking, methods and ideology had no affect at all. It was something that he had to do on his own.  As he has said previously, the pain had to override the pleasure.
I thought back to the day I found all the calls on his cell phone. A day you would think that the shock of being caught in the act would have brought some kind of action or guilt to the cheating spouse.  What happened instead was denial, justification and an intensifying of the affair.
Later, I tried to fix our marriage by offering opportunities to connect, spend time together, communicate and be intimate.  Did those actions stop the affair? No.  Instead it provided an opportunity for Tanya to reassure Doug that I was just being desperate, that I should have been doing those things before and that I only wanted him because someone else had him.
Those actions added more confusion to the situation with the result being the affair relationship and Tanya coming out on top. It was another opportunity to put up a wall between our marriage and open up the flood gates to allow the affair to prosper.
It was a time for the two of them to discuss their relationship, their future, all the feelings and emotions and what they were going to do about the situation.  At the same time, I was still in the dark about the affair.  I was still trusting and believing Doug and just trying to save my marriage.
The reality was that all my efforts to reconnect with Doug could not stop the affair.  It had too much power.
A couple of months later, I felt in my heart that my efforts were not as productive as I had hoped they would be.  The wall was still there and I felt like I was really losing my mind.  During that time I was overly vigilant with everything that was happening around me and with every action and conversation with Doug.
This was the time that I finally demanded he tell me what was going on.  Of course he did confess a portion of it, and I again believed everything he said was true.
He downplayed the affair, their relationship and the ending (or not ending) of their emotional affair.  Of course all of this was very painful for me.  He watched me have panic attacks, crying spells, lack of sleep, weight loss, hopelessness and helplessness.
I WAS desperate. I loved Doug, and deep down felt he loved me.  I wanted to do everything to save our marriage. But again this wasn't enough to end the affair.
The pleading, crying and begging had little effect.  The only repercussion was that it forced Doug to make an effort in our relationship to curb my emotions, insecurity and to lesson his guilt.  It also forced him to lie and sneak around even more.
He was trying to maintain two turbulent relationships which was wearing on him (Tanya was also becoming emotional and desperate).  However, the power and control of the emotional affair was still winning.
Fast forward another month.  Of course I knew deep down that the affair was still going on and everything I had read indicated that I needed to take a stronger stance.  So I demanded the phone records.  After I reviewed them I told him he could leave.
This is the point that Doug has told me (much later of course) that he knew he had to end the affair.  Again he said it was a process, and of course it didn't end that day.
The thought of that still produces so much anger because I looked at the previous four months to this occurrence as the "process."  I wonder what it took to finally end it.  What kind of hold did she and the affair have over him that seeing his world crumbling around him didn't seem to make any difference?
I will never understand the power of an affair and how someone could let it continue when they are hurting everyone around them.  The only thing I could do is accept and forgive, which has been the most difficult thing I have ever had to do.
I hope that Doug can look at this process the way I have and learn from it, so his insight could help others that are going through the same thing.  I know there are many things I could have done differently to have sped up this process, but I believe in the end, the decision to stop an emotional affair has to be one made by the cheater.