As luck would have it, We received an email a couple of days ago from Dr. Robert Huizenga that deals with the issue of trust.  We've mentioned before that Linda purchased Dr. Huizenga's book "Break Free From the Affair" early after my emotional affair with Tanya came to light.  Ever since, she has been on his newsletter mailing list.  This particular email is timely as we have been receiving many emails and comments about this particular issue, and I feel it is appropriate to pass this wonderful information on to our readers.
Dr. Huizenga's approach to infidelity and saving your marriage is a little unconventional compared to many other authors, and quite frankly is very refreshing. We  hope that you enjoy this article and pass it along to those you feel might benefit from it.
How to TRUST (him/her and YOU) and Know for CERTAIN that Infidelity Will NEVER AGAIN Happen
by Dr. Huizenga
I'm doing a major reorganization of my materials. I've got articles, e-books, reports and posts all over the place.
In working with thousands I've notices some patterns and themes that carry through for those coping with and recovering from infidelity.
Here's the progression: finding comfort, finding direction and then feeling hope.
Today I've been thinking about hope and how that emerges.
Hope it tied to trust, to predictability. When it is difficult to trust, it is difficult to have hope.
I'm developing a Level 3, calling it the Masters Level, that presents materials that help develop trust.
Here are a few thoughts on trust (and hope.):
You increase the chances that infidelity will NEVER happen to you again by developing a sophisticated understanding of infidelity and relationships. Once you reach beneath the difficult and the superficial you see real possibilities for trust and intimacy.
You May Not Trust the Change and for Good Reason
Radical change often accompanies the discovery of infidelity.
Most of the wounded spouses who contact me make a 180 degree shift – begin acting in ways they thought their cheating spouse always wanted.
The thinking: I can "win" him/her back. If distant, move close. If angry and resentful, become pleasant. If hanging back, begin taking the initiative. If the aggressor, become the follower.
But, the cheating spouse rightly suspects that behavior cannot be sustained.
Or, a cheating spouse in affairs "I Don't Want to Say No" or "I Want to be Close to Someone…but can't stand intimacy" when "caught" and fear losing family, job, reputation, etc. also may exhibit a 180 degree behavioral change and become profusely apologetic and remorseful.
But, again, you don't trust it. The "I'm sorry" seems to lack authenticity.
The Norm: Rebuilding Trust is Hard and Confusing
How do I trust? Will I ever be able to trust again?
I hear those questions almost daily.
And, it's not really too difficult to understand the difficulty of rebuilding trust:
1. The pain is so excruciating that a person wants to move through it quickly. "Let's move on…" becomes the battle cry. And so, the foundational issues of trust, respect and acceptance are not addressed. The cheating spouse often wants to "move on" because s/he fears talking about the affair. Talking about the affair means being embarrassed, ashamed or fears criticism and judgment.
2. Trust building is difficult since most of us lack the basic skills in developing an honest, trustworthy and intimate relationship. We haven't had a course in love 101. (You're gonna get it here.) Most of us also lack significant models – couples and marriages – in which trust is intentionally built and sustained.
3. Many are driven by their desperate neediness (which rears its head in infidelity) and focus on getting their needs met rather than building trust. This is a hugely important distinction and is covered in Level 3.
Barriers to Marriage Makeover and Trust Building
Often I hear these words which portray fear and judgment, two powerful impediments to developing honesty, openness and transparency (which are vital for trust:)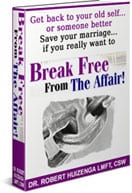 1. I want to talk, he/she doesn't.
2. I'm afraid of finger-pointing, judgment. I will become the "bad person."
3. The conversation will eventually turn to "what I did wrong" or "how I caused this problem."
4. I'm fearful I will back down, give in, and then pretend that things are fine.
5. I don't want to hurt his/her feelings.
6. I don't know how to put into words what I want to say.
7. I'm afraid "it" won't work. Then what? I'd rather not face that.
8. I don't want to talk about the past, but think I will have to.
9. We can't (really don't want to) find a time to get together.
10. I don't feel safe. He/she might use what I say against me at some point.
11. I feel guilty, awful. I can't get past that.
You Must Discover a Solid Foundation on which to Build Trust – and Sustain It
There's a story in the Bible about the man who built his house on a foundation of sand. Another on a rock foundation. Which one survived?
To be able to trust means you must identify and articulate basic foundational issues – my values, my standards, my boundaries, my needs, my preferences, etc.)
I want you to do more than slap a little paint on the walls and throw down new carpet.
I want you to tear off the drywall, strip down to the bare essentials and put it back together in a way that will last and be sustained for the rest of your life, for you and for you in relationship.
***********
Good stuff don't you think?  Dr. Huizenga has been at this a long time and we really respect his work.  He offers several different programs, with the flagship being "Break Free From the Affair."  He also offers some free reports, articles and a blog at his website that  may be helpful for you.  All of his materials are well worth taking advantage of.  Thanks Dr. Huizenga!
For more information on rebuilding trust after an affair, check out our e-book "Journey to Trust:  Rebuilding Trust After an Affair" and learn how we were able to regain trust in our relationship.  There are also some great bonuses included where experts share some of their valuable  trust building strategies.  Click here now!
[wlsp_signup]
LINESPACE