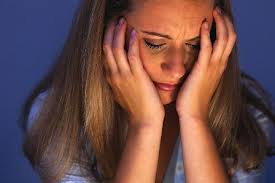 I was doing the grocery shopping Sunday as always, when about 50 feet or so in front of me I spotted Sherri, a woman who used to live in our neighborhood.  It was rumored that she and her husband had their house foreclosed on after a particularly nasty divorce. 
I was sure Sherri noticed me as well, but surprisingly she didn't acknowledge me, smile, or wait for me to catch up to talk.  She just quickly turned around and scurried away.
I thought this was kind of strange.  Now, we weren't good friends or anything like that, but we would always talk for a few minutes when we saw each other in the neighborhood or at parties and such.  Her daughter played on the same soccer team as our girls did back when they were six years old.  A team that I coached.  I also was at her house a few times a year because I was on a fantasy football league that her husband organized.  So, it's not like we were strangers and not like we were best friends, but we were always friendly.
So I went about my shopping and a few aisles later, we did wind up running into each other.  We started to talk and ask each other the obligatory questions about how the family was doing, etc., but she still seemed to be acting a bit strangely. She really wouldn't look me in the eye and just sort of seemed as though she wanted to get the hell out of there. Something was definitely bothering her.
Finally, she said, "You know that Brett and I got divorced." 
"Yes, I had heard. I'm sorry about that."  I replied.
The next thing I knew she was going off into a full-blown, semi-emotional explanation of the details of their divorce and what led up to it.
Can you guess what triggered the divorce?  Yep, Brett had an affair.  In fact he had several of them. 
Brett could be an intimidating dude.  He was 50 years old but looked 10 years younger.  He was about 6'3", muscular as hell and had a shaved head.  He didn't smile a lot and always seemed pretty serious or angry.  Linda would joke that he scared her. 
He played professional football back in the day and used his semi-celebrity status to open a successful personal training business.   Most of his clients were local high-school wrestlers and football players but he also held low-cost "bootcamps" where virtually all of the participants were women.
Anyways, Sherri went on to tell me that Brett had cheated on her with one of his clients and had moved in with her.  This woman was somewhat wealthy and Brett was doing nothing more than sponging off of her.  She was his "sugar momma" and he was the kept man. 
That's bad enough, but his behavior caused all sorts of fallout:
Sherri was thrust into a state of pain and disbelief.  Though it was a state she had experienced before.  It seems Brett had an affair with their next-door neighbor several years ago (causing her husband to move out and divorce her), so she was somewhat familiar with the experience.  This time though, it seemed to ravage her more.  She went through a period when she was spiraling out of control, where she was depressed and drinking heavily. Luckily, thanks to her sister's help, she was able to pull herself out of her depression.  
They had two kids who felt they had to take sides.  Never a good thing when the two parents are pitted against one another and tear the other one down with every opportunity.  As a result, their high-school aged son became very angry and started to really act out at school and at home.  He was a promising wrestler who was headed for a scholarship, but decided to quit.  Their daughter gave up on her college dreams, moved out, got involved with the wrong crowd and got into drugs and partying all the time. 
He moved out almost immediately.  Sherri didn't say if she kicked him out or he just left, but he shacked up with his AP pretty quickly.  Prior to moving out Sherri said they fought constantly and often the fights would culminate in physical abuse.  Like I said, Brett was a big dude but Sherri is a small little thing.  She was no match for him and he took advantage of that.  And apparently these types of fights were somewhat typical for their marriage the last few years.
They got divorced.  It was apparent that divorce was inevitable and it didn't really sound as though Sherri fought it at all, but Brett came after her hard.  She wouldn't get into all the details but it sure seems as though it was a nasty process.  (This was his third marriage/divorce, by the way.)  It left her with much anger and resentment towards Brett, which has affected their current relationship when it comes to agreeing on issues regarding their son.
He discontinued his training business and therefore couldn't pay the rent for his gym.  The landlord wasn't real thrilled about that so he initiated legal action against Brett.  Sherri's name was also on the lease, so the landlord came after her as well.  She wound up settling with the landlord for $30,000 which caused a ripple effect financially and ultimately caused them to stop making payments on their mortgage and let it go into foreclosure. 
She lives with shame and embarrassment.  Sherri went on to apologize to me saying that she didn't want to talk to me because she was embarrassed.  To me, her ex-neighbor, she was more embarrassed because she let her home deteriorate and be foreclosed on.  To her good friends and family, she said she is embarrassed and ashamed for being cheated on, physically abused and for her temporarily checking out during her depression stage.
But there's a silver lining.  As we wrapped up our rather lengthy discussion, she told me that she has found a great guy – 7 years younger – who treats her wonderfully and is an honest and hardworking man.  They're renting a small house not too far from the neighborhood and are enjoying life together.  Her son, who lives with her, is doing better and decided to once again wrestle for his high school senior year.  Her daughter has also turned things around and has started taking classes at a local university. 
Sherri has been through a lot – and then some – but she seems to be doing much better.  I'm happy for her.  As for Brett, I haven't seen him since all of this went down except for a brief instant when we passed each other driving on the road.  I'm betting his "sugar momma" will soon tire of supporting his butt and gives him the boot.  But he's the type who will surely – and quickly – find another woman to take advantage of.