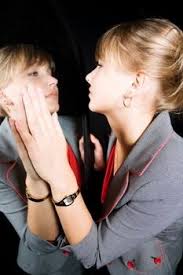 This is the second part of Sarah P's three-part series on Narcissistic Personality Disorder (NPD) and the narcissistic mother-in-law.  In this post, Jae Lee personal injury law delves into the definition and management side of NPD while tying it together with her example from her first post.
'Narcissism' has become a catch-all term that includes selfishness, self-centeredness, greed, and malignant self love.
However, Narcissistic Personality Disorder is a very real mental illness that is formally defined within the DSM-V. Many criteria need to be met in order to accurately make such a diagnosis. These criteria include, but are not limited to:
Inability to have empathy for the hurt they have caused another
Refusal to take accountability for their actions
Extremely inflated sense of self, feeling they are better than everyone else
Lack of insight in terms of how their behavior has contributed to a situation
These traits must be pervasive and stable over a number of years. These behaviors cannot better be explained by chemical dependency, and/or early onset of dementia.
Why Did Steve's Mom Qualify For This Diagnosis?
Well, a proper diagnosis of NPD could not be made based only on the case study that was presented in the first part of this series. When working through the case study it becomes apparent that NPD would explain Steve's mother's behavior.
However, there are several other personality disorders that could also explain her behavior. Those include Borderline Personality Disorder, Intermittent Explosive Disorder, and Histrionic Personality Disorder.
The answer can be found in gathering information and assessing whether or not any of these disorders fit his mother's behavior.
A diagnosis of NPD can only be made when it is ascertained whether or not the condition is pervasive. It also must be differentiated from other personality disorders.
So, a more detailed picture of Steve's family or origin needed to be gathered.
As Steve spoke more about his past, he described a childhood where both he and his father spent an inordinate amount of energy flattering his mother and adhering to the incorrect realities that she expressed. Steve reported that his mother's life revolved around thinking she was better than others and badgering others into adhering to such a delusion.
But the most telling factor is that Steve reported that his mother had lost all of her prior friends due to frequent narcissistic rages. In fact, Steve mentioned his mother had been fired from every job in which she worked because of her rages. These rages were brought on when others were not treating his mother as if she was royalty.
Steve also noted that anytime he attempted to tell his mother that her behavior was hurtful to him, she would immediately fly into rages. He explained that when this happened, both his father and brother quickly worked to soothe Steve's mother while at the same time villanizing Steve.
Steve had become a family scapegoat because he was the only one who had a pattern of occasionally standing up to his mother. Steve reported that his father's mantra to his sons was that they needed to meet the mother's every need without question.
After interviewing Steve in detail, it became apparent that Steve's mother's baseline behavior included gaslighting, patterns of outright lying, constant manipulation, inability to empathize with others, including her own family members, scapegoating, and a ceaseless need for admiration and verbal adoration.
At that point, it became abundantly clear Steve's mother qualified for a diagnosis of Narcissistic Personality Disorder.
Managing a Person With Narcissist Personality Disorder
But, a crucial question remained. Should Steve and Suzy seek an amicable divorce as Suzy had originally suggested?
It depends.
Steve and Suzy would need to form a united front. At the foundation of the united front would be agreed upon boundaries that would be applied to Steve's family; especially his mother.
There was no reason to divorce if they agreed to set extremely firm boundaries and stand by them, regardless of the pressure from Steve's family members.
But, Steve also needed to readjust his expectations and gain a more healthy understanding of his role as a spouse.
First, Steve had to realize when he got married he had to leave and cleave.
All of Steve's behavior and decisions would need to adhere to this principle.
It had become apparent that Steve's mother had attempted to make him into a hybrid of a confidante, a child, and a forced admirer. Steve's mother expected Steve to listen to her for hours on end, to reiterate constantly how wonderful and smart his mother was, and to do absolutely everything she said to do, even as an adult.
Steve could no longer perform such a role for his mother if he wanted his marriage to survive.
It was apparent that for Steve's adult life, he attempted to walk a tightrope between constantly pleasing and 'obeying' his mother, trying to be a good husband, and then also attempting to get his own needs met as an adult.
It was not possible for Steve to be in a fully emotionally committed relationship with his wife while still 'obeying' and pandering to his mother. But, this would be difficult because of the guilting that frequently occurred in his family.
Steve admitted that he was terrified of the guilt that his mother, his father, and his brother would induce if he did not play his designated role in the family system. Still, this was not a valid reason to continue in a destructive dynamic.
The second thing Steve needed to do was to receive individual counseling, preferably with an older male counselor who could be a mentor and therapist. Normally, this type of gendered recommendation would not be necessary. But, Steve came from a family where the power was solely in the hands of a female narcissist.
The third thing Steve needed to do was enforce strict boundaries in terms of his mother and his extended family. This would be the hardest task for Steve, since he had lived a life solely dictated by his mother.
The fourth task was that Steve needed to go no contact with his mother for a period of several months. Steve needed time to adjust to this new way of thinking and being.
Fortunately, Steve was willing to do the work because the most important thing to him was to have a harmonious and loving life with his wife and their child.
Are There Other Options Besides the Strict Boundary Setting Described Above?
The answer is plainly "no". People with Narcissistic Personality Disorder do not understand reason. They do not understand, or want to understand, the feelings and needs of others.
The person with NPD maintains an elaborate inner world where he or she is always blameless, he or she is always the victim of other's behavior, and where he perceives himself as perfect. Everyone else is always wrong, while he is always right.
Narcissists view the world in terms of black and white—not in terms of morality, but in terms of their way always being the right way, even if their way is immoral or harmful.
If the narcissist physically harms someone outside of himself, he will concoct an elaborate story that describes how his victim made him do it. While holding the victim responsible for the narcissist's actions, the narcissist will, at the same time, name himself as victim and the victim as perpetrator.
The narcissist absolutely convinces himself or herself of these false truths and behaves accordingly.
This was precisely the thought process that allowed Steve's mother to believe that she was under attack. This was the thought process that allowed Steve's mother to physically attack Suzy and to delusionally believe she was defending herself.
Because of this when Steve's mother called Steve's father, she presented a story about being extremely victimized and harmed by Steve and Suzy. Whether or not Steve's father could have guessed the truth, he had long ago been 'trained' by Steve's mother to support her delusions.
As Steve said himself, "My father always told us to do whatever my mother said. He told me that anytime he began to stand up to her, the fury that was unleashed was such that it became easier just to back down. My dad always told us, 'Don't rock the boat. Don't make waves."
Back To Suzy and Steve's Issue
The very bottom line that Steve needed to understand was that there was nothing he or Suzy could do to make Steve's mom a loving person. It was an absolute impossibility.
Furthermore, there was nothing that Steve did to cause his mother's behavior. Her behavior was wholly her own issue.
Steve needed to understand that he could no longer allow himself to be baited by the guilt that other family members attempted to impose. It was not his fault and he did nothing to cause his mother's behavior.  Both Steve and Suzy needed time to adjust to this new truth and to assimilate it.
Furthermore, Steve needed to understand that even though his own father had made the choice long ago not to rock the boat, not to make waves, Steve was permitted to follow a different path.
Steve was allowed to individuate.
Steve was allowed to have a loving and sane relationship with Suzy.
Steve was allowed to be happy.
I do not believe that Steve and Suzy needed to get a divorce. But, I do believe that if their marriage was to survive, Steve must undergo foundational changes to his thinking and to his behavior.
Most of all, Steve must refuse to accept the responsibility for his mother's behavior and to learn what behavior is acceptable. Only then will Steve and Suzy's marriage have a chance at surviving.
After all, each of us teaches people how to treat us. Narcissists can no longer mistreat us if we do not make ourselves available for such mistreatment.
Steve's Conundrum and Its Roots in Early Childhood Attachment
Each of us brings pieces of our past into all of our relationships.  This is especially true in the case of marriage.
These pieces of our past begin to form the moment we are born.
From the moment we are born, we are wired to form attachments to our primary caregivers. These attachments, which are shaped from birth to three, form patterns that dictate the way we will attach to others throughout our lives.
Psychologists use the concept of attachment patterns to describe what happens when an individual does not attach to early in ways that permit optimal psychological growth and development.
I'll address these patterns and more in the third and final part of this series.