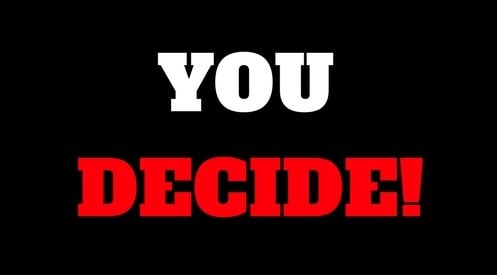 This is the latest installment of our 'You Decide' series where you will provide your opinion on a fictional affair scenario. 
This time we're considering a situation where Phil had multiple physical encounters outside of marriage – over 40 years ago.  His wife discovered one of his infidelities after finding some old letters stored in a box in the attic.  
Please read on and share your thoughts in the comment section on how to help this person .
It's been two years…
Phil was a real lady's man throughout his youth and into his early twenties.  He was also selfish, self-centered, egotistical and perhaps a little narcissistic. 
While dating his now wife, Sue, he often would be out with the guys at a party or bar, and would end up with another woman in the backseat of a car or at the woman's apartment.  Unfortunately, this type of behavior continued for several years after Phil and Sue were married. 
But as he grew older he stopped this behavior, found God and re-committed to his marriage (perhaps really committing for the first time).
One day back about 2 years ago, Sue was cleaning out the attic and discovered a box of old letters.  In among the love letters between her and Phil she found one from some other girl that was dated just a few years after she and Phil got married.  The letter talked about a special night that she and Phil shared back then – more than 40 years ago.
Enraged, hurt, confused, Sue confronted Phil about the letter and he quickly confessed to a one-night stand with the woman.  Sue was naturally thrown for a loop and started questioning everything about their past.  She also began to question Phil about the past as well.
Eventually, over the course of many months, Phil admitted to having several physical affairs during the early years of their marriage.  This obviously floored Sue even more.  She now waffles between wanting to leave and wanting to stay. 
Now, there were many issues that may have contributed to Phil's poor behavior and decision  making, such as a rough childhood with little boundaries or accountability – which he is just now coming to understand.  But the fact remains that every instance of infidelity was a result of a choice that he made.  Phil now understands this 100% as well.
Phil is doing is level best to help Sue heal, and to be honest, they do have more good days than bad.  He is going to individual therapy, reading books, he's remorseful, and he communicates in a safe fashion. 
How to handle triggers…
The biggest problem they have is when Sue gets triggered.  Phil gets lost.  He freezes up.  He doesn't know how to handle triggers: the anger, or the sadness, or the resentment – or any other emotion.  This frustrates Sue because she needs him to respond to her in a way that helps her through the triggers. She feels that she can't trust him to be there for her.
What does Phil need to do to help Sue with the triggers?  How should he respond so that Sue feels comforted, loved and helps get some of that trust back?  What, if anything should Sue be doing to help the situation?
You Decide!