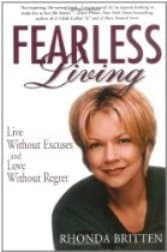 I have started reading a book by Rhonda Britten called "Fearless Living."  This book is about living without excuses and loving without regret.  The book challenges you to defeat your fears and achieve true self-confidence and fulfillment.  It also provides a Fearless Living program which I haven't delved into yet.
There is a story in the book that resonated with me.  It was about a woman whose husband of eighteen years unexpectedly told her that he was leaving as he believed there had to be more to life than being with her.  He said that all they talked about was the kid's homework, the bills and what fertilizer to use.
Obviously the woman was in shock.  She had spent the last eighteen years devoted to being a good wife and mother and put everyone else's needs before hers. Foregoing things that she had wanted to do in order to make everyone else happy. His leaving had confirmed to her that she was insignificant.
During her sessions with Britten, this woman realized that she didn't even know who she was anymore and wasn't sure what she enjoyed or what interests she had.  She had become so used to going along with her husband that she assumed her desires and her husband's desires were one in the same.  She had become a people pleaser and for the last several years had rarely shared any thoughts or feelings that were different from his.
She believed that bowing to her husband's wishes in order to avoid feeling selfish would save her from the experience of feeling insignificant.   Somewhere fear had caused her to rationalize that if she made everyone else happy, she would be important to them rather than insignificant.  Therefore, she had thought it was better to accept the love she had than question whether her husband's love fulfilled her needs.
Britten stated that this woman's divorce was the impetus she needed to look within herself and understand how fear hindered her happiness.  Before that, she never gave herself the internal permission she needed to make her own happiness.  This woman had been waiting for someone to give her the answers that would "fix" her life.  However when this woman began mastering her fear, she no longer waited for life to happen.  Instead she began to make life happen.
I think this story resonated with me so much because I know that in my own life I often acted in ways because I was afraid of not being loved.  I often failed to state my needs or opinions because I didn't want to appear selfish or assertive. I acted in fear and Doug's emotional affair was my wake up call.  It was the jolt I needed to make me aware of the patterns and behaviors I have infused into my life and why I often felt empty and unfulfilled.  I was on automatic pilot and completely unaware of my actions and why I was doing them.
Now I feel that the most important element in my quest for a more fulfilled life is being aware of my fears and how to combat them.  It takes patience and practice and I am basically undoing behaviors that have been a part of me for decades.
Britton had a tragic childhood and it amazes me that she was able to emotionally recover from her experiences.  Rhonda's story begins with a tragic, traumatic event that happened when she was fifteen years old. Her father, who was an abusive alcoholic, murdered her mother in front of Rhonda and her younger sister and then committed suicide.
She did not receive counseling at the time, which led to clingy relationships for fear of abandonment. It affected her dating relationships and her own personal life. She had to learn what was appropriate behavior and what fearless living really meant.  She has a site called FearlessLiving.org.