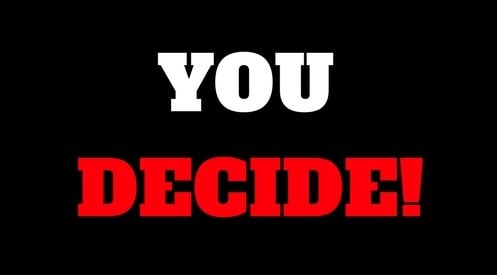 This is the latest installment of our 'You Decide' series where you will provide your opinion on a semi-fictional affair scenario.
This time we're considering an internal struggle that Adriana finds herself in some three plus years after discovering her husband's affair.
Please read on and share your thoughts in the comment section on how you would help this person.
The Backstory
Adriana and Mike have been married for 19 years and have two teenage daughters.  They were college sweethearts, got great jobs right after graduation and eventually got married about a year later.
After several years of marriage Mike started a physical and sexual affair with Joan – a married acquaintance from church and mother of  three  – one of whom was a friend of Adriana and Mike's daughters.
Adriana discovered Mike's 3-year long affair almost 3.5 years ago. He ended the affair immediately.
In the aftermath of their D-day, Adriana considered notifying Joan's husband of the affair; however, she decided not to. At the time, she didn't want her actions to be conducted out of revenge.
Since D-day, Adriana and Mike have been through hell together. She doesn't really feel that their marriage is healed or that they are in a "good" place. But they are still trying – and both agree that they are roughly 70-80% through this difficult process.  (They do not currently go to therapy either jointly or individually.)
The troubling thing for Adriana now is that she knows Mike's affair partner is still with her husband and is pretty sure Joan's husband is still in the dark about the affair.
Knowing this breaks Adriana's heart.
Do You Have an Ethical Obligation to Tell the Betrayed Spouse that Their Spouse is Cheating?
She is quite sympathetic to the fact that as a betrayed spouse, there are few things in this life that can compare to the injustice of being forced to live a "fake" life. To be manipulated by lies; to not be given the ability to make her own decisions based on the truth and reality.  No one deserves to live that way.
So, after all this time, Adriana is still considering notifying Joan's husband.
She simply feels he has a right to know.
She feels that Joan's husband should be able to base his decisions on the truth and not the "fake" life that has been handed to him.
It seems unfair that Joan's presence in Adriana and Mike's lives could wreak such havoc, while Joan's life and marriage just continued as normal, with her husband oblivious to what his wife had done.
The Dilemma…
Even after more than three years of recovery, she is struggling with whether or not to tell Joan's husband about the affair.  Part of her says that he has the right to know even after all this time.  The other part of her feels it's not her right to tell and she should just let it go.
She has asked some close friends and is getting conflicting advice. 
One friend says to do it anonymously (this person was also cheated on and did not tell, but wishes she did.)
Another friend advised against telling as she felt it was too risky, as one never knows how another person might react.  There was also the issue of the effect this could have on the affair partner's children.  
Knowing what she now knows, do you think that Adriana has the moral responsibility to inform Joan's husband – or is it truly none of her business? (Of course, whatever decision is made, Mike and Adriana would make together.)
There you have it. What should Adriana do?  You decide!
If you struggled with this issue as well, please share your own experiences and how you decided to handle it – as well as the outcome. Thanks!