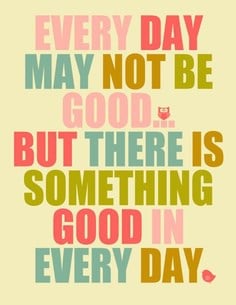 We came up with this week's discussion topic with a little help from the folks at Marriage Sherpa.  They ran a blog post recently on how finding the positives can help make a post-affair marriage successful. 
In that post it was suggested that after the initial pain of the affair has been managed, it may be helpful to take a break from all the bad things that have been going on in your relationship and focusing your attention on something else.  Something positive.
However, as an affair victim, it is difficult to "just be positive" after you find out your spouse has cheated. The news is devastating, and your whole world is turned upside down.
But many affair victims do harbor some degree of hope that they can save their marriage. At some point, they hope they can heal enough from the post-affair pain and put the pieces of their relationship – and  life – back together.
Accentuate the Positive
"When we focus on negative, everything feels and looks negative. It's easy to do. But positive? For some reason, it seems we really have to work at being positive. In a post-affair environment, it can be especially challenging. Your self-esteem has been shattered—along with your marriage vows—and you don't know what tomorrow holds."
The author then goes on to offer three steps to guide you in finding and cementing the positive back in your life again:
Step 1: Focus on YOUR Positives. With a blow to your self-esteem like an affair you will have your work cut out for you to feel good about yourself, let alone about your spouse or your marriage.
As you work through the negative thoughts and painful emotions, make a list of the positive things you know about yourself. When you are feeling low, pull out that list and read those positives out loud. This can reinforce the positive in your life: simply remind yourself that you have many positive qualities and attributes.
Step 2: Get Rid of the Poison. A spouse's affair is like a snakebite, and the only anti-venom is using positivity to get the poison out of your system. You can use a journal and spew all of that venom you are feeling out onto a page. You can sit down and discuss what you're feeling with a trusted friend. At some point, you will need to have a very frank discussion with your spouse about the negativity that you are feeling, and the damage that his or her affair has done.
Trying to tamp down this poison doesn't make it go away: you need to find a release for it, whatever form that takes that is safe for you.
Step 3: Focus on Your Marriage's Positives. You will be doing a lot of soul-searching and picking at every flaw that is in your marriage. This is natural post-affair. At some point, you will feel ready to take a look at what is worth saving in your marriage. Make a list of the positives—and build from there.
Based on this information, the questions for discussion are…
Are you drowning in negative thoughts?
Do you feel you'll ever be capable of finding the positive again?
Do you have any successes you could share with your spouse that would give you a reason for a celebration—if you've done some healing from the affair pain?
Please leave your replies in the comment section below and be sure to reply to one another.
Thanks!
Linda & Doug
 LINESPACE