Guest post by Mary C.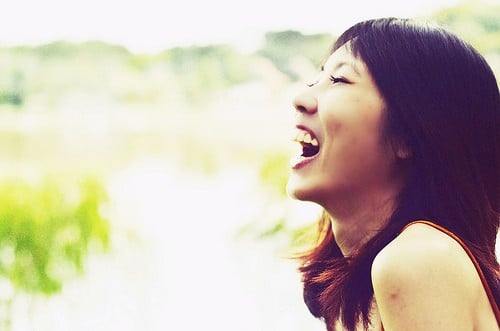 I recently read a terrific post by Doug on the forum about how acting as if you are happy can actually help you to become happy. He also wrote about being grateful for the things you have. When you're proceeding through a tragic period in your life, one issue you don't typically think about is thankfulness. It isn't something that comes to mind when you feel your life crashing down around you.
A few months ago, I noticed a homeless person sleeping under an overpass. It made me start to think how horrible that must be. I resolved to start a "Things I'm Thankful for List," which I save on my desktop. I look at it and add to it when I think of something. I write it primarily for myself, but occasionally forward it to my children. It makes me realize how blessed I am, which compels me to feel better about my life. Here is an example of some of the things I put on my list.
My Children
I always think of my children first. I haven't been in a position to help them a lot financially the past few years; therefore, they have both worked hard to get an education. We've gone through some hell through the years, especially when they were teens, but that's what moms are for. We endure the bad and good, but we're always proud of them. I'm thankful for my beautiful and loving children. If I do nothing else with my life, I know I have made a valuable contribution to the world by having my children.
My Home
Next, I look at my surroundings. What I see is a modest studio apartment that I furnished piece by piece and transformed into a lovely home. It's small, but ideal for me. A few years ago, a series of events put me in a grave financial situation. I went from having a well-paid position to essentially fearing homelessness. I never considered that could happen to me…but it did. Therefore, I'm grateful for my cozy little home. If you have a roof over your head, go downtown early some morning and see the homeless people sleeping on benches, in doorways, and under overpasses.
My Pet
Lying next to me is my little Yorkie named Izzy. I always include her on my list. She is the love of my life. Before I got her, I thought I didn't need another pet. They take a lot of effort and are expensive as well. However, getting Izzy is one of the most delightful things I have ever done. She has brought laughter and love to my life. That's the purpose of bringing pets to nursing homes. It does miracles for cheering up the elderly people and alleviating depression. If you're lonely, get a pet. They will make you laugh even when you don't feel like it.

My Car

My car is an old girl, but still going strong. I take good care of her and she does the same for me. I had always driven new cars of my choice. However, back when I was extremely down on my luck, I lost the new car I owned at the time. If you have transportation, drive by a bus stop some cold early morning and catch a glimpse of people waiting for the bus because they don't have a car. It will make you content to have a vehicle of any type.
My Health
I have been disabled for a couple of years now. However, I can still walk, talk, and do just about anything as long as it isn't too physically demanding. I am very thankful for that. 
It sounds inexplicable, but becoming disabled gave rise to an amazing transformation in my life. I started writing. I had spent my life at a job that paid extremely well, but made me miserable. Now, it's so wonderful to be doing something I love. I have pain in the majority of my body, but I am so grateful my fingers are still pain free and I'm able to type. 
Family Traditions
Cooking is definitely not my forte. At Thanksgiving and Christmas, it's typically just my two children, two grandchildren, and me. This past Thanksgiving it was only my son and me. Since there is typically just a few of us, we go to the Golden Corral for Thanksgiving dinner for the holidays. We stuff ourselves with the terrific and unlimited food. People laugh at us for doing this, but I don't care.
Last week I told my daughter that very few people have memories of Thanksgiving with their mother at Golden Corral. She laughed and said she wouldn't have it any other way. I figured it was because of my terrible cooking; however, she said it was because we have a unique and fun holiday tradition. She lives a long distance from me and isn't always able to come home for the holidays. Therefore, she and I are thankful when we can be together. In addition, it enables us to spend more time together instead of being in the kitchen cooking. I'm thankful that my children love our strange holiday tradition.
These are just a few of the numerous things on my list. A lot of them would be insignificant and silly to someone else. We are all thankful for different things. It sounds cliché, but there is always someone in worse shape than we are. Get in the habit of remembering that. As Doug said, stand tall and put a smile on your face. Being thankful for what you DO have and putting on the happy act can do wonders for your frame of mind. Don't forget to sing and dance!
Have you noticed that when you act happy you feel happy and your spirits are lifted?
[wlsp_signup]
LINESPACE