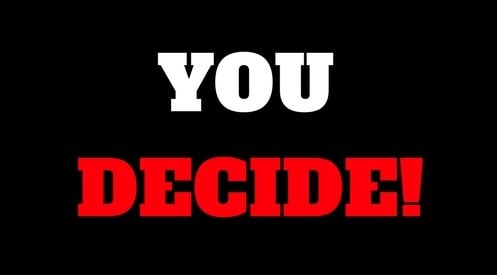 This is the latest installment of our 'You Decide' series where you will provide your opinion on a fictional affair scenario. 
This time we're considering a situation where Cindy is so afraid to speak her mind – her truth – for fear that her unfaithful husband will leave her for his emotional affair partner.
Please read on and share your thoughts in the comment section on how you would help this person .
The Backstory
Cindy's husband, Tom has been having an emotional affair for the last year-and-a-half with a woman who lives half-way around the globe.    He and his affair partner have never met face-to-face.  Their entire relationship has been via text, phone, WhatsApp and Skype.
So of course, he doesn't admit that it is an affair.  He views their relationship as two good friends helping each other out with their marital difficulties.
You see, several months ago, Cindy went through a terrible phase where she was sick, her mother died, she lost her job and she had a kid.  She admits that she didn't treat Tom very well – even saying that she was mean to him.
During this time, Tom met Andrea (also married) online through some sort of hobby-related forum.  They started chatting online and it went on from there. 
Shortly thereafter, Tom started sleeping in another bedroom.  Tom and Cindy have not had sex for almost two years. 
What's Going On Now
Here's the Reader's Digest version in bullet format.  We'll start with Tom.
Tom blames Cindy for what's going on because she was 'mean' to him in the past.  He refuses to let that go.
He feels they need to work on their friendship first before he will commit to the marriage and/or have sex with Cindy.
He is constantly on his phone texting and/or talking with Andrea – even in front of Cindy.
He refuses to go to marriage counseling because he doesn't trust therapists.
He gaslights Cindy anytime she tries to bring up their relationship and the idea of him not 'talking' to Andrea anymore.  He throws out the "you're trying to control me" card, as well as falling back on the "I can't get over how mean you were to me" card.
He spends most of his time locked in his bedroom on his computer.  He's detached from Cindy and his child.
Now let's move on to Cindy
She does not want to lose her marriage as she loves Tom very much.
She is not sleeping or eating much out of anxiety about this whole situation.
She continually tries to reason with Tom about how they can make their marriage great and frequently recommends books and articles for him to read.
She blames herself for what's going on. She feels that her behavior and mindset during her rough patch caused all of this, but is frustrated that Tom will not forgive her and release his resentments.
She very much wants to have sex with Tom, but is afraid to even bring the subject up.
She is afraid to establish boundaries or make demands for fear that Tom will leave her or get even closer with Andrea.
She is thinking that she will just try and wait this whole thing out. She's going to fake it until she makes it.
There you have it. What should Cindy do?  What does Tom need to do? You decide!