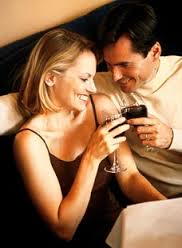 The other day we received an email from a woman who shared the story of her husband's infidelity. It was a familiar tale – one that we've all heard before. However, what struck us about this particular one was the extent of which her husband's infidelity (or more so his adherence to boundaries) was affected by the usage of alcohol.
It really isn't anything we haven't heard before, but we thought that it might make for a good discussion topic.
We're sure there are strong ties between alcoholism and infidelity: Consuming alcohol tends to impair a person's judgment and all but erases their inhibitions and boundaries, making infidelity under the influence of alcohol most certainly a common occurrence.
But we're not necessarily referring just to the alcoholic. We've all heard the tales about the semi-strangers who have consumed one-too-many drinks at a business conference and the next thing they know they're in bed together. They aren't necessarily alcoholics but alcohol was partially to blame for their fling.
We know that there are many of you who can attest to the fact that alcohol played a part in either your or your spouse's infidelity…
What were your (your spouse's) experiences with alcohol and infidelity?
To what extent was alcohol responsible for the affair? How did it affect you/your spouse?
What did you do? How did you handle it?
Was alcohol a factor in other ways, like excessive lying, not being dependable, or some sort of abuse?
Have you/your spouse sought treatment or counseling for your alcohol usage?

Admittedly, we shouldn't just focus on alcohol either, as drugs can be a big problem as well. So feel free to share any experiences where drugs were a factor.
Be sure to share your experiences and reply to one another in the comment section below.
Thank you very much!
Linda & Doug