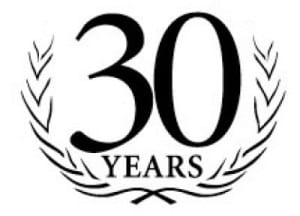 Today we have been married for 30 years.  That's a long time. But it's just another day.
I'm working.  Linda is off to her chiropractor appointment and then to the store.  The girls are at their summer college classes and our son is traveling back from a trip out West.  Oh, and our dog is asleep next to me on the floor having doggie dreams, in case you were wondering. 
We have no special celebrations planned for later this evening either.
Yep, just another day.
And we're cool with that. 
In fact, we talked this morning about it and we're more than cool with that. 
We told each other that we loved one another very much and that it's OK that we don't do anything super special, even if it has been thirty-freaking-years.
We spend most of our time together and we just both feel that we don't need to have some fancy dinner or special trip to celebrate another year of marriage. 
I'm not saying that it's not something to celebrate, or that we ignore it, or that those who get extravagant are nuts or anything.  Hell, to each their own.  It's just that we feel we don't need that sort of thing. 
Besides, Linda and I have not been able to truly celebrate our anniversary on its actual day for probably close to 20 years.  We've either been on a sports or dance related trip with our kids (either together or apart), or I've been away for business purposes. 
So we've always had to put our anniversary off for a later date.  And even then, our 'celebrations' have typically been at most a weekend getaway or a nice dinner. More often than not though, we really don't go to any great lengths – usually some flowers and a card and that's it.
We're not boring!
I got to thinking that it sure seems as though we have a lot of friends who are celebrating 'special' anniversaries these days.  It's either their 25th or 30th and we even have some parents of friends who are celebrating 50th or 60th anniversaries.  Many have indeed chosen to take extravagant trips to Europe, Hawaii or Alaska, for example.  But for us it's just another day in paradise.
And regardless of what anyone might think, we don't feel as though we're some old boring married couple either.  In fact we do more shit together on a weekly basis then most of our friends do in a year. Perhaps their fancy trips and stuff are just a way to over-compensate for their weak marital/relationship efforts the other 364 days.
When you think about it…Is it not better to celebrate your marriage and connect with one another on a daily basis and do special things together regularly, as opposed to a once-a-year binge?
We were at a party the other night and during a conversation I mentioned to the host that our anniversary was coming up and she asked me what we were doing to celebrate.  When I told her that we really didn't have anything planned, she couldn't believe it.  After all, she and her husband are about to celebrate their 15th anniversary with a trip to Jamaica.  Well whoopty-doo!
Then she went on to tell me how she and her husband hardly see one another during the week, much less have a meaningful conversation.  Of course this was all due to work and their 5 kids' activities.  So perhaps their anniversary trip is more an escape out of necessity than anything else.
Later this summer we are going to take a trip.  It's going to be a family vacation to Maine.  It will be the two of us and our three kids and we're going to camp a bit, hike a lot and do other outdoor stuff for two weeks.  This morning Linda and I both agreed that this will be our 30th anniversary gift to one another.  In our minds it doesn't get any better.
Anyways, not to rant or ramble any further…Thirty years of marriage is indeed a huge accomplishment – for anybody.  We're proud and grateful for what we have and what we've overcome throughout our entire marriage.  I guess we are each other's destiny.