Do You Feel As Though The Feelings of Grief After the Affair Are Unbearable?
When you have been through any kind of trauma, including an affair, you will experience a grieving process. Within this grieving process there are five identifiable stages that occur.
The concept of five stages of grief was originated and explained by a psychiatrist named Elizabeth Kubler-Ross.
Originally, Kubler-Ross identified these stages in order to help families who experience the death of a loved one process their grief.
However, Kubler-Ross soon identified that these same five stages occur anytime a profound loss occurs. And that would include the loss that is felt after a marriage is devastated by infidelity.
What are the Symptoms of Grief?
Though each person grieves in unique ways, there are common behavioral, emotional, and physical signs and symptoms that people who are grieving typically experience.
There are physical symptoms like: Fatigue and exhaustion alternating with periods of high alertness and energy, difficulty sleeping, disturbed appetite (either more appetite or less appetite than normal), muscle tremors, chills and/or sweating, and more...
Mental symptoms such as: Confusion (memory, concentration, judgment and comprehension difficulties), intrusion (unwanted thoughts, arousal, nightmares), dissociation (feeling of detachment and unreality, disorientation, denial)
Emotional symptoms like: Shock, fear, anxiety or apprehension, anger, irritability or agitation, guilt, numbness, remoteness, depression...
Having experienced infidelity myself, I certainly have moved through these same five stages, and I can tell you that it wasn't easy for me, for us, whatsoever.
It is important to understand that this grieving process is normal and that everyone, at some point in his or her life, will be confronted with a situation that causes such grief and trauma.
Trying to suppress or short cut this process will do no good —if you suppress something, it only delays healing and that something you are suppressing will always find a voice.
Please note that because everyone is different, you may experience each stage in a different order. An individual might also find himself or herself jumping back and forth between stages.
While one stage of grief might be experienced in a shorter duration for one individual, it may be experienced in a more lengthy duration for another.
Thus, as each person moves through the stages of grief, the finer points of their experience may differ, but the feelings they experience and the relevance of each stage remains universal.
Introducing...Processing the Five Stages of Grief after Infidelity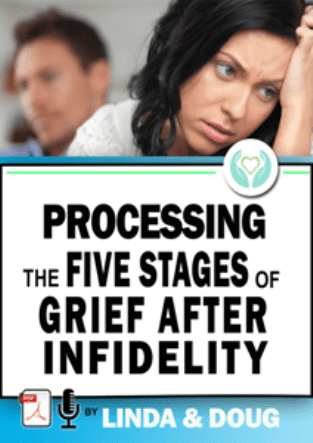 In this module, you are going to learn about the five stages of the grieving process; how to effectively deal with each step in the process; and then how to complete the process with the end result being a newfound sense of emotional freedom.
It's a compact, common sense program that will help you to better understand and manage the stages of grief that are typical after being betrayed.
Here's a sampling of what's covered in
Processing the Five Stages of Grief after Infidelity
A description of each stage
Tips and strategies for dealing with each stage
Do's and Don'ts for each stage
Worksheet: The Rules of Effective Couples
And more...
You

WILL

Get Through This!
You will always remember the affair, and you will always remember the pain that went with it.
Grieving is going to be one of the hardest things you are going to experience.  This module will help you through the process.
But, before you even begin, please realize now that you can be hopeful about the future.
That said, if you take the knowledge that you gain from this program and apply it with maximum effort, use your head a little, then you can expect to experience substantial positive progress managing your grief after being betrayed.
Here's exactly what you're getting with
Processing the Five Stages of Grief after Infidelity
Processing the Five Stages of Grief after Infidelity - Audio Version

66-minute professionally recorded audio version in MP3 format.  Download to your computer or mobile device for listening whenever you want.

Processing the Five Stages of Grief after Infidelity - Manual/Guide

51-page manual/transcript of audio in PDF format.  Download it.  Read it from your computer or print it out.  Take notes and/or journal while reading it.

Added Bonus

"Alleviating Emotional Pain" – a 14- minute Bilateral Guided Meditation created by Joyce E. Smith MA, MFT
"Thanks for providing this easy to read, concise guide.  It helped me to better understand what I was going through."

- Alexandria
"I've been overwhelmed with feelings of grief after my wife's 2-year long affair with my 'best friend.'  This helped me immensely."

- Mitch
Why wait another day to get help managing the grief you're experiencing right now?
OK, by now you're probably wondering how much this is going to cost…and that's understandable.
Normally, most experts out there would easily charge in the neighborhood of $47 for this program. But today, we want to give this gift to your marriage for a special, no-brainer price. You're getting access to "Processing the Five Stages of Grief after Infidelity" for just $19.95.
Yes, just $19.95

Satisfaction Guarantee
We understand that it's not easy sometimes to make an investment, even one that only costs as much as a cheap meal out. So, you can try Processing the Five Stages of Grief after Infidelity absolutely risk free.
If for any reason you are not satisfied with this program, just shoot us an email and we will refund every penny of your $19.95 purchase.  No time limits. No questions asked. Pretty simple!

Please feel free to contact us by email at: support @ emotionalaffair.org if you have any questions about the program.
We look forward to sharing Processing the Five Stages of Grief after Infidelity with you and eventually hearing your survival success story!
Best wishes!
Linda & Doug
NOTE: "Processing the Five Stages of Grief after Infidelity" is delivered in digital format via an Instantly Downloadable PDF file. No physical products will be shipped. After you order, you will get INSTANT ACCESS to the book and all the bonuses onto your computer.
** You will need to have Adobe Acrobat Reader to view materials in PDF format, and a video and/or audio program (such as Windows Media Player) to listen to recordings.
Please also note that every effort has been made to accurately represent this product and its potential. As with any book or program, there is no certain guarantee that you will achieve specific results.