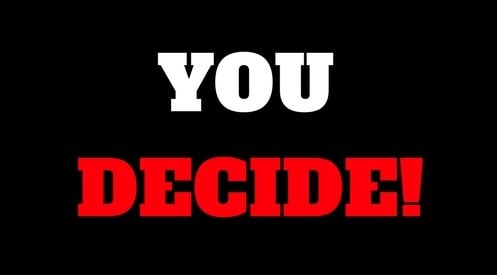 This is the latest installment of our 'You Decide' series where you will provide your opinion on a fictional affair scenario. 
This installment is actually not a fictional scenario.  A reader sends an email describing his thoughts and feelings after his wife confessed to affairs she had several years ago. 
Please read on and share your thoughts in the comment section on how to help this person .
A year and 5 months since D-day…
What do you do when your wife (of 24 years) has confessed to two emotional/sexual affairs from 11 years ago?
What do you do when she says our marriage was good (not perfect) but good. She even says you were a great friend, husband and father in most areas except emotionally, but that her emotional needs outweighed these "great qualities"?
What do you do when so much time has passed, that she can't answer or recall many of the details or timeline of her affairs?
What do you do when she shows remorse, repentance, is deeply sorrowful, is willing to give you whatever answers she can, and wants to do whatever it takes for the marriage to work… but you still don't find peace, hope or solace in the future of your marriage?
What do you do when the heartfelt advice of therapist and marriage counselors doesn't quite seem to fit your predicament and just leaves you feeling more thirsty for a magic "forgive and forget potion"?
What do you do when although you have forgiven her for her past; the thought of her deceit, her betrayal and images of her sexual indiscretions are like a dark filter that prevents you from seeing her as the same woman you married. No matter how much reconciliation, understanding and forgiveness happens; the fact will always remain that she willfully gave herself to another. (In this case two.)
What do you do when you CAN acknowledge her (many) great personality traits, abilities and beauty but still can't get past the realization of her purposeful infidelities?
What do you do when respect is lost for her?
What do you do EVEN if you believe that she would never do this again but that doesn't even matter to you? When there is a dark part of you that almost wishes she would  so that you could end the marriage. 
….What do you do?
You Decide!
Please follow and like us: