Copyright Jim Davis. Jim Davis, if you are reading, I spent many an evening at Fox Fire's and spent lots of money there just to save my sanity from the hell that is that particular town. I also did you the courtesy of not bothering you at your house (located on you know what lake) even though I wanted to. So, that allows me to use Garfield as an example, right? Thanks for doing me a solid, Jim.  
By Sarah P.
Before I begin this post, I need to say something important. Even though the facts in this post are all true and the events unfortunately all occurred, the post itself is written in an extremely satirical style and contains quite a bit of sarcasm.
I have a bit of a problem when I meet truly egregious people who harm others.
When I tell their stories, which are very terrible, I naturally resort to satire and sarcasm just to keep my own sanity. I do this to help suspend a little bit of the reality of a situation and also do this so I can laugh and hope that others can laugh too. The only way to survive trauma is to be able to laugh.
If I wrote about these events in the dead-serious tone they deserve, you and I would be haunted. Truly. Take my word for it, because I am haunted by these experiences.
You need to be aware of these egregious situations.
You need to know all about these egregious situations so you can be wise, but you do not need to have them haunt you like they haunt me. So please realize everything in this story is factual and happened. However, I have had to resort to satire for almost  the entire post, just to get through it. Otherwise, I would be crying.
Also, if I wrote in the dead-serious tone these posts deserve, well, this blog would be so depressing that people would have to stop reading just to protect their mental health.
That is why I sometimes say outrageous things. It technically a form of "reframing," however, I use satire, irony, and sarcasm as the way to reframe. I am not a mean or flippant person in real life. (Just the opposite).
Onward…
The "Pick-Me Dance"
The "pick me dance" was a term coined by the author Chump Lady. I wanted to address the pick me dance, why it does not work, and why it may not be what you think. 
What is the pick me dance?
In essence, it is a behavioral dynamic that a wayward spouse masterminds so that he or she can get large amounts of ego feed and/or copious amounts of sex from both his or her spouse and the other person.
The pick me dance, when it involves one wayward spouse, a betrayed spouse, and the other person is in its basic nature an old-fashioned love triangle.
From Wikipedia: "Two main forms of love triangle have been distinguished: "there is the rivalrous triangle, where the lover is competing with a rival for the love of the beloved, and the split-object triangle, where a lover has split their attention between two love objects."
The pick-me dance fits the definition of both.
But, the pick-me dance is big problem for the betrayed spouse, regardless of the fact that the pick-me dance can indeed transmit STDs. STDs can be a physical consequence of the pick-me dance.
Unfortunately, STDs may or may not be the worst thing about it.
We need to address the behavioral component of the pick-me dance and the consequences.
Here is possibly the worst thing about the pick-me dance…
If a betrayed spouse willingly participates in this dance, he or she is creating a dynamic that provides a wayward spouse with positive reinforcement.
Note: Willing participation means that the betrayed spouse knows their wayward spouse is actively seeing the affair partner and/or has not broken off the affair. Someone who does not know about their spouse's affair cannot participate in the pick-me dance.
However, this post addresses what happens when people willingly participate in the pick-me dance. Garfield has kindly volunteered to serve as our example.

Still copyrighted by Jim Davis
Here is how it works: Let us imagine that your wayward spouse is Garfield the Cat. Garfield loves enormous amounts of food, specifically lasagna. At home, John makes epic lasagna that Garfield consumes in one gulp. This lasagna is mentioned a lot by Garfield because he loves it so much.
Imagine this…
One day, Garfield smells something delicious and follows his nose. This takes him to Carl's house and Garfield jumps onto Carl's open kitchen window.  Carl has a different lasagna recipe. John makes lasagna with beef, but Carl makes tantalizing chicken lasagna with a cream sauce.
Imagine Garfield sitting on Carl's open kitchen window as Garfield sadly looks up at Carl as Carl removes his Chicken Alfredo Lasagna from the oven. Garfield stares up at Carl with tears in his eyes and acts as if he will just expire from hunger if Carl does not give Garfield the lasagna. Garfield manically points his hand at his open mouth to show Carl this matter of lasagna is urgent.
Carl gives Garfield a slice of lasagna.
After Carl gives Garfield lasagna, Garfield makes a half-hearted effort to purr and weave himself in and out between Carl's feet to feign appreciation. Carl has been lonely and this giant, orange cat seems neglected. Maybe the cat belongs to someone else, but Carl does not care. So, Carl feeds Garfield more lasagna.
 Then, Garfield goes home to John.
John wants to know where Garfield was and Garfield brags about Carl's Chicken Alfredo Lasagna. Garfield tells John that maybe he likes Carl's lasagna better.  After all, it is new. 
John just does the same old meat lasagna and that can get boring for a cat of exquisite taste like Garfield.
So, Garfield goes between Carl's house and John's house all day long. Each man attempts to make his lasagna better than the other person's lasagna because he wants Garfield's company.
Garfield knows he is using both men to make Garfield tons of lasagna and he chuckles. For as long as these two cat fanciers are caught up in the lasagna competition to win Garfield's attention, Garfield will receive positive reinforcement.
Garfield has discovered that if he goes elsewhere to eat and brags about it to John, John will give Garfield outrageous amounts of the very thing Garfield wants: more lasagna. When Carl learns John is going to greater lengths to make more lasagna, Carl will continue the rivalry by giving Garfield even more outrageous amounts of lasagna… which is the very thing Garfield always wanted.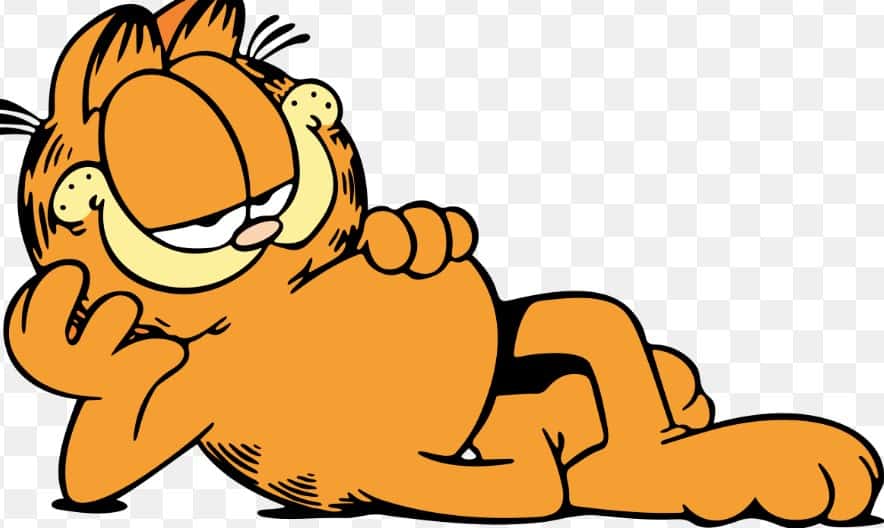 Yes, you are right. Jim Davis still owns the copyright. Just like Garfield owns lasagna.
Until someone kicks Garfield out on the street and closes the kitchen window for good, Garfield will be receiving enormous amounts of positive reinforcement. This positive reinforcement will cause Garfield to do more of the thing John and Carl do not want Garfield to do: go between each person's house all day long.
Carl and John want Garfield to choose one of them and believe they can make Garfield choose one of them by giving Garfield more of the thing he wants.
Garfield has learned that by being a non-monogamous lasagna connoisseur, he gets more lasagna.
This causes John to bang his head against the wall wondering why Garfield will not choose him.
So, John continues to create more elaborate ways to please Garfield.
As John pleases Garfield more, he is teaching Garfield to do the very thing John does NOT want Garfield to do.
Everyone knows that you reward pets for the behavior you want to see and withhold treats when the pet does not do what they want. Pretty soon, the pet does more of the behavior that earns him treats.
When people get caught up in the pick me dance, they are providing treats for the very behavior they DO NOT want.
The pick me dance is very bad. If you are willingly and knowingly involved in the pick-me dance, you are providing your spouse with positive reinforcement while expecting your spouse to NOT do the thing you keep rewarding him/her for doing.
Once again, think that through. If you engage in the pick-me dance by choice and provide sex that is more exciting, change your appearance, beg your wayward spouse to stay, and devote your life to serving his every need, he or she will keep cheating.
You have unfortunately taught your spouse that cheating gets him or her goodies.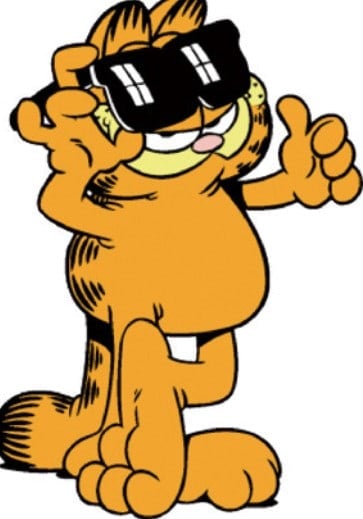 Yes, Jim Davis still owns the copyright.  Jim, I bet you never thought Garfield would be used in an infidelity blog. But, that's okay because none of us married people ever expected that we would be used by cheating spouses. Capiche?
However, I do NOT blame you for the pick-me dance.
Why?
Because when someone is losing his or her spouse to another person, engaging in the pick-me dance appears to be the right thing to do.
Most wayward spouses will give a betrayed spouse a bogus list of all the things the betrayed spouse did not do that caused the wayward spouse to cheat.
Remember, betrayed spouses cannot make a spouse cheat.
However, most betrayed spouses fall for the bogus list and start doing all those things that did not cause a spouse to cheat.
And I do not blame these betrayed spouses because they are trying to keep a marriage and family together. Hello! Their marriage and family is so important to them that they are willing to move heaven and earth to keep their family together.
And they are right in trying to move heaven and earth to save a family.  It's what normal, unselfish, and moral people do.
Betrayed spouses just do not realize that engaging in the pick-me dance will not get them what they want. (And this is exactly why I am writing this blog post).
The wayward spouse will certainly encourage the pick-me dance because he gets more of what he wants.
Important Note: There are as many female cheaters as male cheaters. Sometimes I rely on the word "he" because otherwise I end up saying "he and she" in every sentence. When I use the word "he," it is a universal word for humankind. If you are a betrayed man, read the word "he" as "she." However, I will still be aware of trying to maintain gender neutrality.
Dr. Argentina and His Menagerie of Women
This brings us to Dr. Argentina and his menagerie of women. When I heard this story from an eye-witness who saw it unfold, I thought part if it was funny in a gallows' humor sort of way.
I also knew some of the players.
However, I never thought what was happening to the wife or child as funny. It was just about the most unfunny thing I had ever heard. The most unfunny thing I heard involving infidelity also involved guns and people getting killed. So not funny.
I had found what happened to several women who made up the menagerie of women as funny because it was the kind of thing that only happens on sitcoms or soap operas. I thought real people knew TV was fake and they were not supposed to use soap opera characters as role models. Obviously, I overestimated them.
But, now I am married and I have children and cannot laugh. This is a very unfunny story. Still, I need to write it through the lens of satire.
This is a true story that happened over twenty years ago. It was such a scandal, everyone in the entire small city knew about it. I left that small city long ago and far away.
However, I knew a married woman who had the unfortunate experience of working with Dr. Argentina himself. She was very moral and paid close attention to the terrible things she witnessed. She had to off-load them because she was in disbelief.  Her reaction was normal and she was in a very abnormal situation.
She was a friend at the time and told me about how it unfolded from beginning to end. (She is still a friend but lives far away and is busy with career and family.)
Still, I have changed names and identifying details.
Why?
The identities never matter; it is the actions and the dynamics that matter.
Note: One of the reasons I have never participated in the #metoo movement was because even though I had many of those experiences as a much younger woman, I am not the kind of person who outs people so that they can be shamed.  
If I have an issue, I bring it to the person.
Of course, this blog is an exception since I write about my own story of betrayal from my perspective, but I will never out the identities of the people involved (even though there has never been even the slightest bit of recognition on their part as to the harm they have done. Quite the opposite.).
In fact, I tried to talk through this issue with my ex who continually denied there was no such thing as "the other woman." She was just a mass-hallucination of some kind. He had no idea why a 100 people had hallucinated her.
Even when the truth was out, even when they were living together, he pretended as if she was a mass-hallucination of some sort and that hallucination gave me cervical cancer. That's quite a feat—I must be the only person who contracted cervical cancer from a mass-hallucination who was living in my house after I was not living there.
In other words, I never had the opportunity to talk this through with my ex because he was so invested in the idea that he was absolutely perfect, he refused to acknowledge what everyone knew, saw, spoke to, and attended parties with—that would be "the other woman."
So, I went to my ex, tried to talk it out, but he was so invested in lying and gas-lighting that I never got the chance to talk it through. So, here I am blogging about it. That was a bad move on his part.
Note: Wayward spouses, talk it through with your betrayed spouse. All of it… even if you are the most evil person in the world because of what you did—please talk it through with your betrayed spouse. Then you may not end up on a blog. Just sayin.'
My ex and his OW are a couple of malignant narcissists. Trying to make a malignant narcissist understand what they have done is like sending a scorpion to see a therapist to ask it to stop stinging. We all know that will NEVER happen and taking on such a project would be absurd. 
Scorpions do what they do what they do. There is no rhyme or reason. No one will be able to reason with a scorpion about what is in its foundational nature.
If the scorpion were to even understand that the person talking to the scorpion was asking it not to sting, the scorpion would say: "Well, why don't you sting? What is wrong with you? You are crazy for NOT living your life stinging every person you meet."
Then, that would create a stalemate that could go on for eternity. Both scorpions and malignant narcissists sting. It is what they do.
All a normal person can do is walk away from a scorpion because a normal person and a scorpion have foundational ways of living, being, and perceiving that are diametrically opposed to one another.
If you're the unfaithful, get it, read it and carefully consider the advice. If you're the betrayed, give it to your unfaithful spouse.
Onto the scorpion named Dr. Argentina
Dr. Argentina, a male doctor, with his own practice, was married to a female doctor.
I will call her Dr. People Pleaser and she worked in a large hospital. She was a doctor and found time to stay physically fit, she was nice, she was really pretty, and she took great care of their disabled child.
Dr. Argentina thought his physically disabled child was a real bore and also a real chore.  So, he spent most of his time at work in his own practice separate from the hospital.
Are you getting the picture that Dr. Argentina was not a nice person? I can assure you he was NOT a nice person. This was just the tip of the iceberg in terms of how not a nice person he was.
Dr. People Pleaser had to figure out how to raise her/their disabled child with a father who chose not to be around his own disabled child.
So, Dr. People Pleaser hired a nice nanny to help care for their child when she was working part-time. In fact, even the nanny's mom would drop by to help her daughter (the nanny) care for the disabled child of these two doctors.
Sometimes the nanny would go on vacation and so the nanny's mom would kindly take over during that time. The nanny and the nanny's mom became part of the family since they were the only support Dr. People Pleaser had with her child.
Dr. People Pleaser worked hard at her job and spent almost all her free time with her disabled child.  Dr. People Pleaser knew that as an adult and as a mom, she had certain responsibilities.
Dr. Argentina did not see life this way even though he was a husband and father.
The Pick-Me Disco
Most people make the assumption that the pick-me dance includes a married man, his wife, and the other woman. In many cases, this is true, so it is a fair assumption to make. (It can also include a married wife, her male lover, and her husband.)
But, not Dr. Argentina—he excelled at nastiness and he managed to create his own "pick me disco" right under the nose of his wife, his employees, and the nanny and her mom.
Dr. People Pleaser, who could not fathom the concept of infidelity, could not see or recognize the thing that she did not understand.
Infidelity existed so outside of her own worldview that such a concept occurred in a galaxy far, far away that Dr. People Pleaser had never even heard of. Neither have many astronomers or astrophysicists—only douchebags have heard of the cheater galaxy and cheaters from the cheater galaxy come from all walks of life.
Dr. Argentina had heard of such a concept because he came from that galaxy far, far away, but decided to masquerade as a moral earthling who understood the foundational beliefs of the Western Judeo-Christian value system: specifically the idea that you get married and stay loyal for life.
He was really great at pretending to be moral. (Except when alone with someone female who was not his wife.) He was also a great manipulator. But, these are fundamental traits of aliens from the cheater galaxy.
Dr. Argentina was an evil alien, not a nice save-the-world type of alien like Superman.
Oh and Dr. Argentina was American along with his wife, Dr. People Pleaser. They were both Midwesterners. I gave him that name because of a nickname that others gave him that vaguely related to Argentina in a very round about way. (Hint: Of course it related to women.)
But, while Argentina is a fabulous country, Dr. Argentina was a very un-fabulous person. So, I do not mean to insult the fabulous country of Argentina.
And when I refer to Dr. Argentina as an evil alien, I am talking about any one of the bad guys in the Marvel Universe. Take your pick. My pick would be the Marvel alien race called The Brood.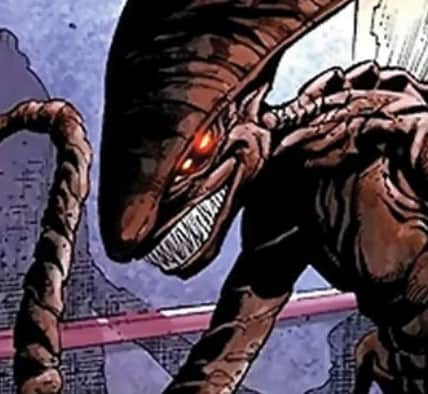 Copyright Marvel Comics. Member of The Brood. Doesn't he look like the most Charming dinner guest?  
The Brood is parasitic in nature and they move from planet to planet destroying everything in their path and using whatever they can. They have sharp teeth, wings, and they only move on after there in nothing left to siphon off another being, planet, or galaxy.
Really, I think this is also a great definition for all spouse-poachers because they do the same thing in both physical and metaphorical ways.
Note: Not all "affair partners" are spouse poachers, but some of them are spouse poachers. The ones in this story are certainly spouse poachers.
Dr. Argentina was a married predator-like being who is and was thankfully not the norm. (Or so I hope?)
However, I have become so cynical that I believe more people would do what he did if they had the ability to do so.
Dr. Argentina had only had several criteria for hiring nurses, medical assistants, receptionists, and/or people to answer the phone.
Here was how Dr. Argentina viewed employees and women in his mind to see if they could work in his office. Dr. Argentina asked himself:
Is she female?
Does she have a pulse? (If not, there are defibrillators).
Is she remotely hot if I drink two glasses of beer?
Do her legs open on command when I appear in the room?
Is she a gold-digger?
Can she keep a secret?
If someone passed this test, they were hired to work in Dr. Argentina's office. He only employed women. Also, the woman I knew who worked there was sent by the hospital as part of a rotation. She was one of the few competent people.
Meanwhile, Dr. People Pleaser (Dr. Argentina's wife) was too busy working, taking care of their child, and ensuring the nanny and the nanny's mom were doing the right thing for Dr. People Pleaser's child.
The Dancers
Dr. Argentina was successfully having affairs with five different women. Can you guess who they are?
Well, I am not going to tell you because one of the interesting points of this story is seeing how it unfolded.
Dr. Argentina had a long-term and discreet nurse who was his affair partner. They were both married, they worked together, and they were excellent at keeping their secret.
This was fine for a while, but ultimately Dr. Argentina realized he had the ability to get more dancers. Women thought he was becoming very wealthy and all of his female staff admired him.
No one knows for sure how long he had (also) been dating two medical assistants who both worked for him. He started giving each medical assistant the impression that their relationship might be going somewhere. But, it needed to be their little secret because of his disabled child, yada, yada, yada.
He was still continuing his long-term affair with a married nurse who was his employee. Now, he had added two more female employees as affair partners. He was making small promises to all of these women, but he told them their relationship could only survive if they kept their secret. So, they all believed they were the only ones.
He especially gave hope to the two different medical assistants, who had no education and made minimum wage. Each one was entertaining dreams of being a doctor's wife: it was a kind of polyamorous Cinderella story with a married man. Each woman saw herself as the Cinderella (to a married Prince) but did not know of the two other contenders: the other medical assistant and nurse.
There were also the others I have not mentioned yet. Five women in total were keeping a secret, all thinking they were the only lover.
One day, one of the medical assistants could no longer contain her excitement. Dr. Argentina had given her so much hope, that she could not longer keep her excitement to herself.
She told the other medical assistant her secret.
The other medical assistant was shocked and said it was untrue, because Dr. Argentina was her boyfriend and he had promised to leave his wife for her.
Both women were shocked and started to fight at work.
Their fight eventually turned into a fistfight in the waiting area of Dr. Argentina's office. They screamed at each other and told the other that she was the true love.
Then, the nurse, his long-term lover overheard the commotion. She came to find the two medical assistants fighting over who was his girlfriend.
It hit the nurse that she was no longer his only lover—all three of them were his lovers.
All three women found Dr. Argentina and told him that he needed to choose one of them on the spot. Dr. Argentina simply walked away and said that he was choosing none of them. (Remember, sociopaths are unfazed because they lack empathy.)
All three women got on the phone and called Dr. People Pleaser at work.
Each woman told Dr. People Pleaser that she had been Dr. Argentina's affair partner and that Dr. People Pleaser should divorce, so that Dr. Argentina could choose one of them. Note: Dr. Argentina had given his answer, but they did not take him seriously.
Dr. People Pleaser was devastated and left work. Due to the screaming and chaos, Dr. Argentina closed his office for the day. He went home to find a very angry Dr. People Pleaser, nanny, and nanny's mom waiting for him.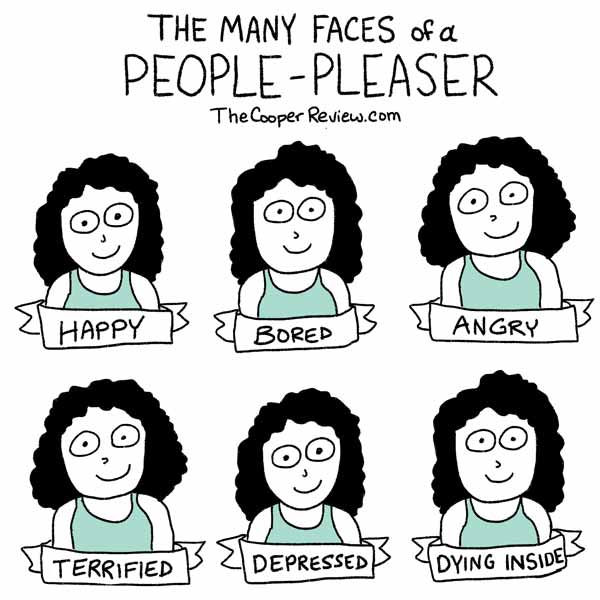 Sarah Cooper – The Cooper Review.com
The Grand Finale
So, in the last part, Dr. Argentina was in hot water and he had three angry women waiting for him at home. (In addition to the three angry women he left at work… that made only one of  him and six angry women.)
But, before I dive into that story, let's back track.
Dr. People Pleaser had stormed off, come home, and told the nanny and the nanny's mom (who had become a regular fixture in the home) what Dr. Argentina had done. Both women listened quietly and all three women fumed.
All three of these women were REALLY angry at Dr. Argentina.  But, why were they angry?
Do you remember those stories you read as a kid where you would get three choices and decide where a story could go? You could pick your ending and that would send you to a page in the book to read the ending you picked?
Well, this story only has one ending, but I will give you three choices and you can (in your mind) pick the reason the women were angry and see if you were right about the ending:
The nanny and the nanny's mom loved Dr. People Pleaser and her family so much that they were showing sisterly solidarity to help her get through this moment.
Nanny and nanny's mom were angry because now their well-paying and very comfortable arrangement might go away because Dr. People Pleaser might leave Dr. Argentina.
Nanny and nanny's mom thought Days of Our Lives was a reality show and they starred in it.
Drum roll please….the answer is number three. The nanny and nanny's mom were angry because they thought soap operas were just like real life. Just like the people in soap operas, they had each started having sex with Dr. Argentina separately.
Shudder.
When Dr. Argentina got home, Dr. People Pleaser assumed the other two women were angry because they were going to confront Dr. Argentina about how he had treated Dr. People Pleaser.
That is not what happened.
When Dr. Argentina came home, the (young) nanny yelled, "You told me you were leaving Dr. People Pleaser for me!"
Dr. People Pleaser almost fainted because now her nanny was also plotting her demise?
Then, the nanny's mom yelled at her daughter, "You little whore… you were sleeping with him? He told me we were going to get married!"
I think Dr. People Pleaser must have blacked out at that point.
This story did not have a happy-ending. Dr. People Pleaser (correctly) filed for divorce immediately and left the house and got full custody of the child Dr. Argentina did not want.
Once the divorce was final, Dr. Argentina started dating the nanny officially.
That's all I know of the story because I moved away from that town after that. Last night I looked online to see if Dr. Argentina still had his clinic open. Indeed, his clinic was still open, in the very same location, in that very small and backwards town.
I am sure he kept his medical license because he was NOT sleeping with patients. He was just sleeping with his office staff, nannies, and nannies' mothers.
In Conclusion
Let me first say, I do not know where Dr. People Pleaser is or how her life turned out. I hope that her life turned out spectacularly and that she found someone better than the very homely and creepy Dr. Argentina. She was actually quite attractive inside and out, whereas he was not.
I hope Dr. People Pleaser found a nice CEO People Pleaser and that they are living happily ever after in their 10 different homes located in the world's most beautiful places.
Because the town Dr. Argentina lives in is definitely not a special town. In fact, this town he lives in is so crummy that a rock singer once wrote very angry song about this really crummy town.
And that is the only hint I will give you as to the location. Okay you twisted my arm. Here is another hint: The song is NOT the "Last Train to Clarksville" by the Monkees.
You are great at twisting arms, here is your final and thirds hint: that song is also not "Allentown" by Billy Joel. That leaves you with about a hundred other songs to sort through between the 1950 and 2018.
But, really it is not worth your time.
Because if you have read my writing regularly, you will have come across the very factual (and studied idea) that there is no particular location, race of people, religion, culture, socioeconomic status that has the monopoly on cheating. Wherever there are at least three people in any location, there will be infidelity.
Although Ashley Madison claims there are now top cities for infidelity. I thought it would be Las Vegas, but people do not use Ashley Madison to hook up in Las Vegas, thus their list is not really a true reflection of places where people hook up.
Ashley Madison is only one website and one of several that helps people hook up. Plus, many people still use the tried and true way of hooking up (thanks to our ancestors.) They find a place where there is beer and people of the opposite sex.
Trivia fact: the oldest piece of paper found by archaeologists was a piece of papyrus from ancient Egypt. On this piece of paper was the original recipe for beer.
Once again, this shows that no one culture, geographical location, or even ancient time period had a monopoly on hookups.
Where there is beer, there will be people. Where there are people and beer, there will also be the very first invention by mankind: beer goggles.
Once the beer goggles show up, camels start looking like super models. And the beat goes on. Lade-lade-dee…Lade-Lade-Daa.
In All Seriousness
Okay, enough of the satire.
I am actually switching back to seriousness.
In the story you read above, there was one very wonderful mom and child who got hurt. The harm centered around Dr. Argentina (who is truly a very ugly man) however some people assumed he had money and status and that made him attractive to spouse poachers.
Some people believe that if a married person has money, they are fair game. After all, it takes two seconds and Vaseline to remove a wedding ring. And if the wedding ring is gone, well it is as if the marriage never existed at all.
It brings people back to the days when they were babies and had not yet developed the idea of object consistency. If mom hid behind the couch, mom was gone forever!! No wonder babies cry so much.
Anyhow….
Some married people like Dr. Argentina know this and so they cultivate an air of wealth (which he did not really have) and he waited for the women to come to him. Lots of women came to him, hoping to be the next Mrs. Dr. Argentina and fooling themselves into thinking they were so special that he had affairs only to find someone as truly special as themselves. They believed that once he found someone as truly special as themselves, he would stop cheating.
We all know that is a selfish, egotistical, and a completely flawed viewpoint.
People do not cheat to find their soulmates.
People cheat because they can. People cheat because they have no empathy for their spouse. People cheat because spouse poachers present themselves naked and on a platter.
People like Dr. Argentina know exactly what they are doing and they just wait for the selfish and egotistical people to arrive and do the "pick-me dance."
This brings us back to our original topic: the pick-me dance.
Often, the pick-me dance is an old-fashioned, down and dirty love triangle. But, the phrase pick-me dance is actually more appropriate because love triangles actually contain NO LOVE.
A love triangle is an oxymoron because love is linear and one person sits at the end of each side of the line.
If there are more than two people involved, it becomes about lust.
Love and lust are NOT the same things. They come from two different galaxies. Lust taken to its fullest extent is destructive and love taken to its fullest extent is constructive.
Note: The phrase fullest extent refers to the idea of something being without bounds. Lust between a married couple has boundaries. It stays within the marriage. Lust within the boundaries of marriage keep the home-fires burning. That is a good thing.
Lust without bounds is like an x-rated version of Pac-Man that destroys everything in its path.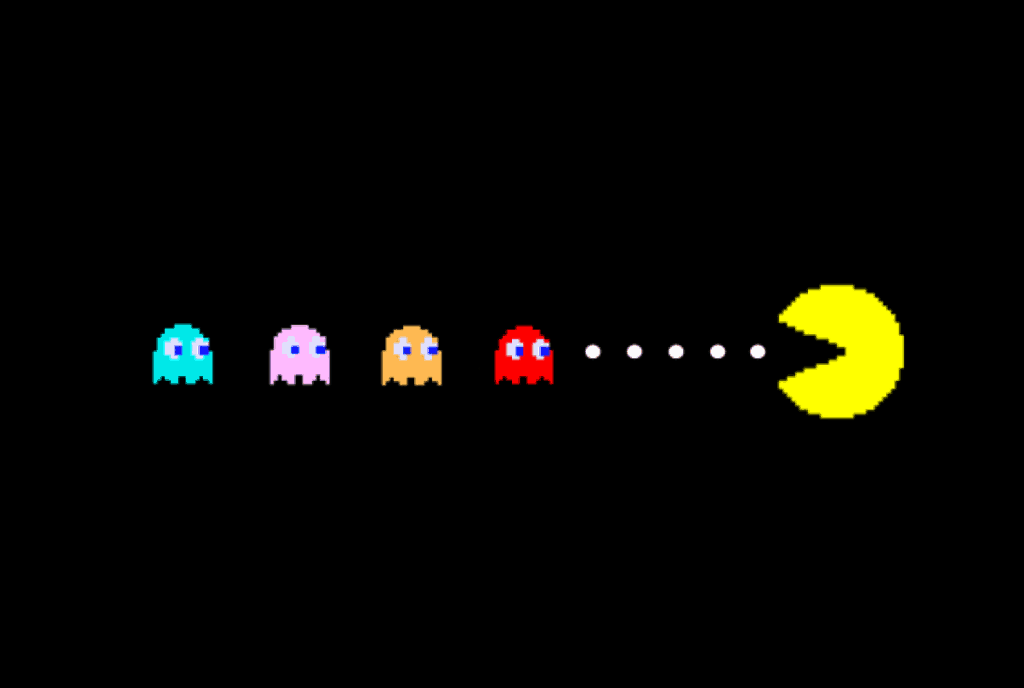 The TV show Benny Hill from the 1960's also provided a visual description of lust without bounds (for alleged comic affect). I never understood why it was funny and came on TV at 8pm every night.
But, hey, I was a little kid and watching adult women wearing bikinis and being chased by an old man was more like a nightmare. It was very unfunny. I am pretty sure the Benny Hill Theme song is the soundtrack that is in the background of all my actual nightmares to this day. (Sarcasm).
But, back to the pick-me dance.
The moral of this story is two-fold:
When a betrayed spouse plays the pick-me dance he or she inadvertently provides positive reinforcement for the wayward spouse. The wayward spouse will become one very large Garfield the cat who is unable to make a decision because Garfield is too large to even move.
Never assume that there are only three people dancing the pick-me dance. If we have a very sly Dr. Argentina in the picture, there will be a pick-me disco even though each participant thinks there is only one other "rival." Dancing in a pick-me disco makes yours chances of "winning" much lower than that of the state lottery. If you do win, you get a cheater and that is no prize.
None of this is funny.  Maybe a wayward spouse gets a lot of narcissistic feed, but he or she is destroying the lives of those people around him and those future generations who have not even been born.
There are no real winners in the pick-me dance except for a wayward spouse. If you are a betrayed spouse, please understand that though it might be hard to resist the pick-me dance, it will be futile.
However, if you want to keep your marriage together, that is an entirely different matter. You can certainly keep your marriage together, but playing the pick-me dance will not help.
If you want to keep your marriage together, it is straightforward.
Go and get free consultations with all the meanest attorneys in your state and know your rights. Go and get an excellent therapist who does NOT blame you for your spouse's affair. If you find a therapist who asks you what you did to make someone cheat, run far away.
Then, put all of your spouse's things on the lawn. Serve your spouse with divorce papers while he or she is at work. Specify that if your spouse does not pick up his or her affects within two days, you will put a sign on your lawn that says, "Free Yard Sale."
Must do: Take your kids and go stay at a friend or relative's house (that your spouse does not know about) and stay there for a week. Sometimes on a very serious level, people go crazy when they have just been served up a big, heaping pile of consequences.
Yes, these suggestions are playing hard-ball.
These suggestions include the hardest ball of them all. But, in my experience and the experience of many others, this very hardball method can most often lift the affair fog. Why? Because it is an experience that provides your spouse with the OPPOSITE of positive reinforcement.
Even if it does not, it will serve as a type of "near death experience" and have your wayward spouse's life/marriage with you flash in front of his or her eyes.
Unless someone is a total sociopath, this will cause insight. If it does not cause insight, cut your losses because if your spouse is narcissist or a sociopath, living out a life with these types is awful and not worth it.
Betrayed spouses, your needs and the needs of your children matter. Do what is best for you (and it does not involve the pick-me dance.)
I hope this article has been helpful to you. Let us know if you have any questions or experiences that you need help with.
If you're the unfaithful, get it, read it and carefully consider the advice. If you're the betrayed, give it to your unfaithful spouse.