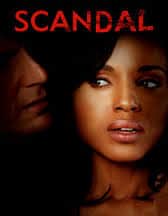 Watching some television shows, like "Scandal" can be dangerous for your affair recovery.
For the last two years during the cold, snowy  winter months here in the Midwest, Linda and I have spent a good deal of time at night parked on our asses in front of the TV and a roaring fire.
We have developed an addiction that involves Netflix and hours and hours of binge watching.
It began two years ago with "24." I think we watched every episode of every season over the course of a few weeks. The writers of that show were masters of the cliffhanger which kept us coming back for more.  It was exhausting.
Then last year it was "Dexter" and  then "Orange is the New Black." This winter, it's been "Scandal."
Now, we had heard of "Scandal" but never watched an episode before a week ago. In fact, we really didn't even know what the show was about.
On the recommendation of one of Linda's teacher friends we thought we'd give it a go. It's pretty good. It's entertaining. But in my opinion, it's certainly not great.
Anyways, I'm not going to spoil it for those of you who haven't watched it, but a major theme of the show is the main character, Olivia Pope's intense affair with the (married) President of the United States.
The show apparently sparks much debate on the subject of infidelity as "Scandal" and its creators have taken some criticism for making adultery acceptable.
Also, there has been some back and forth between the show's fans, who on one hand detest cheating and cheaters, but on the other, think that the relationship between the President and Olivia is wonderful and they should be together.
But critiquing the show is not what this post is about. It's about the fact that infidelity is so prevalent in the show (and in many other TV shows, movies and the media) and it's so romanticized that any person who is struggling to recover from infidelity will certainly suffer if they bother to watch.
My advice is to stay away from it if you feel you might be triggered.
Linda, who is hooked on the show by the way, asked me if I had a hard time watching it and if it brought back fond memories of my EA and of the OW. Honestly, it does bring back memories – bad ones. They're not memories of how great the affair was or anything like that. Rather, it reminded me of what a selfish douche I was, because that is how the Presidential character acts, in my opinion.
In fact, (spoiler alert here) as I write this, the last episode we watched ended with the President getting shot in an assassination attempt. To be honest, I hope he dies so I don't have to watch any more episodes that focus on their affair.  I have a feeling that won't be the case though.
We're not typically fans of shows like "Scandal," but I've read that there are others that seem to have infidelity as the main theme. "The Good Wife" and "Betrayal" seem to be two such examples. I've never seen them, so if I'm wrong here, feel free to set me straight.
One of our readers once commented, "Infidelity is EVERYWHERE, but perhaps TV is where it reigns supreme." I would agree with that and I think that if you are recovering from infidelity and enjoy a good movie or TV show, make sure that you check out what it's about so you don't have a massive trigger. Hit up a movie review site like Rotten Tomatoes  before you watch.
If you mistakenly end up watching a show that eventually triggers you, turn it off, or simply exit the room or movie theater. Then have a discussion with your spouse as to why the show/movie bothered you.
Now, as part of this post I was hoping for a discussion from you guys. Please consider the following questions and respond in the comment section…
Do movies/TV shows that involve infidelity or are "true" love themed cause you to trigger?
If you find yourself suddenly triggered by such a show, how do you handle it?
Have you ever been able to take that trigger and turn it into something positive – like a meaningful discussion with your spouse, for example?
What are some movies and TV shows that those who are trying to recover might want to avoid? (feel free to make a list)
Thanks!