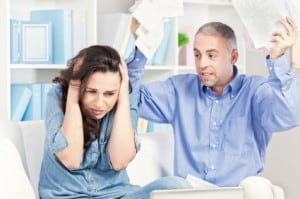 The other night I was kind of bored with what was on TV so I snuggled up close to the fireplace with my trusty IPad and began "flicking" my index finger for a bit.  Eventually I came across a book I had ordered months ago which I had completely forgot about.  It's called, "WTF Are Men Thinking?" by Christopher Brya and Miguel Almaraz.
I read through it pretty quickly and thought it was a pretty enlightening and entertaining book so I thought I'd share a small piece of what the book had to offer.
And please know that this isn't meant to be a post about what women have to do to "win their man" or anything like that.  To me, any chance to get inside a man's head (and vice versa) can be helpful in a relationship.  Plus, I thought the information was sort of fun!
First a little background…
The authors maintain a research panel through their business that consists of over 2 million people and they recruited thousands who agreed to participate in their online survey.
They surveyed US and Canadian women aged 18 to 72 to gather information on the questions they would most like to ask men regarding relationships, dating, sex, communications and more.  Over 1000 women submitted questions and in the end over 250,000 men answered them – and a book was born. 
The book contains well over 150 questions ranging from "Why are men so messy?" to "Why do men cheat?"  The answers can provide women with an inside look from the man's perspective and how men view women, approach relationships and think about their interactions with them.
The authors feel that the end result is that you should have a better understanding not only of how men think, act, and react, but also how you can use this understanding to improve your own life in your relationship with the opposite sex for years to come.
The Categories…
Communication
Dating
Romance
Sex
Marriage
Work
I'm going to save the specific category questions for another post and concentrate more on the ending of the book today.  It wraps up with a section that summarizes men's thoughts when they had the opportunity to  sound off without having to answer specific questions in a free forum format. From those thoughts, the authors came up with the top five list (in no particular order) of what annoys men about women.  
1.  Sex/Physical
2.  Money
3.  Attachment/Relationships/Baggage
4.  Communication/Nagging/Emotions
5.  Control/Change
I'll touch a little on each one.
Sex/Physical
Sex
According to the authors, this topic came up quite a bit and simply put, men have a beef about sex for a few reasons. Here are some of the biggies:
Don't volunteer to reveal your sexual past. Keep them guessing as to how you learned that special technique of yours. If your husband does want to know, he will ask you.
Don't make men ask for sex.  As you're probably aware men are sexual creatures and there have been several studies that have shown that men think about sex every so many seconds of the day. The men that were contacted in the survey said that just because you are okay with not 'putting out,' it does not mean they are okay with it. They feel that making them work for sex is silly and taking a little initiative is very appealing to them.
Don't fake an orgasm. Maybe you want your man to feel like he is a stud. Maybe you want to fake it so he will get more excited and finished earlier. Just keep this in mind: men responded countless times that they just want to satisfy you. If you fake it, they will not learn how to do that.
Physical
As the authors went through all the comments from men, one thing stood out loud and clear to them, and you may have heard this countless times before, but it bears repeating.  Your confidence will carry you, even if you're not exactly a Victoria Secret model. If you feel sexy and act like you are, that exudes that attitude, and you will turn heads.
Oh and one more thing. Asking questions like "does this dress make me look fat?" or "which looks better?" and so on is only asking for trouble.  There is no right answer no matter what you think and men consider it a trap. This includes fishing for compliments by saying something along the lines of "I think my butt is getting bigger" or "I'm getting too old for those ______ (you fill in the blank)." In these situations, men may not always pick up on your need to be reassured that you look fine, and you'll end up getting upset because of it.
Money
The biggest thing that the men said on this category (and it pertains more to those who are dating) is that it's puzzling to them that many women have fought a hard fight for equality and the chance to be independent, yet in this day and age some women still expect the guy to pay for everything.
Attachments/Relationships
Attachments
What man doesn't love a woman who is into him? No man. It feeds their ego, etc. There is a limit, however, that you should be aware of when it comes to how attached you get. Getting too clingy is a big no-no.
Relationships
Many of the comments from the men in the survey brought forward the obvious notion that "Prince Charming" comes in all shapes and sizes and isn't always drop-dead gorgeous.  One man summed things up by saying, "They expect too much.  Life isn't a romance novel.  Try having some fun instead…"
Baggage
Another area where men felt obligated to comment centered around bringing baggage into the relationship.  The main premise here is that one should learn from bad past experiences, but don't presume that every guy is going to act exactly the same.  Don't take your past out on others who had nothing to do with those experiences.
Communication/Nagging/Emotions
Communication
Many of the questions that women in the survey had of men regarding communication were along the lines of "Why don't you ever listen to me?" or "Why don't you ever talk to me about your feelings?"  Sound familiar?
In asking men these questions it became clear that according to men, women are talkers. Men said that women process information through talking it out. It's no secret that men do not process information this way.
A nice way to put it would be that men have a tendency to want the quicker version. The truth is that men really don't want to hear about every last detail. They want to hear the main points, and if more info is needed, they will ask.
Men in the survey also told the authors that they are not mind readers, no matter how long they've known you. It's not fair for you to think otherwise. So basically, if you want your husband to know something please by all means say it. If you have a question, ask it. And if you want something, tell them.
Nagging
I'm sure that none of you women out there nag your husband, do you? Sure you don't. I know I don't. Well, for some reason this has been talked about forever by men and women throughout the ages.
So what constitutes nagging? What are its forms? And why doesn't it work?
First of all, nagging, according to the dictionary, is a verb meaning continually faultfinding, complaining, or being petulant. It comes sweetly and innocently at first but as your aggravation grows, so does your tone.
Why doesn't it work? Because, quite frankly, men see this as a positive reinforcement for bad behavior.  So if you nag your husband to death to paint the basement – and he eventually does – by him doing so, he is reinforcing your nagging behavior.  Works for me!
Emotions
When it comes to emotions, the men that were surveyed made it clear that they want you to please keep them under control. They understand you're an emotional being; they just don't see that as an excuse to take it out on them.
For example, men inherently know that women like to talk things out. So there's no question in doing it. From their perspective, it's how you do it that's important. Talk with your man, but remember to do so in a rational way, attempting to not get too frazzled or crazy if the conversation is emotionally charged.
Control/Change
Changing me
Many of the surveyed men said that their wives or partners were always looking to change them.  One man said, "It's like they're saying,  'We like you just the way you're going to be when we're done with you." This sums up the feeling from many of the men that were surveyed.
In fact it seemed that most men almost anticipate that some degree of change will come when they get married; it's just the degree of tolerance for how much.
The authors instead recommend that women should focus on why you fell for him in the first place and build on that – unless you purposely chose your husband as a "fixer-upper."
Control
Understanding control is a key element to all aspects of how you interact with men. Control as in knowing when not to say "I told you so." Control as in knowing when it's appropriate to get involved with various situations.
The majority of men in the survey said that this is a deal breaker for them. It causes some to withdraw, and even resent their partner. If you understand control, you stand a good chance of finding a relationship you both will be very happy in.
Well, that's it for how we annoy our husbands!  I plan to follow this up sometime in the near future with some answers to some of the more reader appropriate questions that women asked in the survey.
In the meantime, I'm waiting with baited breath for the authors to put together a book about what annoys women most about men.  I imagine it will be quite lengthy!
Since it's Valentine's Day, let me leave you with some answers to what men said they want as a gift on this special day…
What's the best gift to get a man for Valentine's Day?
I know that sometimes I struggle with what to get Doug for Valentine's Day, so I was interested in some insight on this as well.
The data from the survey came back that if you're going to get a man a present for Valentine's Day, most men said they like a gift where you take them on a date for a change (with wild sex afterwards, thank you very much!).  They said that they prefer experiences more than something wrapped up.
Sporting event tickets were also cited as a great gift. A lot of men think it's something that you'd like to be a part of with him.  It shows that you want to be a part of something he enjoys. For me, as long as it's not basketball or that fake wrestling, I'm good with that.
In summary it seems that men do have Valentines' Day gift preferences but they're pretty simple gifts, and there are many ways to provide the impact that you're looking for in your quest to give your man a memorable Valentine's Day gift.
For more Valentine's Day gift and romantic ideas, click here.
So in your own experiences with your spouse or boyfriend, do any of these things that seem to annoy men, ring true in your relationship?  And how about turning the tables…What annoys you most about your husband? Let us know in the comments below!
LINESPACE