There is a tendency among the betrayed to walk and talk on eggshells.  They are afraid to say and do things that are going to piss the cheater off and possibly push them further away.  Should you give an ultimatum after an affair?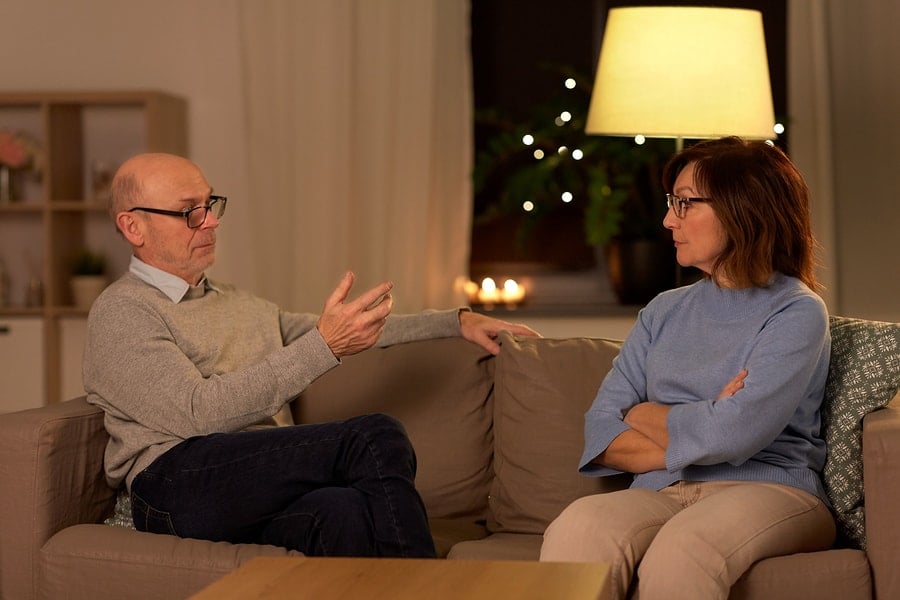 On the surface, it seems like a logical and safe way to handle the situation – whatever it may be.  After all, you're probably being told that it was your actions, lack of action or your surly disposition that was at fault for the affair in the first place. 
But if your cheating spouse is distancing himself or herself, continuing their lies, gaslighting, refusing to help in the healing in any way or refusing to end their affair, then you have to put a stop to this right away.  You can't be a doormat.  You have to regain control somehow.  You have to feel safe.
So how do you do that?
The first thing is to face your fear straight in the face and make the decision that you're not going to put up with the crap anymore.  You are not going to be disrespected, dishonored, devalued, blamed, chastised, tricked, lied to, deceived or otherwise abused in any way.  You must take your power back!
An Ultimatum?
Perhaps the way to do that is with an ultimatum. Yeah, yeah, we know…ultimatums don't work, they're wrong and many of you don't believe in them.  But sometimes you just get to the point where nothing else is working and you have nothing else to lose.
Conversely, there are many who have used the ultimatum after an affair from day one (D-day) and had good success with it.  Obviously, as with any thing, you need to evaluate the situation and decide for yourself if an ultimatum is worth the risk. After much thought and consideration, one must weigh that risk against the potential rewards and ponder the possible outcomes.
To give you more to think about, here are several quotes from experts and readers with their take on giving ultimatums after an affair…
---
Marriage and Family Therapist, Susan Berger says: 
"An ultimatum is a powerful response to such a situation. It can be enough of a shock to break the spell and force your spouse to begin to think rationally again, and to weigh the real price he or she is paying for continuing with the other person.
However, the ultimatum only works if you are completely ready to follow through. It is something that needs to be well thought out and not rushed into. It is important to understand where it is coming from. Are you making a serious statement about your limits? Are you ready to back this statement up? If you say you are going to move out, or get a divorce, or otherwise limit your involvement with your spouse, are you really ready to do that?
Or are you giving the ultimatum in the hopes that it will give you control over the situation, not really intending to follow through? If so, it is important to understand that in the trance, your partner may not take the threat seriously. Action is the only thing that they might be able to understand."
You can visit Susan's site here.
---
One of our readers shares her experience…
"For months after D-day, my husband continued to see the OW. He wasn't making any progress on our relationship, and despite him telling me that he wanted to be with me he wasn't making any effort. One day I'd had enough. I sat him down and told him – it's me or her – you can't have us both any more.  I told him not to rush into his decision, not to just feed me what he thought I wanted to hear and not to make me wait once he made up his mind.
This happened on a Wednesday. I told him he had until Friday. Everything became very real to him that night. Emotions were high, and I think for the first time he knew I was serious. At first he said he'd need time to think it through (which was what I expected….) and then he said he needed to leave. I was devastated at that moment, assuming he had gone to be with her again.
However, an hour or so later the phone rang and it was his mom. He had gone to her, told her everything and asked for her help. She had stopped him in his story when she found out I had no idea where he was to call and stop me from worrying. That moment – when she called me to make sure I was OK, did something to him. When he came home that night he said he chose me. Our family. Our marriage. And since that night he has been here for us. It hasn't been easy, there have been slip-ups and moments when I think it's not going to work but he's trying hard to repair the damage he caused….
I was so afraid of giving him an ultimatum, knowing I might not get the answer I wanted. But the truth is, I just needed an answer. I needed to know what he wanted and I needed him to be done playing games. As hard as it was to do, it was the best decision in the end. And I truly feel that it would have been the best decision even if he had chosen the OW."
---
Another reader chimes in on the ultimatum after an affair…
"DDay#1 I didn't give an ultimatum – I was too scared of the answer (and since then he has said if I'd done that he would have left) – and he continued to contact OW despite telling me he wasn't. I even saw the email recently where he 'broke it off' with her and it went along the lines of 'I need to give my wife a shot but I'll be in contact again soon'.
After Dday#2 – I gave him an ultimatum, said I wanted a divorce, and I was SO angry. I left him for my sister's. As a result he had to tell his parents about the PA and what he'd done, I came home to see where he was at about a week later. He finally seemed to get it, was upset and teary, but very confused. I went away again, before I could get sucked back into his 'world' and considered the worst – that he didn't want to be with me, accepted it and then went home again. Worked strongly on myself.
I'm not sure if the ultimatum worked but something finally made him see the pain properly for the first time, maybe he got his head out of his ass. Anyway, he seemed to work hard on things for about 3 weeks after that and now he's not putting in much effort again and I feel like leaving.
I really feared the ultimatum, but the limbo was worse than knowing the answer in the long run."
---
Marriage and Relationship expert, Mort Fertel has a little different view…
"If you want to restore your marriage, do not give your spouse an ultimatum. It will not work. Let me explain why. And let me explain how you can get your spouse to end their affair or stop their addictive or obsessive behavior.
In a sense, it's empowering to think and even say to your spouse, "Your behavior is unacceptable. And if it doesn't stop, I'm leaving you." An ultimatum offers the ultimate role reversal. It puts you, the victim, in control.
Understandably, that's appealing. And there's no doubt that in the short run you'll feel better. But it also feels good to eat dessert after every meal. Just because something feels good does not mean it is good. The question you have to ask yourself is: Will an ultimatum give me the result I want? The answer is no.
Now, I know what you're thinking, "Mort, what about tough love? Shouldn't I set borders and boundaries?"
If you give your spouse an ultimatum, you'll establish clear rules for your marriage. You'll set borders and boundaries. But where will the motivation come from for your spouse to live by the rules? In other words, the rules will be clear, but why would your spouse want to adhere to them?
You see, if your spouse is a workaholic, an alcoholic, having an affair, into porn or involved in obsessive or destructive behavior, the problem is not a lack of rules, but rather a lack of motivation to live by the rules.
Your spouse knows their behavior is wrong. Even if they won't admit it, even if they justify it, deep down they know that their behavior is immoral and that it's destroying your marriage and soiling their soul. The problem is that they don't care. The problem is that they lack an internal motivation to do the right thing.
Your spouse has to want to stop. The key is their inner motivation, their will. An ultimatum imposes rules from the outside; it does nothing to address the lack of motivation on the inside. Bottom line: although giving an ultimatum feels good, it misses your target.
Your target is your spouse's inner motivation. The secret to affect someone's inner motivation is to connect with them."
You can visit Mort's site here.
---
Boundaries After the Affair – How to Use Physical, Geographical, and Emotional Boundaries to Move Forward
A reader offers caution…
"The ultimatum after an affair only seems to really work if the BS is secure enough to back it up. Otherwise, deadlines pass, promises are broken, and there are no repercussions. What's the incentive for the CS to truly understand what's at stake? Therefore, ultimatums should not be taken lightly. The BS has to be prepared that the answer they might hear may be "I choose her/him over you," and it's important that they be ok with that.
Ultimatums should never be used as a threat, never out of anger, but rather as a calm rational decision by the BS that a line in the sand is being drawn stating they have reached their limit. A change is going to come and it's going to happen with them or without them.
When the ultimatum is presented in this way the CS' response is less likely to come from defensiveness and fear, and more likely to awaken in them the severity of their actions. For me, I would rather know where I honestly stand with my partner, and if she found someone else she should let me go to live a life with someone that will care for me. Rather that, than to live in fear."
---
3 more readers give their take on the ultimatum after an affair…
"I gave an ultimatum, a few in fact. I gave an ultimatum before I was really ready to face the consequences of him choosing her and it does not work. He did choose me, but for my efforts I was rewarded yet another dday. It was after this occurred a few times that I gave a "real" ultimatum because I was ready to do so. He chose me again and I am about 4 months from that dday, and so far so good – I believe he knew that I was serious that time – they can tell.
So my advice on giving an ultimatum is this – First, don't give one unless you really mean it and you are healthy enough mentally to move on if necessary. Second, (and I know it's scary!) but if you give one, and you really mean it, and are prepared for whatever the outcome is, and they choose their AP over you, YOU STILL WIN. You win because you can start your new life and no longer live in the turmoil and heartache that is this nightmare."
---
"I think ultimatums are a bad idea. Here's what happened in my case: I suspected my wife was having an affair, did some investigation, and found out my suspicions were warranted. I confronted her with the evidence and told her she had to leave the house immediately. It was the cruelest thing I have ever done to a human being, ever. I was beside myself with rage and feelings of betrayal and simply had not thought things through. I was also convinced that this was the end and that I was going to get a divorce.
Then I saw that my wife had nowhere to go, so I let her stay, at least for the night. We talked the following morning, and I told her that she needed to break off contact with the other man. She said, "I can't do that." Over the following days, I had a chance for introspection, had been doing some research, and realized that I didn't really want the marriage to end.
Problem is, the ultimatum forced the affair completely underground, and forced them closer together. It's been going on for about 4 months now, and it might have been wrapping up sooner had I simply not interfered."
---
"The turning point was when he saw me packing my suitcase. He asked what he could to do get me to stay. I told him he had to choose right then. So he chose me and has had no contact with her since that night. But I still feel bitter that it took an ultimatum to get him to do what he should have simply done willingly."
---
Kim Bowen is a Licensed Professional Counselor and she wrote an article that we want to share an excerpt from…
When Are Ultimatums in Marriage Necessary?
Ultimatums become necessary when your partner pushes against your bottom line and refuses to take whatever steps are necessary to make things right again.
Your bottom line is the place where you cannot continue to feel safe, secure and respected in a relationship as long as certain behavior goes unchanged. It's the place where you feel you can't continue in this relationship if something doesn't change.
Sometimes, ultimatums are the only way we can protect ourselves and the relationship.  If your husband is an alcoholic who refuses treatment, how can you protect yourself?
You can't make him do the right thing.
You can't control how much he drinks.
But you can control what you will tolerate.
You can control how much misery you endure and how long you wait for him to see how his behavior is destroying the marriage…
She goes on to say…
What I like about ultimatums is that it shows your partner that you really do mean business, and it gives them the chance to clean up their act sooner rather than later.  (Later is oftentimes too late.)
The most common reason women leave a marriage is that, for women, the longer the resentment builds up, the greater the chance she will shut down.
When her partner does change, it no longer matters to her.
By the time he's willing to change, she's already given up.
So, to wrap things up…Yes, ultimatums can work – and they can also backfire on you.  Use the information in this post to formulate your own opinion and strategy.  Try to determine just in what situations or circumstances it's appropriate to use an ultimatum, when it is not, or even if you will ever want to use one at all.
With that said…
We'd like to hear your experiences with giving an ultimatum after an affair. Have you given your cheating spouse an ultimatum?  If so, what was it and what was the outcome?  If you have not given the cheating spouse an ultimatum…why not?  What fears are holding you back?
Please share your comments, thoughts, advice and experiences in the comment section below.