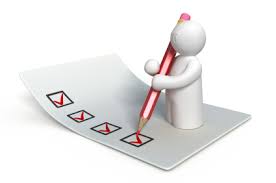 We wanted to thank everyone who took the time to respond to our most recent survey.  There are always some interesting takeaways (interpretations) when we do these things and this one didn't disappoint.
We're not going to address every question, but will touch on the ones we thought you'd be most interested in.
Even so, this summary is a long one.  There were several questions and you all contributed lots of additional thoughts, suggestions, fears and frustrations.
So without further adieu, let's dive in…
Please feel free to add your takeaways and comments in the section below the post.
---
Emotional Affair Journey Reader Demographics

Not surprising that 86.8% of you are female.
89.6% between the ages of 35 – 62

95.3% of you are the betrayed spouse.  Not too surprised here, but the percentage of readers who are the betrayed is a bit higher than in past surveys.

Looking at questions 2 and 4, it is very apparent that most readers are older and have been married or in a relationship for many years.  In fact, 77.6% have been married for more than 15 years, and a whopping 40.2% for more than 25 years!
We wondered if this is the profile for most relationships that experience infidelity or just happens to be the profile for readers of this site.  It would be interesting to see if there are any studies that have been done that address this.

Eighty-five percent of you are still married.  Only 17.7% are separated, divorced (or have filed for divorce) or not married.  Some apparently chose more than one answer.
Why so high of a percentage of couples who have remained married?  We have to think that age and length of time married have something to do with this – as well as determination and a will to fight for the marriage.  Your thoughts???
Affair Information
Question 7: Was the affair emotional, physical or both?
Emotional affair                                41.9%   
Physical affair                                   3.4%     
Both emotional and physical            47.9%   
Not really sure                                  10.3%
Question 8:  How long ago was the affair first discovered (your D-day)?
0-3 months ago                                 4.7%     
4-6 months ago                                 8.4%     
7 months to 1 year ago                    23.4%   
1 to 2 years ago                                27.1%   
longer than 2 years ago                   36.4%   
*Obviously this indicates that recovering and healing from an affair takes a long time.
Question 9:  Is the Affair over?
Yes                         62.1%   
No                          10.3%   
Not sure                 27.6%
*The fact that 37.9% of you either know for sure that the affair isn't over or aren't sure if the affair is over, is troubling.
Question 10:  Why do you think the Affair happened?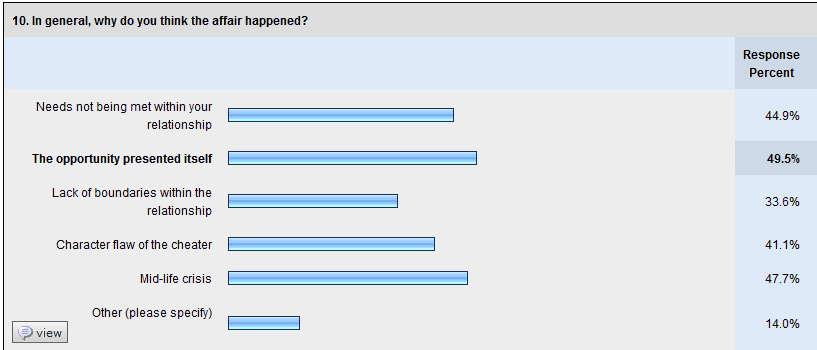 *This question allowed for multiple answers and it would appear that many of you think there were multiple reasons for the affair – or you just don't know for sure.
Some of the "other" reasons mentioned were:
Spouse rekindled a past flame
Husband is a control freak
Cheating spouse suffered from depression
Our relationship was really bad –  lots of arguing and poor communication
ADHD
Lack of intimacy
Job issues
Infertility
Grown apart in marriage
Revenge
Triggered from sudden tragic death of a parent, combine with Internet availability, setting off addictive activities.
Spouse is passive aggressive and thus he feels that no one appreciates him…and she [OW] did!
Perfect storm of life events
Poor communication and lack of affection
Stress and not being happy with self
Narcissism
Spouse's anxiety/depression disorder
Poor communication
Mental Health Issues
Don't know for sure
Talking About the Affair
The next few questions dealt with talking about the affair.
Talking with your spouse…
The results indicate that only 26.9% of you talked "A lot" with your spouse about the affair while 73.1% of you talked very little or some, but not enough about the situation.  Meanwhile, 66.7% of you wanted to know everything – including details. 
What was surprising to us is that 40% of those who talked about the affair did so for less than 6 months.  Could there be a correlation between this and the fact that so many of you are still struggling 2 years after  D-day?
Talking with friends and/or family…
For those of you who decided to talk to friends or family members, 61.3% did so on a very limited basis and 44.3% felt it was somewhat helpful, but not as much as you would have liked.  Encouraging though was the fact that 34% felt talking with friends or family was extremely helpful.
Talking with a counselor…
There were 69.2% of you who spoke with a counselor and of that group, 31.5% did so alone and only 41% are still in counseling.  The rate at which you felt counseling was helpful or not was a mixed bag…
32.4% felt that counseling was mostly frustrating and not helpful, while 33.8% thought it was helpful, but not as much as you would have liked.  Just 33.8% thought counseling was very helpful.
For those who have not seen or talked to a counselor, here are the main reasons they have not:

 Some of the "other" reasons given were:
It's over (Not sure if this meant the affair or the marriage)
Not really comfortable talking about it with a stranger
Difficult in a small town where we are well known
Just heard too many stories how things became worse
Not available where we live
Afraid of what I'll hear
Have been to counseling before and did not find it all helpful
Lack of time; not sure it would be helpful regardless
Dealing with Infidelity
The next group of questions dealt with how you're dealing with infidelity at present.  Yes, the majority of you are still feeling the pain everyday at 57.9% while 37.4% think about it from time-to-time and just 4.7% feel that you've put it in perspective and have moved on.
59.2% of you feel that you have forgiven but 34% still have lots of anger and resentment towards the cheater.  7.8% have been able to let it go.
As far as healing from an affair goes…58.5% feel somewhat healed but will always carry the scar of the betrayal.  31.1% are still in great pain, while 12.3% have mostly healed and feel they have grown in many ways.
As always, trust is a big issue.  Only 5.3% feel their spouse is trustworthy.  48.4% are still very guarded and 46.3% have been able to rebuild trust to some extent but are still somewhat cautious.  Having said that, 47.3% feel that your relationship is better than before the affair.
For those of you who have divorced, 84.6% said that you have not been able to build trust enough to develop another intimate relationship and are still very anxious about being vulnerable or being hurt again.  15.4% have developed another relationship but hold back somewhat, and no one reported having developed a new and trusting intimate relationship.
What are you struggling with after the affair?
For the first time ever in our surveys, rebuilding trust is not the number one struggle.  It came in second though (at 61.5%) to dealing with painful thoughts, triggers and memories of the affair (76.9%)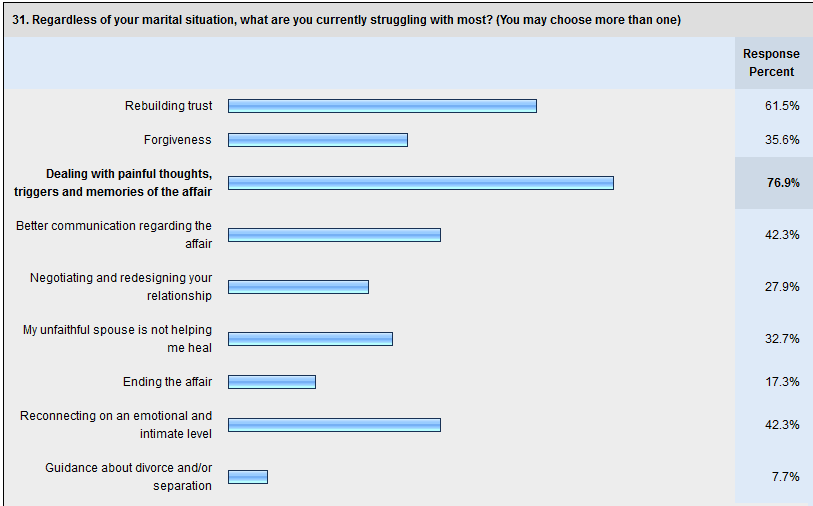 Some of the other struggles mentioned include:
Reconnecting with one another
Dealing with the grief of losing their spouse and the life with him/her
Self esteem
Not trusting my own feelings, not trusting positive things he says about me
Communication
Spouse refusing to come clean about the affair
Cheater's continued denials  
Cheater's lack of honesty
Acceptance of cheater's decisions and their affects
What has been most helpful in dealing with your struggles?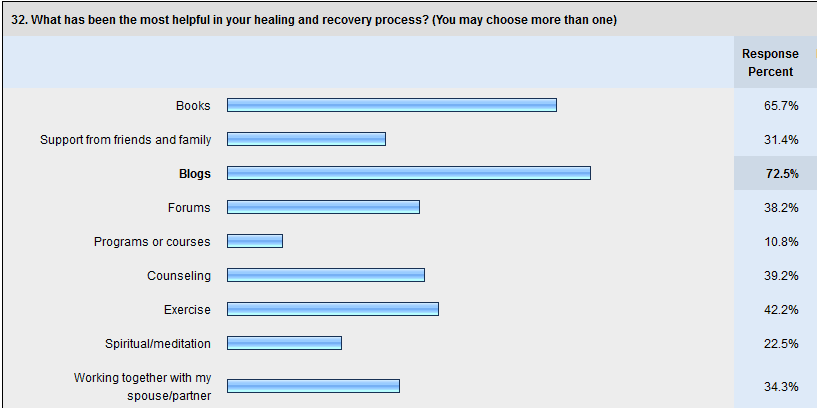 Some of the other things mentioned:
Nothing has helped to this point
Forums often show me the ways many are handling things and I learn from their actions
Antidepressants
Returning to life – kid, job, family
Time
Emotional Affair Journey. Don't think I would be where I am without this blog.
Preferred Media Types
Somewhat surprising is your choice of media type when researching or learning about infidelity or relationships.  We'd be interested in hearing why video and audio are disliked so much.  We're guessing it's because it's more discreet and private to read versus listening or watching audio or video.

Your Fears
As always there were lots of fears for you guys when it comes to your relationship.  Many were the same or similar.  Here is a summary:
That the cheater will do it again (By far the number one fear)
Never being able to forgive, forget or trust again
The affair will not end but the marriage will
Never feel securely loved again
Never get over/past the devastation of the betrayal
The cheater not completely understanding the ramifications of his/her actions
Marriage going back to the way it was prior to discovering the affair
Not being able to move forward in the relationship
Financial issues, especially if divorced
The cheater will throw away all his/her opportunities
Not meaning anything to spouse and that he/she and the OP will live happily ever after
Cheater going back to old ways
Death
Being forever changed because of spouse's choices
"Since I'm divorced and pursuing a new relationship, my biggest fears are to misjudge someone and be betrayed again. I'm working hard to avoid cynicism, but I'm definitely more guarded than ever."
Cheater won't go to counseling and/or make changes
Being hurt again and if it's still happening and not knowing
Not knowing how things will turn out
The affair will restart and all wounds will be reopened
Never fully healing
Will always be guarded
Never allow self to love again.
Cheater falling back into old habits
Additional pain and loss.
Relationship will not survive
Whether or not the whole truth has been disclosed
"Are we really trying hard to improve our relationship or is it a ploy."
Of always feeling stuck in current situation emotionally
Remaining withdrawn, guarded, and unhappy with marriage
Not wanting to live any longer with a liar, cheater, abuser…
Not being happy again in my marriage
Effects on the kids
"Wondering if he will ever express remorse to me and especially the children. The children have a very deep wound."
"That he feels OW is the "one that got away", or his one true love (not me)"
"That deep down I really don't love my husband any more."
"That he is going to chose to be with her instead of me. He is on the fence."
That nothing will not change and I will continue to let it continue as it is
Spouse's feelings for me won't come back
That I will find out my husband has continued to lie to me.  Lack of honesty
"That our roommate situation is new normal….we will never have better life together…it just is."
Not being able to reconnect with spouse
"That I will never be trusted again and always thought the worst of no matter what."
Insecurity
Fate of the children
Falling back into the same old routine of marriage and not utilizing the tools learned in counseling
"That my wife is not truly satisfied in our relationship and that she will either cheat on me or leave me down the line. That I am not good enough for her."
Giving up before trying to rebuild the relationship
Inability to communicate with spouse
Not regaining the level of intimacy that was once shared
Further anger and resentment
That the anger will never fully go away
Not being able to let go of the profound sense of helplessness
Your Frustrations
It is quite obvious that most of you are frustrated as a result of dealing with the affair. Here is a summary (with quotes) of those frustrations:
The cheater just wants to move on without talking about details (Number one frustration)
"I feel like I was used by the OM. Although it was a summer fling type of affair, I fell madly in love with him and he even expressed that he let his guard down with me and "likes" me very much, yet he will not call, text, or email me unless I do so first. I know that I meant nothing to him and it hurts knowing I risked losing my family over him."
"I don't feel he is being 100 percent truthful with me and he doesn't want to talk about it or read anything I have asked him to read."
"My husband refuses my invitations to reconcile and is hiding/spending much needed money on her; in fact, I think some of the reason money is so tight is his support of her and her children."
Spouse's dishonesty
Trickle truth
"That my husband does not seem to be able to understand what it is I need to help me get over this, and that he does nothing to further his understanding of the pain he has caused. He does not grasp the difficulty I have 'getting over it '."
"The thoughts that still come into my head on a daily basis"
Cheater wants spouse to just get over it
Trying to move forward and feel like the relationship will move in the right direction
"The unfairness of it. My husband cheated a lot, from the beginning, and I had no clue until last year. He has "repented" and is a "new person" but that really comes at little cost to him; I pay the price for his affairs – the pain, the anxiety. I pay the cost for his fun, and he gets to just go on with life."
"That I can't do anything about it."
Financial dependency
"He is here with me, but he just had a child by the OW."
Self esteem. Humiliation
That the affair happened as a result of Facebook
The triggers that hit and the cheater's frustrations when they do (Another biggie)
"My husband not disclosing everything at once. Each time I find out more information, it sends me back to the beginning. I also don't think he "gets" just what he has done to me and our marriage."
Cheater not understanding how triggers affect the betrayed
"That the OW kept on taunting me. Sending me pictures of them together. All the texts they shared. She even sent me a diary of dates and events. Hotel receipts."
"She still lives 3 blocks away and I can't ever get away from her."
"Hard for me to cope with limbo-ness. On the other hand,  I am learning to live in the present. Also, I get very angry at H when he rejects, or ignores our children, which is most of the time. Still learning how to help the kids through."
"That it happened. That he never thought about what this would do to us and our marriage of nearly 40 years."
Spouse is not fully committed
"Learning what is going on with him and how he deals with this."
"How 2 people get together like my ex and the OW, planning their life events while knowingly the spouses will be aware and how wrong it is."
"My husband is projecting his guilt and fears onto me. He constantly accuses me of looking for someone new (I'm not), he's been looking up my old boyfriends on Google and Facebook and then grilling me about those relationships. His affair was with his college girlfriend."
"Anger, resentment, can't forgive, so hurt, don't know why he did it"
"Erasing the memories that keeping playing back. He will not talk about what happened or why?"
"It was a long affair. Over two years. He doesn't remember dates and details and the questions about the time line stay on my mind."
"His defensiveness and resistance to delve further into why it happened; the feeling that he is not being 100% transparent."
"He won't talk about it 2) he doesn't understand I need his help to heal 3) he hasn't taken full responsibility 4) I'm not convinced there's been no contact."
"Stonewalling, lack of remorse, lack of validating my feelings( blowing them off) refusal to discuss the details I need to heal and lack of apology."
"Dealing with it by myself. Knowing the OM is living his life like nothing happened. His spouse does not know. I want him to go thru the suffering I went thru. I have thought many times in confronting him but I think of my kids and don't want them to have a father with an assault charge."
"What a big waste of time affairs are and the incredible damage they cause."
Cheater's continued denial
Affair partners work together
"That he actively pursued the OW."
"He just goes on like nothing happened."
"Feeling like I am settling for someone who does not fully cherish me or appreciate me for who I am."
"His refusal to see it for what it was. Still denies it was anything other than a normal friendship."
Cheater in affair fog
"That I have to see her at work, and I don't know if he's truly over her."
"He won't communicate well…he is not attending to my needs, so I do for myself….he are not acting like husband and wife."
"That my spouse always thinks of the worst case scenario first and does not look at the whole picture."
"Trying to deal with the knowledge that my husband gave away the details and story of my life without my permission to someone I didn't know. Trying to deal with the reminders all around wherever I go. Trying to "calmly" decide, after this cooling off period, if this marriage is worth staying in. Trying to understand how he could say the words he used to another woman, how he could treat her the way he did, how he could tell her things about himself that I never knew. Trying to learn how to forgive something that I always said I would never forgive."
"The OW won't go away. My husband won't tell her to for fear of hurting her feelings."
Not putting it behind me (on occasion) and moving on.
"On the one hand, it is not a big deal, it is over now, and it happens all over the world, every day to lots of people. On the other hand, it is a big deal and it is hard to let go. I get frustrated with my wife's lack of honesty in the past. I get frustrated that she didn't show as much caring remorse as I would have liked. I get frustrated that she now acts like it never happened yet I'm still dealing with it. I get frustrated that I still dwell on it and come to this site."
"Understanding how my spouse could intentionally hurt me so bad but swears he never stopped loving me."
"That he still at times tries to minimize the damage done."
Forgiveness
"That my husband never really gave the OW a real and truthful ending. I'm aware that she thinks she could just start it up again if she wanted. I think he's completely changed since the last contact and this isn't true, but it annoys me that she still thinks this 2 years after being dumped."
"He thinks he can be "friends" with her since the physical aspect of the affair ended 3 years ago (still an emotional relationship with her, and I discovered all of it only 8 months ago) – his perspective is that I need to be "kind, patient, show humanity" toward his friendship with her as she suffers from clinical depression and relies on him for support. I feel I cannot 'compete' with those kinds of needs, but do not want my marriage to end."
"That it will always be with me and that it has tainted our marriage."
Visitor frequency…
It was interesting to see the frequency of visits to our site…

Ideas for future topics…
There were also some excellent ideas for future topics and we will surely do our best to address as many of them as we can.  However, many will require some further research which may take some time to complete. 
Many of the suggestions were topics that we have addressed already – sometimes more than once.  This leads us to believe that either some folks aren't taking advantage of the "Related Posts" mentioned at the end of each post nor the "All of our Posts" section at the very bottom of the page. 
We know these aren't always the best solutions to finding what you want to read, so there is always the Search box in the right sidebar of the page where you can enter keyword terms to find relevant articles.  That said, we feel it might be useful to add an index of all the articles, so look for that in the near future.
There were also several valuable suggestions regarding layout, design, etc. that we will certainly try to address.  We have been working somewhat on a site re-design, so look for some changes here in the near future in the look and feel of the site.
Thanks!!
Lastly, we really want to express our appreciation for all of our readers and members.  Depending on the day of the week, there is anywhere from 800 – 1000 of you visiting the site.  It's unfortunate that you are in the position to do so, but we hope that it is of some comfort that there is such a supportive community and (hopefully) helpful posts and valuable resources.
We invite anyone who has not posted a comment yet to do so.  In fact, we recommend that you do.  Feel free to talk about your feelings and your situation and solicit the help and advice from others –whether you are the cheater or the betrayed.   There are lots of helpful souls that visit here who are more than happy to lend their support and/or advice.
Share it forward
Also, if you like a post or feel it can benefit others, please share it.  There is a set of share buttons at the bottom of each post and we would appreciate it if you can use it. 


We realize that you more than likely don't want this type of stuff plastered all over your Facebook page, so share it to StumbleUpon, Digg, Reddit, or other bookmarking sites instead.  Thanks!
That's it!  We realize this survey re-cap was very long and we appreciate you reading all the way through.  This has probably been the most informative survey we have conducted and we do thank all of you who participated.
[wlsp_signup]
LINESPACE