Author states that the cause of infidelity is due to a lack of "real love" in a marriage or relationship.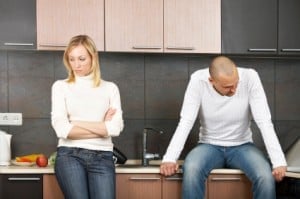 By Doug
Last night I was reading "Real Love in Marriage" by Greg Baer, M.D. (in between plays on Monday Night football, no less) and noted a section pertaining to the cause of infidelity that I felt was interesting and would be good to share to our readers.
The concept of "real love" is explained in great detail in Baer's other book "Real Love." I think that if you can grasp the concept and work to apply it in your marriage, you could not only save your marriage, but make it much stronger as well.  
Baer states that infidelity occurs in every case due to a lack of "real love" in a marriage or relationship.
The typical scenario is that when we get married we are lacking a sufficient supply of "real love" and expect our spouse to make us happy.  This "imitation love" as Baer calls it, is sufficient at first, as both spouses are receiving more "imitation love" than they ever have previously.  They confuse this temporary satisfaction and euphoria with genuine happiness.
Over time, the effects of this "imitation love" begin to wear off and they begin to feel lonely and afraid again.  They do not have "real love" and their "imitation love" is evaporating as well.  Baer says…
Because they once made each other happy, and now the happiness is gone, they naturally conclude that their partner is somehow failing to hold up his or her end of the agreement.  They both feel abandoned and betrayed.
So what happens is that they demand more "imitation love" from their partner using somewhat selfish behaviors, which doesn't work for long, and then they eventually turn elsewhere for their needed supply of "praise, power, pleasure and safety."
I must say that I could relate with what Baer is saying, and I'm sure that Linda would agree. The "imitation love" evaporated from our marriage, so I spent more time at work, sucking in the ego boosting praise and validation from Tanya through an emotional affair. 
Linda on the other hand, also didn't get the needed "imitation love" from me and poured herself into the lives of our kids and her work.  It was a recipe for marital disaster for sure.
Baer says that without "real love" we tend to behave badly in order to fill our emptiness. We can get to a point where we feel so empty that we are willing to seek "imitation love" from anyone, regardless of the risks.  And even though having an affair is inexcusable behavior, it isn't done to hurt the spouse, but is actually done to dull our own pain.  He compares it to a drowning person trying to keep his head above water.
At the point where the infidelity is discovered, the victim reacts in a way to protect themselves based on the feeling that the affair was done to them, and may consider separation and/or divorce. 
Instead, Baer suggests that if the victim can see the cause of infidelity and then respond in a healthy way, the marriage can survive an affair and then be strengthened.
People need to feel they are loved unconditionally more than anything.  If your spouse has been unfaithful, you can be certain that he or she didn't feel loved by you, and is the true cause of infidelity. This of course, does not make you responsible for the affair, but you must consider the contributions you made to the deterioration of the marriage. If your spouse feels this "real love" from you then Baer suggests that your spouse will almost certainly stay with you.
Click the following link for more information and book reviews for "Real Love in Marriage."