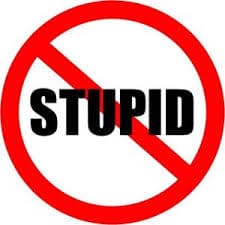 Several months ago I wrote a post about the stupid things Doug said while in his emotional affair, and got to thinking that I also did some stupid things. 
Well, at least some things that sure wasted a lot of my time when I could have been having a pedicure, eating a bowl of ice cream, or getting a massage by a gorgeous masseuse.
Most of these wasted activities were related to my pseudo-obsession of the other woman. I wonder if any of you can relate to these:
Pulling up her picture on the internet and staring at it for minutes at a time, thinking I would get some kind of revelation or epiphany.
Map-questing the route to her house and contemplating a drive by, thinking it would tell me what kind of person she was.
Combing through Doug's phone records and texts, and then creating a spread sheet outlining their day.  (First they would text from 7:30-10:30, then a 20 minute phone call, back to texting, then meet for lunch. Etc.)  I still don't understand how this information was helpful to me.
Color coding my date book and writing a description of calls and texts in case I needed a quick reference.
Thinking that every blond actress, newsperson or lady on the street looked like her.
Re-routing Doug miles out of our way so we wouldn't have to drive by one of her advertisements.
When I was alone I would drive by the advertising signs on a daily basis just to see if I could get a glimpse of her or see how successful she really was.
On the flip side, I was often afraid to go to the mall, supermarket or other public places for fear I would run into her – even though I probably wouldn't know who she was if I came face to face with her.
Focusing way too much on her and allowing her to consume our marriage.
I really regret all the time and effort I spent on the OP after Doug's emotional affair.  I believe that if I would have let her go and stopped making her fantasy so important we would have healed so much faster. I allowed Doug's fantasy of her to become mine and I believe I had a more difficult time letting go of the fantasy than Doug did.
I really haven't figured out why, but I know I need to stop letting her get to me.  She has been out of our lives for over two years and it is time to bury her and any memory that is associated with her.  I know in all the healing and recovery I have accomplished after the emotional affair this is my last feat and I know I will conquer it and move on.
I'd love for you to add things to this list so I don't appear so neurotic! 😉